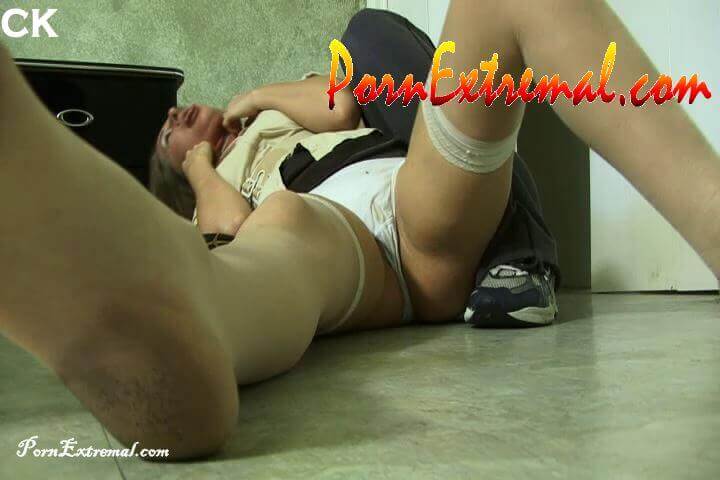 Psycho-Thrillers – A Stranglers In My House 2
Categories: Strangle, Hanging, Rape, Death Fetish, Maniac, RolePlay Snuff
Description: Contains: Quick Set-Up, Limited Dialogue, Suspense, Surprise, Home Invasion, White Panties, Nylon Stockings, Nudity, Voyeur, Intense Struggle & Fight, Closet Door Smashing, Begging & Pleading, Death by Nylon *************, Up-Skirt, Ligature Marks, Death Stare, Drool, Necrophilia *******, Necrophilia Urination, Body Positioning, Body Pans, Garage Disposal
Editor's Notes: If you love double **** kills with lots of necrophilia action and a great double urination, then you'll love this one. Filmed in FULL COLOR HD!
Description: I arrived home from a long days work. As I entered my side door, something seemed strange. The blinds were open, but I distinctly remembered closing them. Anyway, I got a glass of water, put it down and walked back to my bedroom. I entered the bedroom and stood and took off my high heel shoes off and sat on my bed to remove my stockings. I was so tired, I just wanted to get comfortable. Suddenly, I felt hands grab both of my feet from under my bed. I screamed and I jumped up off of my bed and tried to run but I couldn't. A man under my bed held both my feet, so I fell to the floor. He came up from under my tall bed and climbed on top of me. I screamed and screamed as we wrestled on my hardwood floor. I elbowed him in the groin. He jumped off of me in pain. I got up slipping on the floor because I still had on my pantyhose. I was able to run to the front door. As soon as I opened it, the door slammed shut. He was standing behind me with a menacing look like I should have known better to try to leave. I pleaded with him and begged him not to hurt me. I felt something wrap around my neck. It wasn't a cord or a rope…it felt like a pair of my nylon stockings.. He took one of my stockings from my drawer to kill me with it? I said please don't! I clawed and pulled at it but the more I did, the tighter it got.
My feet slipped and slide on my hardwood floor. My skirt hiked up my leg during the struggle.
Finally I couldn't fight anymore. My legs slowed down. My hands shook violently as I couldn't grab at my stocking anymore. My eyes widened and felt like they were about to explode out of my head. Then they turned inward and my tongue slowly rolled up and slipped out of my mouth. A string of saliva slowly streaked down and rested on my blouse. He (My ex-husband) ********* me with my own nylons! He picked me off of the floor and **** me in the garage to make it look like a *******. I hope no one believes it!