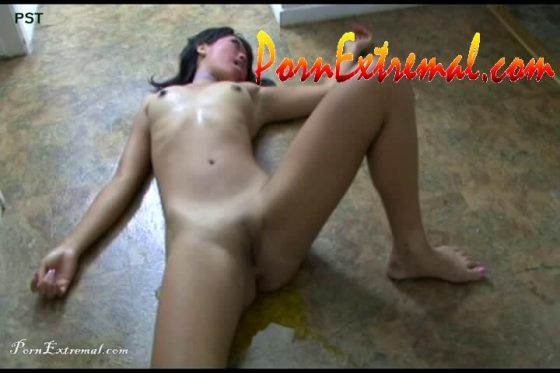 Psycho-Thrillers – Home Coming
Categories: Strangle, Hanging, Rape, Death Fetish, Maniac, RolePlay Snuff
Description: This production represents some break-through effects for PT. We hope you like them as well as the movie. Feedback highly encouraged with emphasis on the special effects. Description: Yuki is a woman who lives alone, a woman who never thought she'd ever be the target of a deranged masked killer. Everyday was the same; go to work, go to the gym, come home, shower, read a nice book and go to sleep ready for the next day or work but this time would be different. Yuki undressed and prepared the shower, not knowing that a masked sex killer had just passed by, watching her.
When she finishes showering, she thinks she hears a noise coming from the garage. She opens the door and looks around but neither sees nor hears anything. Unknowing to her the masked killer has laid a trap! As she surveys her surroundings he sneaks up on her and covers her mouth to muffle her screams then slams the door shut. Now it is just her and him. Terrorized she fears for her knife as she feels the blade travel down her soft, freshly cleaned skin. She does whatever he says, including falling to her knees and stuffing his cock into her mouth. He forces her to try and throat it and she manages to take most of it.
After sucking his cock, he prepares to fuck her when she suddenly tries to escape. He is quick and grabs her in his arm and tries to control her. She doesn't listen as he tries to get her to stop. Angered by her attempt, he pulls the bathrobe belt he found in her bathroom from his pocket and quickly tightens it around her throat before she could react. They stumble around for a few moments before he suddenly lifts her off her feet and into the air.
She goes crazy trying to escape, he feet kicking, flailing and running in mid air. Her arms are helplessly trying to claw at the towel belt as her tongue darts in and out of her mouth. He is merciless and continues pulling, causing Yuki and long and slow agonizing death. Once finished he drops her to the floor like a lifeless shell and admires her body for a few moments, watching her face turn red and her eyes glaze over. She urinates yellow urine before he arm carries her into her bedroom and throws her onto the bed. Where he rapes her. The necrophilia rape continues on the dresser draw as he pumps violently into her shaven, young bush then throws her back onto the bed and leaves to look for his next victim.
Contains: Small Set-Up, Limited Dialogue, Home Invasion, Voyeur Views, Undressing, Nudity, Suspense, Surprise, Gloved Killer, Masked Killer, Terrorizing, Knife Play, Forced Blow Job, Near Escape, Suspension Strangle, Body Drop, Drool, Red Face, Special Effects Death Stare, Body Pans, Body Handling, Body Posing, Body Tossing, Necrophilia Urination, Necrophilia Rape, Breast Views, Foot Views, Bare Feet, Ass Views, Vaginal Views, Arm Carry, Limited Rag Dolling