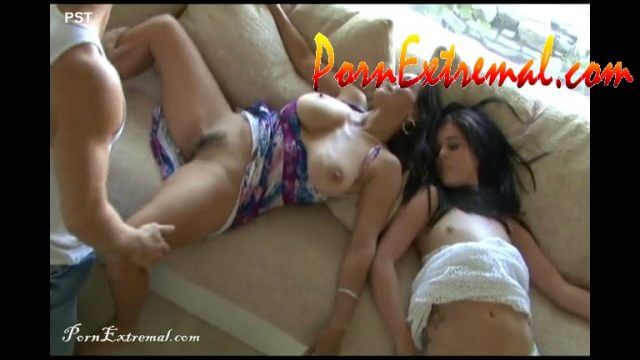 Psycho-Thrillers – Mom And Daughter Of Orange County
Categories: Strangle, Hanging, Rape, Death Fetish, Maniac, RolePlay Snuff
Description: If you like the mother-daughter combination, terrorizing, live rape and double murder, then you'll love this one. Also we cut the mother's pleases during the strangulation of the daughter so there would be little distraction.
Description: Persia & Colby play a rich mother and daughter whose husband has hired an landscaper to work on the out design of the house all day long. When he returns, the mother asks him what the price and laughs when she believes the price he quotes is far too high. Unable to return to the office with half a check and bothered by the weak economy, their the landscaper feels hew is boxed into a corner when the women refuse to cooperate and assist him. Their laughter and arrogance enrages him and leads to committing a crime he never thought he'd ever do, murder.
He strikes the mom with his hard workman fist, knocking her out and then starts on the daughter who is much tougher than the mother. He corrals her into a sleeper hold that slows her down and knocks her out. Once both women are vulnerable, he caves in to his inner urges and begins to touch them. The mother has an ample breast endowment too alluring to pass up and he places his hands on them. He works her super tits through his hungry fingers and soon has her undressed. H spreads her legs and exposes a hairy pussy with dark Mediterranean pussy lips. He allows himself to taste and suck on her pussy, making her moan in pleasure. He moves over to the daughter, removes her white-green panties and does the same, sampling her tasty, clean pussy.
He takes his time with both of them then decides to tie their hands behind their backs. When they wake up, the daughter is gagged. He is sitting and forces the mom to suck his cock as the daughter curses him through the gag. Arrogant and never realizing the level of danger they are in, the daughter is fucked first as thew mom can only watch. He plowed through Colby's pussy, causing her some pain but she's a big girl and deals with it. He then turns to the mother and fucks her too.
When he is finished with both, he knows what he has to do. He removes the gag from Colby's lips and begins to strangle her. The mother pleads as Colby tries to struggle and thrash her way out of it but no avail. After a long struggle for her life, Colby spasms and dies. The mother, in order to save her own ass, tells him about $50,000 she stashed in the bedroom. He thanks her then uses the water hose to force the life from her voluptuous body. He mom spasms violently and dies a horrible death. To make sure they are not simply unconscious, he snaps both of their necks for good measure then makes his way to the bedroom to look for the money. He will need it to avoid the police.
Contains: Dialogue, Hitting, Sleeper Hold, Sleep Assault, Fondling, Undressing, Double Bondage, Gagging, Double Live Rape, Death by Scarf Strangulation, Death by Water Hose Strangulation, Double Neck Snap, Up-Skirt, Breast Worship, Ass Worship, Double Necrophilia Urination, Body Posing, Body Handling, Death Stares, Drool