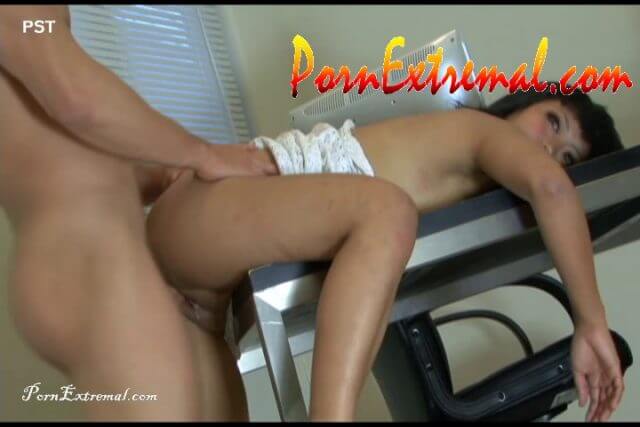 Psycho-Thrillers – Nosy Roommate Strangled And Fucked
Categories: Strangle, Hanging, Rape, Death Fetish, Maniac, RolePlay Snuff
Description: For those who like to see a great upright strangle done by a young girl with full necrophilia sex and urination at the end, then you'll love this one.
Description: Yuki plays the roommate of Johnny and finds a tape that he made showing the posing of some of his victims. She doesn't know if it's real or not but claims the photos and movies look real enough. She is instructed by her girlfriend to grab the movie and go to the police with the evidence. She hangs up and searches Johnny's office room for the tape but cannot find it. She looks behind his computer then double checks the room again. When she backs out of the room, she bumps into Johnny, who was watching her every move.
Yuki apologies and tries to back away but Johnny knows the truth. He grabs her by the throat and tells her he's going to send her to a better life as he slams her back against the wall. The pressure around her throat mounts as she tries to force him away but her resistance encourages Johnny to dig a little deeper and soon his strength empowers him to life her high overhead, forcing Yuki to leave her feet. Hanging shuts down most of Yuki's breathing and her big strong legs begin to thrash and crash against the wall in a desperate attempt to free herself. Her eyes widen in horror as she stares down at him, hoping for some form of mercy but she finds nine within his eyes.
Yuki decides to go for it and thrashes as hard as she can but her struggling weakens her faster and she still cannot free her throat from his grasp. Her thick legs become heavier and Johnny becomes more determined to take Yuki down. The room fills with silence with the exception of the occasional gurgle or foot hitting the wall. After making sure Yuki is gone, Johnny lets her body drop. Yuki hits her knees then falls flat on her face. She is gone.
Johnny grabs her lifeless body and lifts her to the desk. He fondles and worships her plump soft ass then withdraws her white panties. He cock is hard from killing Yuki so he inserts it deep inside her and fucks her like he did his other victims, plowing deeper and deeper into her young, wet pussy until he finally explodes and showers her sexy brown ass. Johnny pulls up his pants and walks away, hearing Yuki's long, powerful stream of urine splash the carpet below.
Contains: Set-Up, Dialogue, Sneaking, Surprise, Room Invasion, Death by Suspended Hand Strangulation, Drool, Death Stare, Twitching, Body Handling, Body Positioning, Body Carrying, Necrophilia Rape, Necrophilia Urination, Body Posing, Body Pans, Fondling, Undressing, Nudity, Ass Views, Breast Views, White Panties, Ass Worship