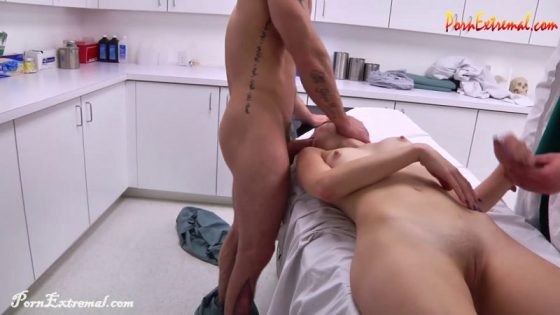 Peachy Keen Films – Flopping And Fucking Fun
Categories: Strangle, Death Fetish, Snuff Play, Shooting, Abuse, Rape, Bagging
Description: Starring Zoey Laine, Miles, and Wyatt
Miles and Wyatt have a regular checkup on a heavily sedated Zoey who has been staying in the psych ward.
They start by taking her gown off and checking each joint along her body for mechanical injuries, admiring her beautiful body along the way.
They flop her about, seeing as she is so sedated she offers no responses when a brilliant idea comes to Miles, as he starts playing with her soft pussy.
As Miles starts to finger her faster and deeper, he decides it is time for a nice warm blowjob.
Soon he moves to her tight pussy and starts fucking her as her limp body bounces on the examination table.
Zoey starts waking up and they decide to sedate her some more, but accidentally giver her too much gas and cause her to convulse and overdose within seconds.
They leave her body there, hoping no one would suspect it was them who took advantage of her.
Fetish Elements: Explicit Sexual Content, Hospital, Psych Ward, Stripping, Nudity, Limp, Flop, Fingering, Blowjob, Pussy Fucking, Cumming, Convulsing, Body Views, Foot Views, Gassing Death.