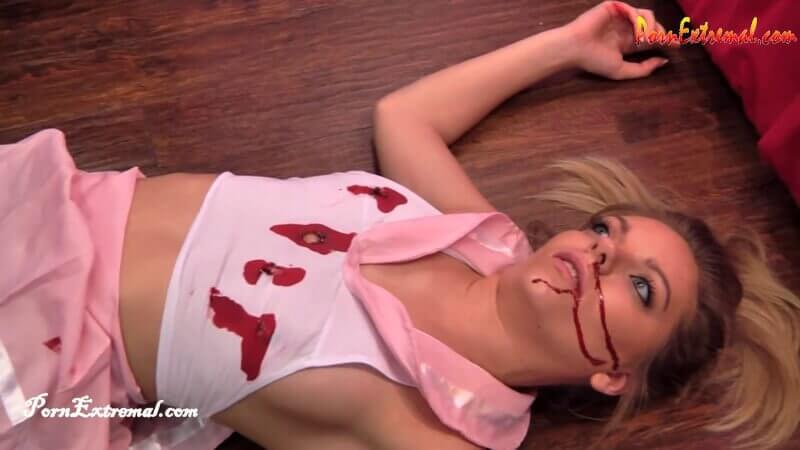 Peachy Keen Films – Schoolgirl Silenced
Categories: Strangle, Death Fetish, Snuff Play, Shooting, Abuse, Rape, Bagging
Description: Trisha has just gotten home from school, her boyfriend on the phone with her. He wants a little bit of a show, he misses her and he needs to cum badly. She sets her phone down, propped up against her computer and calls him on video chat. She leans back in her comfy chair, props her leg up and begins rubbing her pussy, getting nice and wet, whispering how horny she is. Meanwhile, a mysterious stranger appear in her window, taking in the view of the young girl playing with her tits and rubbing her sensitive clit. She cums hard for her boyfriend, but the orgasm does not last very long as the stranger appears in her bedroom, silenced pistol in one hand, his hard cock in the other. He forces her to continue playing with herself as he jacks off.
She does as she is told, eventually forced to the bed where he fondles her nipples, and rubs her wet cunt. All of a sudden a phone vibrates in the room, distracting the stranger. Trisha runs for the door, but she is shot in the back, falling to the floor.
He sticks her in her desk chair and fires a round into her left breast as he rubs his cock. He fires a fatal round into her chest, her body smacking the ground as the life bleeds out of her convulsing body, her body releasing urine all over the floor. He puts a third and fourth round into her, just for some added security. He carries her body back to the bed where he cuts through her clothing, stripping her. He uses her limp hand to get him hard, transferring his cock into her throat where he fucks her until he pulls out and cums all over her chest. He leaves his trophy splayed out on her bed, her boyfriend never getting to enjoy her one last time.
Fetish Elements: Explicit Sexual Content, Schoolgirl, Video Chat, Masturbation, Silenced Pistol, Orgasm, Handjob, Shooting, Necro, Necro Blow Job, Stripping, Cumshot, Body Views, Foot Views