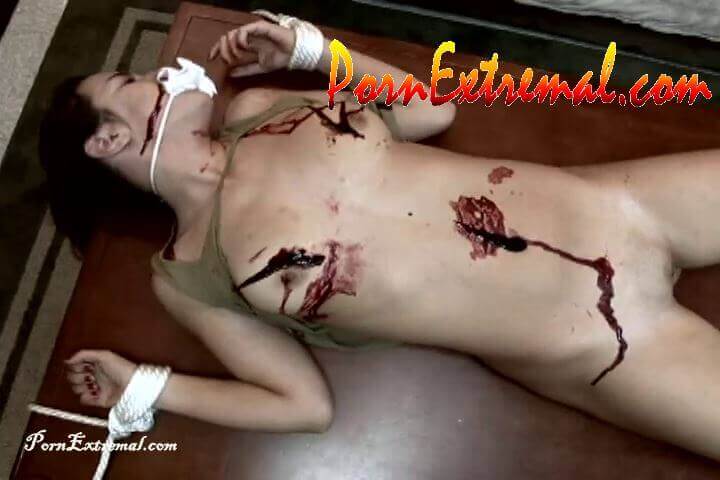 Peachy Keen Films – Stabbed While Housesitting
Categories: Strangle, Death Fetish, Snuff Play, Shooting, Abuse, Rape, Bagging
Description: Note: This is a digital effects stabbing….meaning you see the blade enter and pull out of the victim. If you want more of this type, or have suggestions, let me know.
Amber is house-sitting for her uncle. She is woken up by a phone call from her mom. When she tried to go back to sleep, a man yanks her up and plunges a knife into her belly.
In shock and pain, she falls over in disbelief. The man pulls the knife out and as she sees her bloody wound, she passes out.
She wakes up tied spread-eagle to a table. She is gagged. The man runs the knife over her body. She is terrified. He tears off her shirt. Then, he continues to torment her with the knife, running it all over. He even plays with the blade around her pussy.
When he tired of this, he plunges the knife into her right breast. She jerks in pain. He lets it stay in her for a moment before slowly pulling it out.
She is in shock. Her body jerks in spasms.
He lets her anticipate a moment, then stabs her in the left breast–you can her her bones snapping as he slices into her ribcage and to her heart.
She thrusts and jerks, he pulls the blade out, then watches her last moments before she is still.
He looks her over, then leaves.