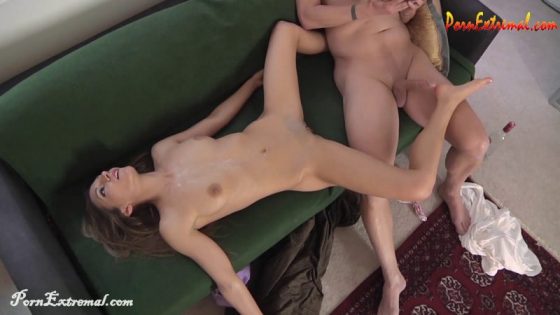 Peachy Keen Films – Story Time
Categories: Strangle, Death Fetish, Snuff Play, Shooting, Abuse, Rape, Bagging
Description: Starring Moka Mora
Directed by JohnM
Little one's grow up so fast. Certainly, darling Moka Mora has. When she comes looking for her big, strong daddy to protect her from her bad dreams, wearing an adorable, fuzzy, purple pair of footed pajamas, she seems every bit the frightened youngster. But when she curls up next to the older man, the weight and warmth of her curvy, sexy body causing his cock to twitch, she feels every bit a woman. Still, a daddy's job is to comfort their little, so he begins to read her a story.
All is well, until the innocent girl feels daddy's big, rigid pole, growing larger and harder by the second, poking into her and she reaches down to feel for what it could be. He knows he should be strong and not think of his little cherub in such a naughty way, but once her soft hands start to work on his neglected cock, his resolve vanishes. Knowing how the young scamp is always putting things in her mouth, it's not hard to convince the naive lolita to suck on his impressive manhood. Swept up in the intoxicating lust she inspires, he makes her a woman and awakens a pleasure and a desire she had never known.
He also dumps a big ol' ballsack of baby gravy into her mouth. Surprised by the viscous, sticky cream flooding into her mouth, she opens it, the copious man seed running down her chin and coating her tits and belly, making her a mess. They return to reading the story, but it is filled with dark and strange notions. Much like the King in Yellow, the story twists the mind of the reader, turning such dark ideas into desires and irrepressible urges. Daddy finds himself stuck on one particular passage in which the main character has sex with a corpse. Such is the book's effect, that he instantly snaps his little girl's neck, just to try it out.
Shoving himself back into her tight, wet cunt, he pounds aways at her limp and lifeless body. He is amazed at how good it feels, and it's not long before he can feel the pressure in his groin building. Pulling out, his prick erupts and he sprays yet more hot cum onto her motionless corpse, before curling up next to her and continuing to read more of the strange book. I wonder what he'll read next?
Fetish Elements: Explicit Sexual Content, Taboo, Daddy/Daughter, Role Play, Footed Pajamas, Panties, Ankle Socks, Handjob, Blowjob, 69, Pussy Licking, Sex, Lifting, Cum Shot, Cum in Mouth, Cum Drooling, Neck Snap, Necro Sex, Body Play, Body Views, Foot Views.