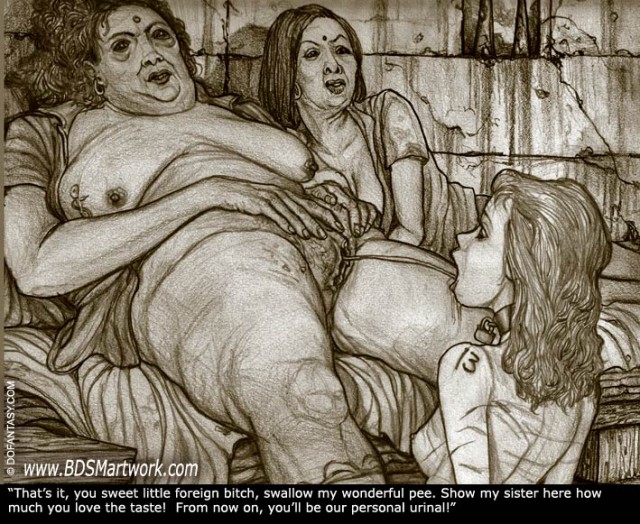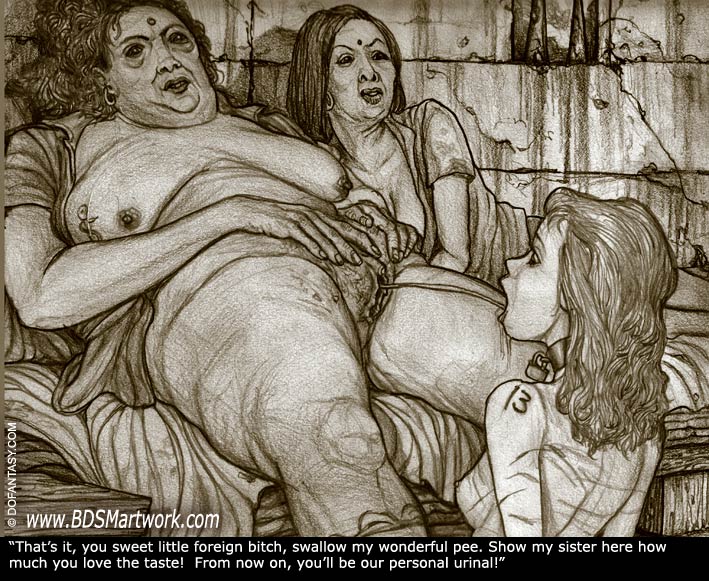 Jane was an idealistic journalist, fresh out of college – she hadn't been prepared for this. Their male counterparts had been shot while "resisting" arrest and the women had been tried in a secret military court and given life sentences for the false charge of aiding 'terrorists'. In reality Jane and her fellow band of journalists, human rights activists and students, had illegally crossed the border into this central Asian country to find the truth behind the various reports of severe human rights abuses by the government.
Too late, they knew that it was all too true……
Jane had resisted the first advances of Sgt. Kalzinal in her first hours of captivity. And had paid the painful price.
Now she meekly complied when she was escorted to his small, hot and humid office each morning. First there would be the savage strapping, then the long hour of rough, brutal fucking…
Menavava was the prison warden and immediately set about to let this group of troublemakers know their proper place and duty within her institution. This was not the West. No coddling here; these young bitches would do what they were told – without hesitation. Anything and everything. She had given her female guards absolute right of ownership over these little pale, foreign bitches…
Nothing better to spice up a late afternoon guards' party than bringing in a few of those exotic foreign creatures to provide a bit of entertainment…..
"Hurry, western cunts! It's getting late and you have to get this wood back to the prison. The warden will be extremely upset if there isn't enough to keep her fireplace going all night! I hope that I don't have to another of you against the tree to join your lazy friend. She's gong to lose most of the skin of her back for her lack of dedication."
The approach of the evening hours always signaled a heightening of activity in the prison. The guards were used to the nightly orgies and mild torture parties. And the addition of this new group of outsiders made it even more fun….
The British prisoner, Fannie, was chosen randomly from her peers to be inserted in the "ripener", a age-old method of torture and discipline throughout Central Asia. The steel bell-shaped device gradually brought on cramping throughout the body – and that was just the beginning…. – but the jailers didn't want to kill or permanently cripple Fannie; they would amuse themselves with merely keeping her confined in the ripener overnight, each night for a week.
After the ordeals, Fannie crawled to her jailers, begging to become their whore, willing to do anything if only they would not place her in the device again….
Cellmates
A Western girl newly sentenced to a long term in a Third World prison usually has no one nearby to lend her moral or legal support. Her white skin and foreign manners set her apart from the rest of the women inmates. She being alone and out of her element, is a prime target of sexual abuse by the other prisoners and the guards. She will try to resist at first, but she soon learns that will only result in a lot of pain or worse. She is helpless. There is only the option of submitting. Of accepting her lowly status and any humiliations that she is forced to endure.
3rd-World-Prisons31.jpg (147980 bytes)
Rented out
19 year-old Sherry was caught while trying to help her boyfriend report on human rights conditions. Sentenced to 10 years, she was immediately taught how to earn her keep while serving her time.
Prison commodities
Americans Marcia and Susette had made the mistake of purchasing illegal drugs while on on their Asia vacation. In the face of the evidence, neither their lawyers nor their relatives could prevent them from being given long sentences at the notorious Tung-Tsing Women's Institution, known for the violence amongst it's inmates and the sad state of it's living conditions. The interior was always hot, sticky and humid, so much so that many of the women chose not to wear clothes during the day. Down within the dark cellblocks, Susette and Marcia soon learned that their strange pale skins and their exotic Western ways made them attractive commodities to their more hardened fellow inmates. Commodities to be traded and pimped out to other hungry women who lusted after them for the pleasures that they could – and would – provide with their captive tongues and bodies.
3rd-World-Prisons33.jpg (155750 bytes)
Broke in
In the Vennusima Prison for Women, located just outside Calcutta, another American girl would also find herself serving her time while servicing the more dominant members of her cellblock. The dusky, stronger Indian dykes enjoyed the American's petite, lean body and the way she accepted her position of servitude. So soft and giving. Of course she had been reluctant to submit at first, but she had quickly submitted after being subjected to a night of whipping, spanking and being fucked with the women's long, greased homemade bamboo strap-ons.
Auctioned off for the week
The Central Caribbean Women's Prison didn't get a lot of white girls within the ranks of it's inmate population. So when poor Katie was sentenced to a 50-yeat term for her part in a drug import scheme, her pale skin and American ways made her a very popular girl indeed. No one took more of an interest in Katie than Sgt. McBrye.
He knew that this new white girl would command a high price for her services at his weekly auction. The island's pimp and brothel owners would bid against each other mightily in order to rent Katie for their flesh-peddling operations.
"This white bitch is strong enough to work 24 hours per day. You can make a fortune out of her in just a week. Make your numbers, gentlemen, get this piece of white ass and get rich!
A crowded prison cell in Africa…
"Ah, here she is! Yabimi, carry her over here where we can all get a good look at her!
"You white girls are so difficult and selfish at first, but you'll soon learn to appreciate the taste of African pussy and asshole. See how your friend has decided to cooperate? See how she is letting my friend Sisi explore her?
I'm going to explore your sweet white pussy the same way! Explore you deep, right up to my elbow! I like how you white gals scream and cry….."
Bobbi and her blond travel mate, Karen, had made quite a scene after their long prison sentences were announced in the packed Southeast Asia courtroom. They had protested their innocence and yelled insults at the judge and the court officials. And now, deep in the bowels of the dank Asian prison, they would pay an additional price for their rude, Western ways….
Prisoner Bobbi had been the louder and more defiant, so even after enduring her punishment sessions along with her friend Karen; she would be the recipient of a more specialized program of attitude adjustment. Eventually Bobbi would be transformed in a model prisoner; one with whom the guards would be spending a lot of time with…
"Give her another one on the tits before hitting the box again with the iron bar…"
"Why don't we fuck her now?"
"You want to fuck a dumb cunt? Better break her in completely and we start on her when she recovers. Be sure she'll be the best fuck you ever had…"
Being a guard in a Third World women' prison might not provide a large paycheck, but there were always the other added benefits. Especially when he had access to one of the Western females who occasionally was put into one of the cellblocks that he patrolled. Those girls, far from home and usually broken and dispirited, were more easily coerced when separated and so much more servile. So much more submissive when giving their Guard – Master his demanded due with their cum-sucking mouths and their pleasure-giving pussies.
"Yup… that was nice, girl… now you stop sucking and tonguing just the knob and go for the real business… I wanna feel your chin in my big balls… C'mon, whore, swallow it all, and show me what a white slut can to do with a prick like this one!"
Karen was now a very cooperative and obedient prisoner, not like some of the other Western inmates who still found themselves suffering for their occasional displays of arrogance towards the guards and fellow prisoners.
So it was only natural for her to agree to sign her name to a formal letter of apology to the judge for her courtroom outbursts when she and her friend were originally sentenced. The ranking female guard, Miss Tunnevang, had personally dictated the letter and now she guided Karen's shaking hand to the place where she would write her signature…
"Yes, sweet child, you sign here, yes? You sign. You sign and Miss Tunnevang so happy with you and take you to her room and make you her girl. Yes, that is good that you have signed. Make judge so happy with you. And I happy with you now. You want Miss Tunnevang happy with you, yes?"
"Yes, Miss Tunnevang…."
"Good girl. You good girl. And I make you my special girl, huh? You white girls like eat pussy, yes? My pussy so hot for you. Your mouth so pretty. Will do good job on my pussy, huh? Miss Tunnevang teach you all kinds nasty things. I know you like nasty stuff, yes? I pee in your mouth, yes? You stick tongue up my asshole and clean it, yes? Yah, you be good girl and I treat you right…"
Every Third World women' prison has it's share of male and female guards who indulge their sexual appetites with their helpless inmates. The arrival of Western females only serves to add an exotic flavor to an already – savory menu of available young pussies and mouths ready to be used whenever the urge demands it.
Belinda, falsely convicted along with her two girlfriends of the crime of smuggling, was now beginning to realize the utter hopelessness of her situation there in the ancient, crumbling South American women's prison.
The first few hours of abuse that she and her friends had endured in the secluded Guards' Quarters had shown her that it would get only worse for her if she showed any resistance to the guards' demands. She had clearly indicated that she would give them anything that they desired from her. So while her two friends were destined for more hours of rough rape-fucking and pain lessons, Belinda was led away; led further back to the more private rooms. Where she would give them all anything that they wanted…
"Come, little one… My friends and I wanna know you better. Aunt Rosita will keep you safe from these bastards. No dirty dicks for you but nice, smelly wet, big pussies for your pretty face. You'll have your fun too… we'll make you cum more than what you have ever dreamt of. We work 12 hours sifts here, but yours is 24 hours… Plenty of cunt juice for you baby…"
"UHhhhhh….." Corporal Mobuku grunted as he stiffened and shot a long, warm cum-load deep inside Yevette.
"Hurry up! Get off her so that I can have my turn," another African guard said. He had been standing there watching Mobuku fuck the crying blond French girl for over twenty minutes! He was horny and impatient to get his own hard cock up in that shaven white cunt.
"Don't be in such a damn hurry, Private. We've got the rest of the evening and all night to ride this fine piece of pussy. She's quite a fuck, once you make her get going….."
Yevette could not control her sobbing. This was only her first day here after being sentenced to twenty years. And there was no hope of parole, no hope of early release. There was only the realization that every day and night would be filled with these rude, lawless guards and their big cocks……
Janey and her group visiting teacher-exchange group been naive about the political realities concerning the way things really worked in the oil-rich Middle Kingdom. They had seen injustices all around them and had decided to perhaps help things by passing out some pamphlets they had written and had printed out themselves. After all, this country was one of those that enjoyed close relations with the West and welcomed Western tourists and politicians.
Their Western country's government said little and did nothing when Janey and the other s were arrested on charges of sedition; the oil was too important, so they would be sacrificed.
Despite Janey's earnest attempts to explain her innocent actions and her 'not guilty' plea, she was sentenced to life in an all-female prison located far out in an isolated area of the host country's vast desert.
The dusky guard Latiba was assigned to oversee Janey's incarceration and make sure that the Western girl didn't cause problems by trying to spread her political ideas. Janey would be kept in an isolated cell with only Latiba to visit her….
Latiba had to live in this out-of-the way prison, so she sometimes considered herself as much a prisoner as the inmates she guarded. No entertainment, bad food, no men. In Latiba's eyes, the pretty pale Janey would be her only entertainment….
"It will be only you and I together here – so I will make you belong to me and only me," the guard told Janey as she continued to flog Janey's tender buttocks mercilessly . "Soon you will
_______________________________________
The innocent group of Western teachers were now learning how things were done in this mostly-closed desert Kingdom. It did not matter if you were actually guilty; it only mattered concerning what the Authorities had already decided to do to you. In this case, the Kingdom knew that the teachers' varied Western home countries were so anxious about doing anything that might jeopardize their flow of oil; the Kingdom had carte-blanche to do with the teachers as the will.
The teachers were destined to be released only after many decades; old and thoroughly broken. Right now, the teachers were young, firm-bodied, attractive females who were ripe for fucking and pain. Just the kind of girls that the male and female prison guards appreciated. Mostly drawn from the ranks of poor villages in the countryside, the guards and staff was fascinated with these new inmates' pale skin, light-colored hair and their firm, pampered bodies.
"These foreign girls have to be shown what they've been missing," laughed one of the female guards. "They need to learn how to properly eat dark pussy and please big, dark cocks."
It was only right to initiate the teachers right away, the prison staff decided. They needed to know what would be expected of them and the price of not meeting those expectations. They would repay the charity of her prison Masters and Mistresses by the full use of their captive bodies. In any and in all ways demanded of them.
The head female guard had smirked, "I hear the white-skinned girls are forbidden to have sex with blacks when they are in their Western countries. Why don't we give them the chance to experience the biggest cocks among our black guards? We all know just how rough and deep our blacks like to fuck – so it will be our way of preparing these foreigners for the life ahead of them."
The female guards had arranged for these new Western white girls to become acquainted with the huge cocks of some of their black male guards. The orgies of forced-sex and crying white girls would provide much talked-about entertainment.
_______________________________________
In Mumgambi; it was only right that they should be put firmly in their place.
Monica Evertt was another wrongly-convicted Western girl, falsely charged solely on the basis of her native boyfriend being accused of being a terrorist.
Whether she truly was or not was unimportant to those in authority and so was Monica's guilt. The corrupt, politically-based courts had judged Miss Evertt guilty of knowingly keeping company with a dangerous terrorist and there were no appeals to the life sentence that had been given her.
Monica had personally appealed to one of the highest-ranking judges in the case, meeting him in his private chambers, even stripping naked and getting to her knees to suck his cock as ordered. His shaft now hard and at full length, the corrupt judge had marched Monica over to the big couch where she was subjected to an hour or so of painful fucking that ended with the judge grunting loudly as he shoot his loud deep in Monica's tortured ass.
But it still didn't help Monica's case; the judge had only laughed and called Monica a cheap, foreign, terrorist-loving whore who deserved her sentence.
Monica had lost all hope. The Mumgambi male and female guards and staff had beaten and used her in almost every way in the week before she was finally put in with the rest of the female inmates. In the dirty, humid and smelly cellblocks, there were so many lesbian dykes who wanted Monica, but it was the big, tough and connected murderess Latha who put out the word that this new white girl belonged to her. Latha, along with her younger sister Seema, practically ruled the other inmates in Mumgambi and it was their cell that Monica was taken to – to serve and to service.
There was nothing for Monica except to satisfy the ever-needy and demanding Latha and Seema. Having no choice, the hopeless Western girl dedicated her mouth and tongue to servicing her two cell Mistresses' clits and assholes and offering her own holes up for the painful agonies of the sisters' deep-plunging fists. She was humble now, humble and subservient. Just the way Latha and Seema demanded that she be.
There was nothing Latha enjoyed more than humbling her Western cell slave by pissing in the girl's wide-opened mouth, stripping her of any pride.
"That's it, you sweet little foreign bitch, swallow my wonderful pee. Show my sister here how much you love the taste! From now on, you'll be our personal urinal!"
Nancy Brennan had been framed. She had been totally innocent of the charge of trying to smuggle a much-wanted political dissident out of the military-ruled Asian country but that particular hard-line government prosecutor had personally arranged for her to be subjected to weeks of whippings, sexual assaults, rope suspensions and other punishments until Nancy could take no more of it and had tearfully signed the confession that had been prepared for her. The Prosecutor, Miss Sunsi, was there to watch as Nancy signed.
Nancy sobbed as she asked the smiling Miss Sunsi, " Why have you done this to me? Why have you treated me like this?"
"Because you deserve it," Miss Sunsi replied. "Coming into our country with your Western ways, sowing discontent. You say that you were only a tourist but IТve read articles that you wrote back in your country about my nation, about how bad we are on human-rights, about how backwards our esteemed government is. And then you have the nerve to come here disguised as a tourist! You shouldnТt have never have come here. And your twenty-year conviction will make other potential troublemakers think twice before coming here."
"But I didnТt try to contact anyone here like you accused! I only came here to see things for myself."
"Well now youТll have a long time to see for yourself just how things are." Miss Sunsi long fingers were lightly touching her own well-suited breasts, savoring some thoughts. "In fact, I and a few very like-minded friends will be taking a particular interest in your progress in our wonderful prison. WeТve arranged for a special cell for you, far from the other prisoners. A place where youТll be able to be convinced of the errors of your ways, your thinking. We women are better suited to show you the proper way to behave and show respect." She chuckled as she summoned a burly female guard to take Nancy away.
"I will be visiting you tonight along with a friend of mine who thinks youТre cute. SheТs the wife of one of our most powerful Generals, so you should be very honored that she wants to meet you so much. You will already have had a bit of paddling by the time I arrive, so IТm sure youТll be readyЕ..
The Prosecutor, Miss Sunsi, arrived to make an intimate visit with the foreign inmate, Nancy, in the special isolation cell.
"IТve brought my friend, Asha, to meet you also. I can see she likes you a lot. Here, suck on the dirty heel of my bootЕ..Yes, yes, take it deep in your pretty white mouthЕ.Ummmm, youТre going to be a good girl, I can tellЕЕ
_______________________________________
Colonel Toyas was getting a definite double-pleasure from watching his girlfriend Amelia break in the busy mouths and tongues of the two blond-haired Yanqui sisters; Toyas always enjoyed seeing her really getting into the heavy lesbian mistreatment and humiliation of new female prisoners here at the countryТs largest womenТs prison. Amelia had a nasty disposition and an even nastier sexual appetite for the young, frightened new inmates that he frequently provided her with. He liked the idea of Amelia sexually training the more naпve and beautiful newcomers for a week or so before he transferred them into the general prison population. In a way, he was actually helping these girls because after learning to service Amelia, they would be thoroughly prepared for the lusting bulldykes who awaited them in the dank cellblocks.
And not only was the Colonel feasting on the sight of his Amelia getting her hairy dark pussy licked while having her ample ass eaten at the same time, but he was also enjoying the sensations provided by the Yanqui girlsТ young aunt as she obediently used her pretty lips on his throbbing cock. Toyas guided her sucking with a firm hand on her head, making sure that the young lady did not bring to orgasm too quickly. He preferred to wait until Amelia would start to tremble with satisfaction; then he would guide his prisonerТs mouth faster and faster until he finally shot his load of thick jism down her throat.
These three North Americanos still proclaimed their innocence of the drug charges against them. Colonel Toyas would make sure that they all would soon be signing the full confessions that he had already had printed up for them. The trio had already be sentenced to at least fifty years of imprisonment; the signed confessions would allow the authorities to use them as examples against foreigners getting involved with illegal drugs in their country. Yes, a few more days and nights of almost nonstop humiliation and punishment from AmeliaТs trusty whip and these spoiled Yanqui bitches would be ready to sign anything.
The thought came to Colonel Toyas that perhaps he might not put these three foreign girls in with the other female prisoners. Maybe they should be keep strictly for his own use. There were so many special parties at which he could have them perform and provide entertainment for his close circle of friends; friends who would get their thrills watching Amelia and her prostitute buddies debasing three pretty Anglo slavesЕ.Not a bad idea, indeed.
Colonel Toyas saw that his girlfriend was getting closer to cumming from the combined attentions of the two foreign prisoners. He started pushing the head of their young Yanqui aunt, having her suck his dick faster, deeper. He could feel the semen starting to pulse up from his balls.
_______________________________________
Captain SungТs took pride in the length and thickness of his cock. Among the many women prisoners here at the Waigun Detention Center, there was a fear of having the Captain making one of his Сmidnight visitsТ. Nightly, it was an easy task to locate the whereabouts of Captain Sung; one had only to follow the pitiful cries and screams of the unlucky female who happened to be the object of his lustful attentions.
The Captain, being well-connected and in effect the absolute ruler of Waigun, run the prison like it was his own personal harem. He had no need for a wife and girlfriends; he had all the pussy a man, even a dozen men, could use. Always looking out for new flesh, Sung was very excited when his governmental superiors informed him to be ready for the arrival of a new prisoner, a newly-convicted English woman named Ruth Thomas. He had been aware of Miss Thomas; her show trial, so well-orchestrated, had been featured on all the government- controlled television and radio outlets. She had been declared guilty of being a being a foreign agent who had entered the country illegally in order to foment revolution and undermine the authority of the State.
The courtТs sentence was life imprisonment the notorious Waigun Detention Center, a place from which very few women inmates emerged intact. In reality, Ruth Thomas, an avid amateur explorer, had been guilty of innocently straying across the ill-defined border of this paranoid, dictatorial country Ц but she had been used as a tool of propaganda created to justify the many human-rights violations committed by the closed circle of corrupt Generals who oversaw the country. Now it was Captain SungТs turn to use her , use her to fulfill his own needs.
Sung had never had a chance at a Western girl and he was so looking forward to sexually subjugating this twenty three year-old blonde Englander. He was under orders to force her to memorize and sign a series of false, detailed confessions that effectively framed and accused many of the governmentТs internal dissidents of treason and of working for Western intelligence agencies. His superiors knew of SungТs tendencies and reputation (many of them having been sexually supplied with compliant girls especially chosen for them from SungТs prison). They had faith that he would achieve their goals.
Ruth had been under Captain SungТs command for only a few days and Sung was already seeing that she was nearing the point of where she needed to be. He had stopped his usual СvisitsТ with other female prisoners and concentrated on Ruth, giving her the full attention of his battering cock and hard fucking. Ruth was a typically soft Western girl, not able to withstand SungТs continued assaults and punishments as much as the native girls that he usually dealt with.
On her fourth night, Ruth was already moving her hips and grinding back toward his slamming thrusts just like the little whore he was training her to be. Tomorrow, he would begin to acquaint her with what she needed to say and sign to make the Superiors happy. But at the moment, Sung was concerned only with his own happiness, having Ruth plunge up and down on his weapon of a cock like the good girl she was. SungТs handy bamboo rod applied to RuthТs back and buttocks only added to her distress .
Captain Sung started to dig a finger into RuthТs already-sore butthole, giving his captive an advance notice of his intentions.
"Keep it up, you English whore! Better keep that rhythm or else itТs only gonna be hard whipping for you for the rest of the day!"
Hopeless Submissions
Sometimes for Western girls doomed to serve long sentences in those foreign women's prisons of the Third World, it becomes clear that there is no use to resist. Resistance can only bring with it more pain and suffering and perhaps those daily doses of shame and humiliation can be more preferable than the whippings, beatings and strict bindings.
Rebecca was one of those who had come to that conclusion after a few days and nights of punishment at the hands of Miss Tikanu, the elder female guard, and her group of younger female guards at Butasaki Women's Prison. Miss Tikanu was deft to Rebecca's pitiful pleas of her innocence of the charges of drug smuggling to which the court had sentenced her to a fifty-year, no-appeal term. In fact, Rebecca had been innocent; it had all been the work of her slimy boyfriend who had escaped through a series of bribes to the police, leaving Rebecca to face the ordeal by herself.
Miss Tikanu was only interested in making sure that this spoiled white girl be taught right away that, for her, there was only submission and obedience to Miss Tikanu's will. Under her close supervision, her guards had spent hours spanking the Western girl with their paddles and applying painful whippings to the girl's fragile skin. And as Miss Tikanu fully expected, it was only a short time before Rebecca was admitting to everything that she had been charged with and even more crimes to which Miss Tikanu had made up just for the fun of it.
It was now time for Rebecca to prove worthy of better treatment….
Miss Tikanu's eldest son, the big, hulking guard named Moki, worked over at the male prison a few miles away. She was so aware of his need for a nice, pretty and thoroughly submissive gal who could be his mate and be able to tolerate the rough loving that he liked to subject his women to with that truly huge cock of his. Rebecca would be a perfect young pussy for her frustrated son to use after a long day of work. Either the white would be Moki's private fuck-toy or there would be non-stop punishment at the hands of Miss Tikanu and her fellow guards; lots of it. It didn't matter that Rebecca was repulsed by Moki's hugeness and the thought of how he was going to use her over and over. It only mattered that Moki's big cock visibly started to bulge against his trousers when his mother first introduced him to the beautiful Western girl who would be his from now on.
"Do you like the white bitch, Moki?"
"Yes mom, her hands are soft… but mom, I want to fuck her asshole, I saw it in a porn movie,"
"No need to rush, son. The bitch is yours for fifty years. You have all the time to do with her whatever you want!"
"That's it," Miss Tikanu added sternly. "Keeping jerking my son's pole with your soft hands. Make him bigger before he fucks you while we watch. If you keep pleasing him, I may allow you to bear me a couple of grandchildren!"
_______________________________________
Nancy Quinlen's trial in the hostile foreign court had been a sordid affair orchestrated by the authoritarian government determined to show the West that it would not tolerate interference in it's territory by non-sanctioned foreign activists, no matter well-known they happened to be.
Miss Quinlen had been well-known and toasted in the West for her earnest travels to third World countries on missions to publicize human-rights violations and political repression of their citizens. But the small new, isolated country of Moldivia had defied outside pressure from the time of it's formation and it wasn't about to change it's ways now.
Nancy's relative celebrity did not save her from prompt arrest and being convicted of trumped-up charges of spying for the West. Of course there was a strong reaction in the West against her fate, but Moldivia had support from other like-minded authoritarian nations, a large, well-equipped army and biological weapons and a verified willingness to use them if attacked.
Poor Nancy Quinlen was on her own and at the mercy of the dictators who she had come to agitate against.
Nancy's treatment inside the bowels of the political prison was harsh and designed to break her down so that she would eventually admit to the false charges against her. The guards and interrogators put in charge of her were people expert at getting what they wanted from the most hardened prisoners and Nancy, although being very dedicated to her principles, was no match for the hard, brutal treatment that these tormenters subjected her to.
Corporal Chu was one who took a special interest in Nancy and who made sure that she not only pleased him with her suffering at his hands but also suffered from the hard attentions of his cock. A single man who had no outside relations with women, Chu had decided to honor Nancy with all the sex that he could give her.
Now that she no longer resisted the whims and will of her captors in any way, Nancy was perfect for giving Corp. Chu the sexual thrills that he was entitled to.
Corporal Chu grunted as he guided Nancy's tight ass up and down on his rigid cock.
"Yes, yes, Western bitch! Keep it up! I'm almost ready to shoot my load up your ass! Then I'm going to go back to whipping on you with the new bamboo rod I just ordered!"
_______________________________________
Valerie was not a tough woman. Raised as a daughter of privilege, she had never had to endure bad times or circumstances. She had been arrested and accused of being complicit in her family's ignoring the safety standards of their huge Third World chemical factory that had resulted in hundreds of deaths of grossly underpaid workers.
Valerie had been aware of the bad conditions and noncompliance of safety rules, clashing repeatedly with her family in hopes of convincing them to change their ways. But now it was too late.
Being the dishonest people that they were, Valerie's family denied any responsibility and refused to make any financial payments either to the government or the families of the those who had died in the explosion – leaving Valerie as the scapegoat to face the full fury of that country's leadership.
There was very little sympathy for Valerie, either from her own or other Western governments, and there was no help from her family who refused to offer help with legal representation; they had long decided to sacrifice her in order to distance themselves as far as possible from responsibility for the disaster that they had caused. For Valerie, it was a sentence of life in the harsh Yanadu Women's Prison.
Valerie was petite, white and soft. That made her the center of attention of both the criminal female inmates and the dyke-oriented guards there. It was only an hour after her arrival at Yanadu that Valerie was taken down into a basement cell and whipped throughout the night by a secession of female guards determined to show this notorious Western prisoner just how low her status would be inside this dank and forbidding place. Valerie's cries and quick acceptance of her circumstances made her even more of a prize for the lusting lesbian-oriented female guards; guards who decided that Valerie was just too good a prospective sexslave to be shared with the common inmates.
The big, tough guard Taymara and her girlfriend Rivi claimed first rights to Valerie.
"I'll share the white girl with you," Taymara told the other female guards. "But keep in mind that she belongs to me and Rivi first and we'll decide who gets use of her besides us and when and how often. And you know how I'll deal with any of you who dares trying anything with her without my permission."
And since Taymara had been the prime suspect in several unsolved murders of both Yanadu inmates and other guards over the past years, they were no challengers.
Valerie was now the property of Taymara and Rivi, living with them in their large room in the female guards' quarters…
The guard Taymara heavy hand-spanking of the Western girl's tender young cheeks was the signal that Taymara was ready to have her wet pussy eaten again.
"Good news for you, terrorist! We're going to keep you here in a private cell all for yourself. Chained, of course, severely gagged and with your fuckholes plugged waiting for us to visit you. Are you saying to say thanks you spoiled little brat?"
"Please…. oh please, Miss… you… you're scaring me… and you're hurting me…. please… leave me alone…"
"Shut up and get ready to lick our cunts now, and then eat out our assholes!!! Spanking you is getting me excited and I know you want to please me…."
The two foreign-aid workers had be accused of nothing when first arrested. No explanations were given as they were handcuffed and taken to the war-torn countryТs prison located at the far reaches of the desert nation. The pair, Marlette from France and Sharlene from the States, had come to the country in order to coordinate aid shipments to starving sections of the country that had been cut off from much-needed food and water.
To put it mildly, the host country was not pleased to have Western aid coming in; it had long tried to use the deplorable conditions endured by the population as yet another weapon against the rebels who were fighting the government forces. Helping to feed the hungry was also helping to feed the rebels; that was the way the authorities saw it. But they could not afford to openly antagonize the West; they could only resort to more subtle methodsЕ
"Why have you brought us here? What have we done?" Marlette could only speak those two sentences before one of the prison guards slapped her to the floor.
"Shut up, you foreign whore," the guard yelled. "Both of you are nothing but rebel-loving Western spies sent here to work against my government! Well, weТre going to show you that weТre not going to just stand by while you interfere in our country," he added as he pulled Marlette to her feet and started to tear away her clothes. Marlette screamed but couldnТt do little else as she was eventually stripped nude. Her screams got louder as the guard began beating her with his belt.
"Go ahead, scream! The louder you scream, the harder IТm going to whip you!" At that, Marlette stopped her screaming, giving out only soft moans as she endured the painful belt flogging all over her tender body.
The guard was pleased with MarletteТs obvious submission, saying "I thought youТd get the point! You Western women just need someone to put you in your place! Look at your pretty friend over there; my buddyТs whipping her too!" He laughed as he made Marlette look over to where the other guard had forced Sharlene to strip naked before he began to use his own belt on her. Sharlene whimpered as she suffered from the belt-whipping that was put top her so brutally.
MarletteТs guard dragged her by the hair over to a dirty prison cot. "Get down on your hands and knees, bitch! IТm going to show you what you Western women have been missing! Get down or IТll use my belt on you really hard!"
Marlette obeyed, getting on the cot. The guard positioned her, breathing heavily now. Then Marlette felt the touch of his cockhead against her pussy, then that particular pain as his dick started to push its way inside her. He was big, very big. He kept her in position as he started to pound her servile pussy in the way men fucked women in his country.
Marlette could only moan in distress as the guard slammed her harder and deeper, his balls swinging as he attacked her.
"UhhhhhhЕ" the guard started to grunt as his sweating body clashed against MarletteТs as he continued to fuck her hard. "UhhhhhhЕ. AhhhhhhЕЕ! You sweet little Western bitch! Gonna hurt you with my cock, gonna make you beg!"
"Look how your friend is getting fucked over there," the prison guard chuckled to Sharlene as he started to drag her toward the empty cot. His long, thick cock dangled from his unzipped pants. "I think itТs time you learn how itТs like to get your cunt fucked real hard by a real man like me! Gonna make you cry just like you friend is crying over there!"
_______________________________________
Miss Mi-Leng, the Supervisor of Guards at Nunphung WomenТs Prison, was a stern taskmaster to tolerated no disobedience to her authority Ц especially from a spoiled white English girl just convicted sedition against Mi-LengТs beloved PeopleТs Republic.
Perhaps this troublemaker named Victoria Wimington had thought that she could just illegally enter the Republic in order to interview various dissidents for that pitiful little British political cable television program of hers but she was so wrong if she thought that she could get away with it. Mi-LengТs country might have been small in comparison to the other Asian countries in the area, but it had a very efficient intelligent service that tracked Miss Wimington from the time she crossed their border. They had Victoria in custody quickly and quietly.
There was much outcry about VictoriaТs disappearance but no one could account for her whereabouts. The leaders of the Republic claimed not to have any idea of what could have happened to Victoria Wimington. There was no record of her having entered the country via any of their airports, harbors or monitored roads. Perhaps, the RepublicТs authorities said, Miss Wimington had been unfortunately captured or killed by one of the many lawless bandit groups that infested the thick jungles that characterized much of the countryЕ..
But deep within the damp, dingy depths of Nunphung Prison, known only as СPrisoner No. 115Т Ц and even that by only a small, trusted group of the RepublicТs most loyal guards Ц Victoria Wimington was being subjected to unending sessions of painful beatings, floggings and suspension punishments. Miss Mi-Leng personally oversaw all the sessions, making sure that Victoria was being properly prepared what all that Mi-Leng had planned for her in the near future.
The time came when a broken Victoria was finally escorted to Mi-Lengs private quarters. Miss Mi-Leng, naked except for a support bra to help control her massive breasts, told the Western girl of what was in store for her.
"The outside world thinks that youТre probably dead," Mi-Leng smirked. "They will never find you and you will never leave this prison." Mi-LengТ pinched her own hardening nipples and rubbed her swelling clit as she said "You have only a choice of spending the rest of your life being tortured with hot irons and coals before finally being burnt alive or spending the rest of your life here in this place as my own little sex slave and keeping me pleased and happy.
"But it will not be enough for you to lick all my holes and suck my toes; youТll also have to drink my pee instead of water. And after each time, you will have to ask me to whip you if I want to. Tell me your choice now, English girlЕ"
Prison Mistress Mi-LengТs cunt-juice began to leak as she looked forward to what the blond English prison slave would be doing with her tongue.
"Yes, English girl, keep kissing my hand and begging for me to whip you before I let you eat my glorious pussyЕ"
_______________________________________
Mr. Imtuku was a faithful member of the Party that controlled all facets of live in the tiny African country of Ugubu.
Imtuku, a former military officer like the majority of the men who governed Ugubu with an iron fist, had been appointed to oversee the countryТs notorious prison system that had long been condemned as cruel and inhuman by almost all the civilized countries of the world. The ruling Generals had noted ImtukuТs talent for cruelty and torture when chasing down, interrogating and eliminating their various enemies; he was given much of the credit for making it practically impossible for any internal rivals to function within Ugubu.
He had been listed high among those that the Party had considered for future elevation in itТs ranks.
The Generals tended to be older and it was only a matter of time before the Party would need to replace them with younger men. Imtuku was content to await his turn; the Party valued patience and respect for itТs elders. Besides, his appointment as Governor of the prison system was a prize in itself. So many pretty young women interned in the female prisons; so many girls from which he could choose to satisfy his ever-growing sexual needs.
Imtuku day was made when he received the top-secret wire from Party Headquarters informing him to be on alert for the arrival of two Western females who had been captured within UgubuТs Eastern border region.
ImtukuТs big dick twitched within his pants; he had seen the photos of Marie Higgins and Deborah Rohr published in the Western and African newspapers along with reports of their being last seen while searching for ancient artifacts of the bordering African nation of Amraki.
Both were American college graduate students in their mid-20s, very attractive white girls. Imtuku had quietly suspected that UgubuТs enemies may have been indeed correct when they publicly voiced suspicions that Ugubu might have had a hand in the two womenТs disappearance.
The wire instructed to intern the two Americans in total secrecy and do whatever he chose to do in order to get their signed confessions stating that both of them had intentionally crossed into Ugubu on a mission to spy for the West. After getting their false confessions, Mr. Imtuku was further instructed to СprepareТ Misses Rohr and Higgins so that they would be ideal, obedient Сshow prisonersТ in front of hand-picked foreign media when the time came.
Imtuku had happily looked forward to the task ahead.
With ImtukuТs close guidance, both Marie and Deborah suffered through days and nights of delicious punishment and pain. Imtuku enjoyed watching the girlsТ initial stubbornness and resistance; he knew that within a few more days of even heavier mistreatment, both of them would be begging to be allowed to sign whatever was presented to them. Then ImtukuТs real fun would beginЕ.
True to Mr. ImtukuТs prediction, Deborah and Marie had been broken by the fourth day of their agonized punishments. He first escorted Marie into the commandeered Prison WardenТs chamber where the СconfessionТ paper awaited her signature. Dropping his pants while she signed the paper, Imtuku pushed Marie down on a nearby bed and there he spent almost an hour riding the crying white girl until he finally finished things off with his pumping her insides full of his thick, warm African semen.
Then it was time for Deborah. She had heard MarieТs cries and screams through the closed chamber door Ц but she was still shocked to see the sorry state of her friend as she lay on the cum-stained bed.
"Sign the paper," Imtuku growled at Deborah as he pushed her forward. "Sign it now! Or else worse things are going to get worse for you! Much worse!"
As the frightened girl put her signature to the blank СconfessionТ, she could feel Mr. ImtukuТs foul breath on her shoulder. And she could feel something else Ц the feeling of ImtukuТs hard dick touching against her rear.
"Surprised that IТm already hard again? Well, IТm sure that youТll help to do something about it, huh?"
Deborah couldnТt help but sob as Mr. Imtuku started to bend her forward while he rubbed his huge, throbbing cock between her punished asscheeks.
"YouТve been a good girl, signing that confession. Now bend over while I shoving my dick up your ass. Before IТm done, the both of you white bitches are going to be my whores."
Down in the prison's Guard Quarters, Saad hugged Monica close against him as his cock started to respond to the tugging from her soft, trembling hands.
"Ummm, that's so good, the way you are doing that," Saad grunted. "Very soon you will have me as big and long as I can get. So just keep on moving your fingers like you're doing and you will be getting Saad's shaft up your white cunt – real deep and real hard. You American girls all pretend that you hate being forced to give up your pussies, but you know that you really want it! You all like being treated like whores, don't you? Just listen to your friend back there. She's your so-called 'aunt', isn't she? Well, your Aunt Susan is going to be turned into a whore by Judge Madulla there.
The Judge will have her broken in a couple of days and after he's done using her, your Aunt Susan will be sold to one of the whorehouses in the city. She'll be listed as a prisoner here, but she'll really be fucking dozens of camel drivers and low-class laborers every day!"
Saad paused as his snake-like cock pulsed from the massaging of Monica's hands. He started to ease Monica toward his private little room. His bed was't more than a dirty cot, but it would be enough to hold Monica's trim body as he rode her.
Saad caused the American girl to shudder when he asked her, "Do you want to be sold like your aunt? I can arrange it, if you do…"
Nooooo, Please! Please don't sell me! I'll do whatever you want! Please…!"
Saad was ready to fuck now. "Come with me, American girl. We'll go to my room where we can be alone. There you can show me how deep my cock can pound your holes."
_______________________________________
Another American female prisoner, just a day after her conviction, was learning her place in the Arab nation's largest female prison. Tiffany wasn't the kind of girl who would even think of having lesbian sex in any way. That was if she was in any sort of normal situation where she had a choice. But as a pale-skinned Western girl, Tiffany had attracted the attention of almost every native dyke who saw or heard of her arrival at the prison.
The big Arab female guard had laughed when she noted Tiffany's frightened reaction to the chorus of sexual comments and catcalls aimed at her as she was escorted down the cellblock hall towards her assigned cell. "Don't worry, American, they can't all get at you at once – just the gals in your cell, jus the two of them. They're two tough women, both of them are in for murder; so I suggest you learn how to be nice to them, real nice!
Utema and Faqleti were the two dangerous women who welcomed Tiffany as the guard shoved her into their cell. Not ones to waste any time, the two Arab dykes immediately demanded that she get down on her knees and started licking their needy cunts
"You're going to have to prove yourself to us by doing a lot of pussyeating if know what's good for you," Faqleti warned. "If not, it's going to be bad for you."
Tiffany, although plainly scared, replied,"No! That's unnatural and perverted! I'll never do such a thing!"
Tiffany had barely spoken the words before Utema's big hand slapped her hard across her face, dropping her to the floor. "I'm glad you a stubborn American bitch! It's all the excuse I need to show you what happens to a foreign girl who refuses to do what she's told in this prison!" Utema snarled as she slapped Tiffany's face again.
Utema straddled American girl's chest as she prepared to enjoy the beating she was about to start giving her.
"It won't do you any good to scream or resist. It will just make us hurt you worse! You're going to be our good little girl after we're both finished slapping you around real hard."
_______________________________________
Just sentenced to serve a long term in the local African women's prison, American Emily Price was a strong young girl, still refusing to accept the injustice of what had happened to her. Emily had also refused to accept the female guards' blatant offer to "take care of her" and have her serve as the guard's own 'private girl'; confined in a small closet-like cell inside the Guard's Room.
"If you stay with us guards, you can just spend your time pleasing us instead of having to be eating all those black pussies and asshole of the women back there in the cellblocks," the female guards' Captain told Emily as she pinched Emily's nipple and twisted it. Emily, being the proud girl that she was, slapped the Captain's hand away – a mistake; a mistake that she would pay for throughout the night as she was whipped by one guard after another.
The new American prison had needed a lesson on being a 'good girl' and her punishment sessions had begun to strip her of her previous willful and uncooperative nature. When they had finally ceased to flog Emily, the Captain stepped up to her and started to once again pinch and twist Emily's nipples, much harder than she had first done. This time Emily eyes started tearing again – but she stood rigidly still as the female Guard Captain continued to torture her breasts with her strong fingers.
"Hmmmm… Yes…. Maybe you'll do. Maybe you might do, indeed," the Captain chuckled. "Now, if you can pass the next little test tonight, maybe me and my girlfriends just might let you be our little girl….."
The trussed-up Emily's screams filled the corner of the Guards' Room as the Captain of the Guards was the first to take her turn, shoving her big, hard fist deep into Emily's exposed pussy. The African guard was an expert at it, knowing just what areas to grab inside the American girl without causing any permanent injury – only agonizing pain.
"That's it, scream for me, American bitch! You're going to scream even louder when I work my arm in up to my elbow!"
In an isolated, heavily-guarded Women's Prison somewhere in the back jungles of South East Asia, American Nellie Armstrong could not claim to be innocent, being cought while photographing many of the Asian country's sensitive military installations while passing as a magazine writer.
Nellie had been discovered within a week after first entering the country and had confessed to being on American spy mission within a couple of weeks of being subjected to the most intense mistreatment at the hands of the experienced interrogator, Feng-Li.
Nellie had undergone rigorous training to prepare her in case she would ever be caught and tortured – but nothing could have prepared her for the devious and evil methods of physical and mental tortured employed by Feng-Li and her tight group of like-minded cohorts.
Nellie could only feel a deep shame as she signed the various typed confessions and cooperated in giving vital information concerning her American employers; Feng-Li had broken her thoroughly.
Now that Nellie had been sentenced to twenty years in the Women' Prison, Feng-Li saw a chance to deepen the young American female's subservience and submission. For Feng-Li, this was now solely a matter of the perverse pleasure that she would extract from stripping away the last of Nellie's pride…..
"Don't look away, Nellie," Miss Feng-Li cooed softly as she lowered her hungry, smelly wet pussy toward Nellie's face. "Keep your eyes on mine while you lick my cunt and clit with your pretty American tongue. Show my friends how much you're going to belong to me."
"Mmmm, so good, Nellie. Keep it up and I'll move up a bit so you can lick my other hole, okay….?"
_______________________________________
Muhadmud was an expert at taking care of some of the Sheikdom's more delicate problems. The ruler of the rich Gulf Nation's restive but thoroughly controlled population was extremely sensitive to any form of bad publicity and had employed Muhadmud's 'special' services to keep secret things secret.
Selma Madson, an independent-thinking teacher imported from the States, was the Sheik's latest problem that needed to be taken care of. The Sheik had badly misjudged Selma's cheery, cooperative nature as a sign that she would comply if summoned to his chamber bed. Miss Madson had been outraged and not very diplomatic while giving the Sheik one hell of smack to the mouth. Further, Selma had made it clear that she would be contacting every American newspaper editor that she could think of after she returned to her teacher's compound.
A hurried called from the Sheik to his trustworthy Muhadmud made sure that Selma never arrived at her destination.
Muhadmud had a special dungeon constructed under his modest but secure concrete home. That dungeon had seen many victims; from disgraced diplomats to traitorous relatives to foreign spies; all of whom suffered under the torturous methods applied by Muhadmud.
Now it was Selma's time.
The government-controlled media had already started reporting about the strange disappearance of the American schoolteacher. Kidnapped by slavers or a victim of a botched robbery?
Muhadmud had decided to indulge himself by using his electrical skills on Selma's whipped body. Since the American teacher had been classed as missing, he could take his time with this tall, blond girl.
Do anything he wished.
Maybe even totally break her; maybe even make her into a permanent slave to be kept down in this dungeon….
"Yyyyiiiiieeee…!" Impaled on the electric metal stake and wired to Muhadmud's hand-held gearbox, Selma could only scream unintelligible sounds as the voltages streamed through her.
"Not so proud now, are you, my pretty American? Maybe if you beg me to let you be my slave…," Muhadmud hummed as his experienced fingers played with the controls of the electric gearbox.
_______________________________________
Ginger would serve as an example to all the other female inmates at Abutun Munta Prison for Women; serve as an example that even white-skinned American girls could not expect to defy the will of the prison authorities or the guards who ruled over them daily. An attractive new arrival at Abutun Muntu was expected to follow every order given to her, no matter how unreasonable that order might be.
Usually a female guard's very first order given to an already-inspected and examined new inmate at Abutun was to "Bend over and show me your pussy". The second order was usually to "Spread your cheeks and show me your asshole". And the third order was usually to "Eat my pussy". Ginger had loudly refused the third order. That was something that could not be overlooked or tolerated – especially by a foreigner.
Ginger had been innocent of the charges against her. But she was very guilty of refusing a guard's lawful order to eat her pussy. Inmates in Abutun Munta, especially the attractive ones, were expected to provide their guards with the pleasure they needed to help them cope with the pressures of their work. It had long been recognized that one of the best female guard recruiting tools was the availability of so many captive female mouths and tongues that could be used at any time and as many times that a guard wished. The rumor was that there were thousands of applications for the female guard positions at Abutun. It seemed like word had gotten around.
Now the word throughout the prison was that the white American girl named Ginger had suffered mightily for her insolence and inability to accept her inferior position. It was all true: Ginger would never disobey any guard's order again. In fact, for the rest of her time at Abutun, Ginger would be known as the 'Guards' American Whore'….
C> "Should take the American girl down, Sergeant? I see that Corporal Imeki and some of the others are really anxious to start using her back in the 'Sex Room'. They really want to begin teaching her lessons."
"No, why don't we leave her up there for the night, just to have her suffer a bit more. They can break her in tomorrow morning."
Incoming search terms:
| Hines torture porn (16) | | Марк Десадов - Графика Hines intercourse (1) |