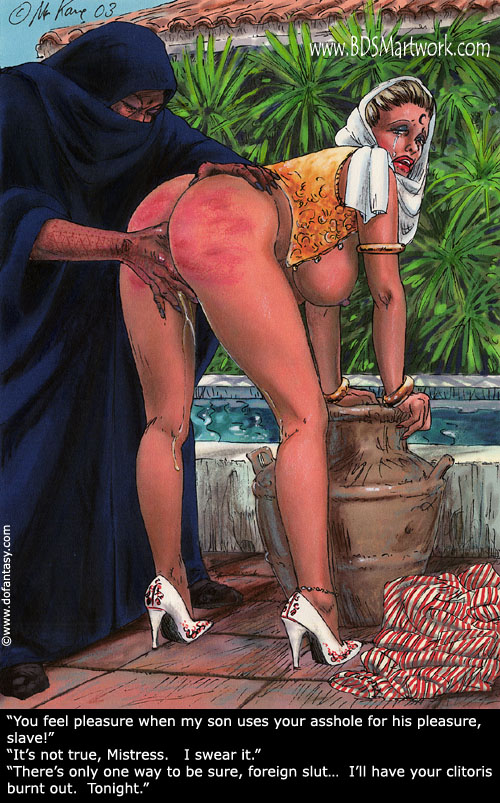 Show your body to my cousin Kalebb, you filthy foreigner! What dТyou think of this piece? They took her from a galleon off the Italian coast.
Pooo, she stinks! Beautiful though. Why do you keep her shut in here?
SheТs stubborn and proud. She is resisting my little whims. She even attacked me!
She looks like any other slut, out to please
She will be soon enough. SheТs been here for a week, chained by the neck all night and with her cunt on that big thing fixed to the bench. SheТs had time to think things over. Any day now IТll have her washed and perfumed and chained to my bed again. IТll give her a last chance. Either she is obedient or sheТll be thrown to the dogs.
The marks on the bodies of the two black slaves reveal the ferocity of their training. The forced smiles show too that their submission has been achieved.
Their Master gazes at them in satisfaction. His penis slips inside the slits in their dresses. He likes fleshy females with huge breasts. He keeps them in chains, and enjoys hitting, biting and scratching them, hurting them any way he can while he rapes them.
ItТs time you learnt to fool around with each otherТs bodies I want to see your black skins shining with your saliva and your womanТs juice.
Kate is missing from her hotel. She is obliged to prostitute herself in one of the seediest houses in town. Her pimp, a heroin dealer, injects the drug into her breasts. Under the influence of the drug, Kate is made to lick the usual mixture of intimate secretion and semen from the thighs of local prostitutes. Sometimes she has to lick the cum off the floor or walls of the old brothel. Kate is a white foreigner, and that makes her very popular among the clients, who bid for her special services night after night.
OK, youТre wet enough. Pull that thing out of your cunt. The clients are waiting.
IbraimТs mother has taken responsibility for the training and discipline of the women in the harem. A foreign slave, a heretic, is obliged to provide her Master with as much pleasure as possible, but the harem rules forbid her to feel pleasure herself.
You feel pleasure when my son uses your asshole for his pleasure, slave!
ItТs not true, Mistress. I swear it.
ThereТs only one way to be sure, foreign slut IТll have your clitoris burnt out. Tonight.
Eve, a beautiful young foreigner, was kidnapped at a bus station. She is well-built, and extremely sensual. A single, sultry look from this woman is enough to give a eunuch a hard-on. Not old Abdul though. He only managed only a brief flicker of an erection, even after watching when her feet were flogged, and her thighs and buttocks whipped. The old merchant takes hold of the girlТs legs and tries to penetrate her, but he comes before he can manage it. The girl is relieved, but Abdul is not. Frustrated and in a bad mood, he orders his man to punish the young slave severely, blaming her for his premature ejaculation. The first thing the muscular, perverted servant does is to finish off the job his Master started. He rapes the girl again and again, in her anus as well as her vagina. Then he flogs her and rapes her, hour after hour, through a long night, until first light finds him pale and exhausted after his orgy of sex and violence.
Move that lovely little bumhole around, slave, and turn Ibraim on. IТm gonna rape you again!
The slave market at Aldadraman is famous for the diversity of its goods. Women of all ages and social standings are sold for the delight of their wealthy buyers. The customer services include decorating the merchandise to the customerТs specifications. Sheik Abderraman Al Rashid is inspecting his new slaves before sending them off to the Palace.
Put a ring in the nose of the tallest one, and link it buy a short chain to her nipple rings so she has to bow her head. It will do the haughty foreign slut no harm to learn the value of humility!