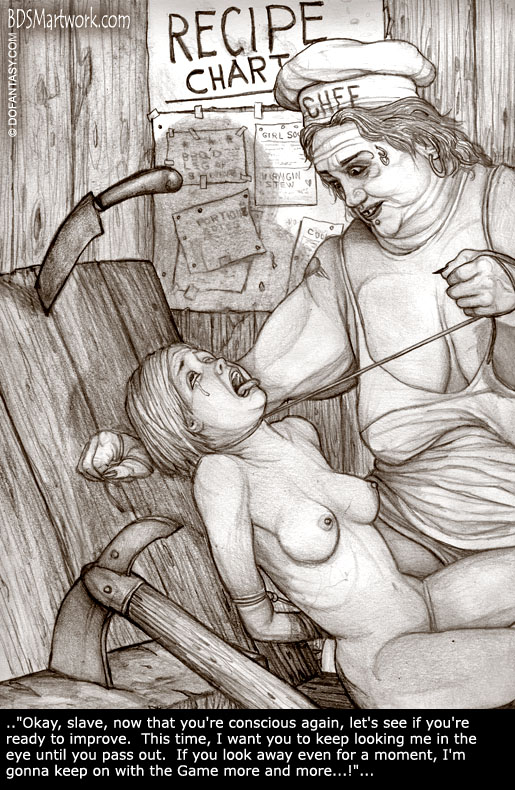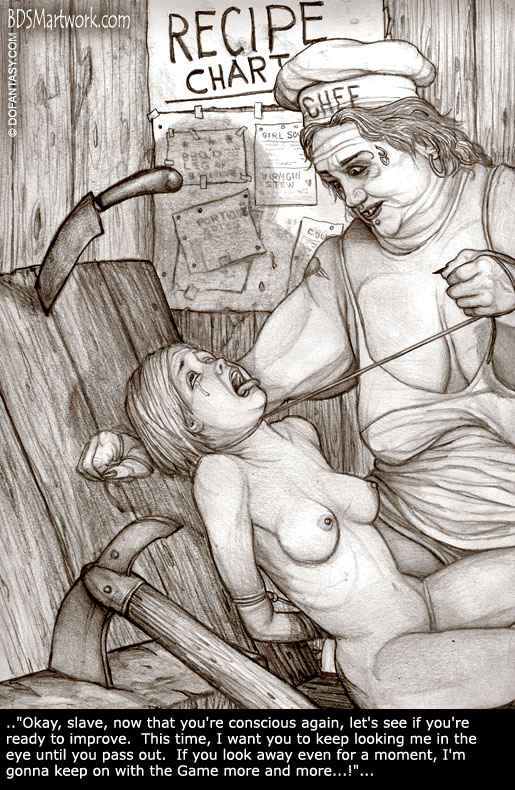 Jenny Witchlove's voice was shrill as she whined. " Oh, Mama, Why do we gotta wait while Grandma messes around with that gal? I'm hungry! You promised that we'd get to have a couple of the prettiest ones for dinner tonight! I'm hungry and I wanna eat!"
Grandma was indeed holding things up; she was clearly taking a special interest in the new tall blond slavegirl with the almost perfect body. The slave, still hurting from her sessions under the whips and straps, trembled at the rudeness of Grandma's eager, exploring hands. A low-pitched moan escaped from Grandma's throat.
"Hmmmm, so pretty. So cute," Grandma muttered as she dug a couple of fingers inside the slave's cunt.
"Now you hush up, girl!" Jenny's mom told her. "Your grandma's one of the heads of this family and if she decides to keep this bitch rather than eat her, that's her privilege!"
Some of these young adult witches nowadays – especially the ones with cannibal instincts – tended to think with their stomachs rather than their pussies. She would never understand this new generation!
With the Witchlove family, everything was dedicated toward the basic essentials of life – love, death and food. Dyanna and Lorili, the two Great Aunts of this particular female clan of witches, were romantics. They were two ladies dedicated to love; the love of their slaves; a love that utilized the application of fear and pain to instill both obedience and devotion in their cowed harem of slavegirls. These elderly sisters had also long since discovered that when eating time came, a sincere slave tended to taste better.
Sophie was the sisters' most recent slave. Sophie showed a lot of promise, having been thoroughly broken in just a few days of punishment. Sophie was a keeper.
"That's it, my love, sign your name to our registry so that you can accept the love that we both will give you," Lorili Witchlove ordered. "Sign it so that we can allow you to show us the loving that we are entitled to".
"Yes, a kiss to celebrate our newest slave!" Dyanna exclaimed as the crying slave signed her name. Her teeth lustily clamped on the girl's lip, pulling at it painfully. Ah, so delicious!"
Her young adult's body quivering with anticipation, Jenny Wichlove stepped forward to greet the petite slave who had been chosen especially for her own use by her ever-indulgent elders. The slave was just the right kind for Jenny, just the type that she preferred; a tender, small-framed 18 year-old. Jenny liked the petite ones. They were so much easier to control as they were put to work worshipping Jenny's needy holes with their tart little tongues and she loved how they trembled in anguish as she dug her large fists deep into their tight pussies and buttholes. And they almost never failed to reinvigorate Jenny's lust in the wee hours of the night as they lay sobbing close against her, embraced in her strong arms.
"Come here, sweetie. Come and give me a big hug before you go down on your knees! Don't you worry about anything – I'm gonna take real good care of you! You're just my type of girlfriend. Mmmmmm, I could just eat you up!"
In a way, Sherry was going to be fortunate. Her 19 year-old looks and her tight, shapely body appealed to Maddy WItchlove more as a lover than as a victim. Maybe it was how she at first begged so loudly when they began whipping her and then went silent, mutely accepting the many agonizing lashes that followed. A hovering Mistress, especially one so aberrant and experienced a witch such as Maddy, was usually quick to recognize the exceptional potentiality that Sherry exhibited as a true lifetime domestic sexslave. And Maddy did quickly recognize it. Regular sexslaves came and went, eventually wearing out their welcome and being marched to the chopping block as a final contribution to their Mistress' happiness.
Sherry needn't worry about anything now. She would be trained in the wet arts of sexual satisfaction of women and that would be her only duty in life. Maddy's previous lifeslave had died some fifty year ago, a wonderfully adept slave whose very memory sometimes caused Maddy Witchlove to wet herself. Now Sherry would be replace the one whom Maddy had cherished so much – as soon as she learned a very valuable lesson, that is….
Maddy Witchlove carefully, slowly, brought the white-hot, double-pronged towards Sherry's tear-filled eyes. Maddy would be very careful; she didn't want to miss and disfigure this wonderful slave's pretty face, but the slave had to realize the life-or-death seriousness of the lifestyle that was now going to be hers for the rest of her days. A girl picked as a lifeslave must never be allowed to divulge in any way her Witch Mistress' many rites of magic and spell making. Sherry must be made to understand what awaited her if she ever failed to keep Maddy's secrets.
" Hold still, lovely, and have a look at what will be the last things you will see if you ever speak or even hint of my methods of magic to anyone! If you ever dare betray my trust, I will shove these white-hot pokers into those lovely eyes of yours. Do you understand?"
On their last night amongst the living, slaves Denise and Karen were the 'guests of honor' in a very nasty, extended, lesbian orgy organized by their owner, the mammoth-like Tanya Withlove and a number of her special friends. The two slavegirls had been given the choice of either spending an indefinite servicing the needs of their corpulent Mistresses or being the center of attention of the most gruesome, painful torture session that Mistress Tanya could devise for them. Given this choice, it was no surprise that the slaves elected to spend these night attending the demanding pussies of the Witchlove women.
When tomorrow came, Karen and Denise knew that they both could be scheduled to be beaten badly ( You both will suffer a lot if we're not completely happy," Tanya had assured them ). It was the way of these witches to consider a more frightened slavegirl to be a more tender, sincere and pliable. Tanya had been very pleased with how these slaves had performed their duties throughout their month or so stay with her – but she wanted more, much more….
The orgy had lasted throughout the night. The slavegirls, Karen and Denise, had been giving their rotund witch Mistresses all the pleasure that they could possibly manage to give. Dawn was just arriving, time for a little change of pace – and Mistress Tanya started it off with her hardly noticeable nod to her cousin Yvette. Yvette acknowledged Tanya's silent instruction by beginning to apply her handy little leather whiplet.
"Yiiiiieeee….!" Karen scream was shrill as Yvette began lashing her hard all over her back…..
Among the Witchlove witches, it was Sholunda who was considered to be the best cook. While most of the other witches were content with merely roasting or stewing food in their backyards or kitchens, Sholunda liked nothing better than employing gourmet techniques to turn out the most savory and delicious meats. It was not by accident that the other witches tended to drop by to visit when she was in the midst of her cooking and never failed to appreciate her food catering skills. Pretty slave Michelle's duty was to keep Grand Chef Sholunda happy and busy. A nineteen year-old virgin ( before Sholunda had deflowered that intact pussy with her big fist ), Michelle had spent the last two months licking and lapping her Mistress' wet and very appreciative holes in the most proficient ways. But lately Michelle hadn't quite done her job as well as usual. So Sholunda decided to employ a little incentive…..
Witch Mistress Sholunda had a full day of cooking ahead of her and she needed slave Michelle to regain her licking skills in order to keep her Mistress at the highest level of contentment. The Grand Chef always functioned so much better in the kitchen when her needy pussy and asshole were content. The Mistress knew how to ingrain some much-needed motivation in her slave. The Strangulation Game always worked….
"Okay, slave, now that you're conscious again, let's see if you're ready to improve. This time, I want you to keep looking me in the eye until you pass out. If you look away even for a moment, I'm gonna keep on with the Game more and more…!"
Incoming search terms: