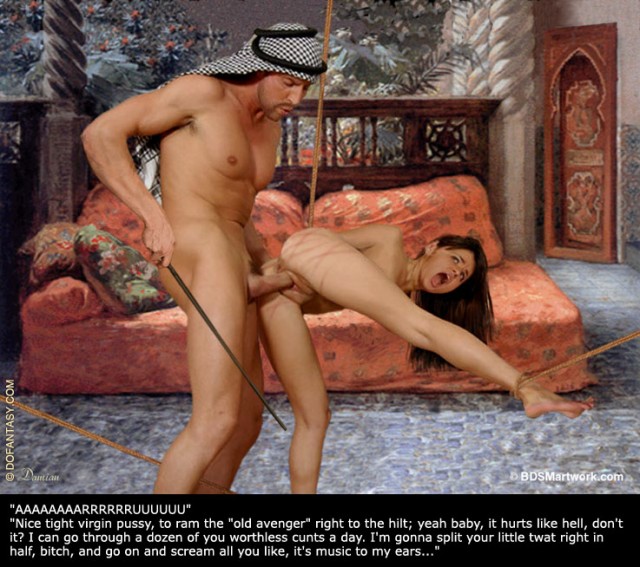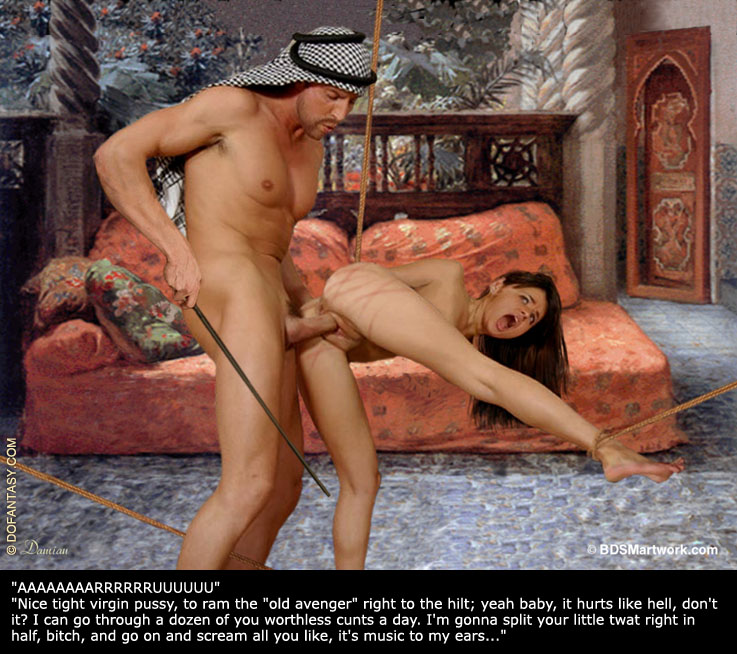 General's Garcia Playroom – part 1
by E. All rights reserved.
Somewhere in South America at the end of the 70's
General Garcia smiled in anticipation. The night's hunt had been successful; the catch was even better than he had expected. Seven female terrorists; all of them young, slim girls with shapely bodies. Most of them were blond and had firm breasts; he could see that clearly as they had undressed all the girls before the lineup. They were only allowed to wear their panties – for a while…
The general mused. He strolled around the prisoners on the yard, guarded by many soldiers. He inspected the victims all very carefully. Who would be the first, he thought, the first to be treated in his underground torture cellar? That brunette, around thirty years old and with rather big breasts? Or the petite blonde one, no more than 15 years old, with that childish and very frightened look on her face? Or why not her blonde friend, a teenage girl who was tall and seemingly strong despite her age – an athlete, probably a runner. Freckles in her face, a small perky nose and her hair in pigtails did not spoil the impression she made on the general. He read from a sheet: "Angelique Smith, 17 years old. Student. Captured during gym lesson at school." He smiled, put the sheet away and stopped in front of her, staring her in the eyes, saying: "So… what have we got here… a blonde one… What is your name?". She tried to stare back but failed. "Angelique Smith, sir. Please, let me go, I have done nothing. I'm just seventeen… just seventeen… I'm just an innocent student… pleeease…"
When the general begun to take her panties down, she broke down and begun to beg and whimper. The general saw the natural bush uncovered when the white string panties, stained from her secretions during the hunt, were eased down ever so slowly over the round but well-trained hips. He felt his cock getting harder. Yes, he thought, this is the first one, as he took a deep sniff of the panties and put them in his pocket…
So they grabbed her by the arms and dragged her, now screaming out loud for help, all the way over the court to a big metal door at one end. The door opened and inside it there was a corridor with a concrete floor. The walls were covered by old white paint which had begun to fall off. There were dim lights here and there along the narrow and long corridor. The guards dragged the now pitiful sobbing blonde young beauty all the way down to a stair at the end of the path. They threw her down the stair and she fell hard on the concrete floor beneath. The guards slowly went down the stair and lifted her on her feet. She was slapped one or two times in her face to quicken, then one guard kicked her in the groin. The door to the torture chamber was now opened…
They who think a torture chamber is a place of torches and dampness, rats and dirt would have been quite astonished by the sight of general Garcia's playroom… It was a rather big room with comfortable chairs, furniture and other every day used items. But what differed it from an ordinary living room was the steel table in the middle, complete with adjustable metal bracelets and straps… This was obviously the bed on which the general made his little doves sing… On a lower table beside the torture table were a lot of electronic equipment to be found, which made the room look more like a technician's playroom than a modern torture chamber. Electro-generators, clips and wires, some metal shafts with a thick rubber coated wires leading to them and also some needles with connections made for electric cables… In the room there were lights of the sort that you can find in a surgery – very bright lights, pointed towards the metal table. The lights were strong enough to explore every single movement, every single muscle spasm of the victim, to the sheer joy of the spectators… And that also guaranteed extremely good quality on the video that always was recorded during the sessions; videos that became part of general Garcia's private collection… He had about 400 of them by now… The system for recording the sounds, the squeals and the begging, was excellent as well. In the ceiling as well as beside the table, microphones were mounted to absorb every single whimper from the poor female victims… The floor and walls were coated with white tile, and a drain was placed right under the torture table…
The poor blonde girl still gasped for breath after the kick she had received in her groin. One of the guards took a good grip of her hair and held up her face, so that she could see what was in store for her. She opened her mouth in fear and her blue eyes stared wildly at the steel table, the straps and all the nasty equipment laid out in front of her… She fully understood the purpose of it all and began to plead…
"Oh no oh no oh no, pleeease have mercy on me, I don't want this to happen, PLEEEASE…"
She was silenced by a hard slap over her mouth by one of the guards, and general Garcia spoke in a hard voice: "Shut up, you slut. I've never shown anyone mercy in this room before, and you my dear are surely not going to be the first one to enjoy such release. Guards, put her on the table."
"OH NOOOOOOOOOOOOOO…NOO NOOOOOOOOOOOO PLEEEASE NOOO DOOOON'T…"
The guards smiled slightly and slowly dragged the screaming and kicking naked blonde towards the dreaded table… God, what a beauty she was! Her well-trained thighs trembled as the muscles contracted in her vain attempts to escape, her perfect breasts moved a little up and down and her pigtails waived as she shook her head from side to side. And her cunt…her hairy cunt was covered with moist, fresh sweat which made her thick hair curl.
Although she was an athlete, and a rather strong one as well, she was no problem to handle for the two male guards who easily threw her up on the hard and cold steel table… General Garcia mused and felt his cock getting harder… The steel manacles that were mounted here and there on the table were quickly fastened around her ankles and her feet… The poor naked and panicked girl kept on babbling her pleas, pleas that were not unheard, just unanswered…
She was laying on her back, her strong arms following the sides of her torso down towards her feet, her muscular but oh so feminine thighs obscenely spread, secured flat against the table, and her knees bent and the soles of her feet touching each other… A metal strap secured her pretty head just over her forehead, not allowing her to bang her head so that she could escape into soft and dark unconsciousness… They had really thought of everything…
The general sat down in his favorite chair, waiting for the show to begin. His assistant, Natasha, a blonde and very good looking former KGB-agent, 33 years old, would to the work for him. He liked that a lot, to sit and watch, maybe take part in some parts of the session, but usually not… The watching and the slow masturbation was his cup of tea. On some occasions he could use a girl to suck him during the sessions, but not today. He had other plans.
Natasha now entered the room, and she obviously cheered up from what she saw. She was a well-trained woman, strong, and had a stern expression in her beautiful face. Short blonde hair, long red nails and a non-smiling mouth. But her eyes were shining of excitement of what she saw… and of the anticipation of what she was going to do to that pretty young lady in just a few minutes…
Without a word she took out a whip and begun to beat the poor helpless girl. Just a warm-up for the real thing; it was good for the effect of the upcoming torture to weaken the girls first, not allowing them to be in full power when the fun and games begun…
After a few minutes of silent trashing, well, silent from Natasha's point of view that is, of the cunt, breast, face and inner thighs – especially the inner thighs, that had caused the most extreme screams from the poor blonde – she introduced herself to the trembling victim…
"So so so, what have we got here for Natasha to play with today… A blonde baby beauty… Sensitive of course, as all youngsters are… I just wonder where you are most vulnerable…"
Natasha took up a file that one of the guards had brought. All the girls that were captured were already on file; they had checked everything. Even the visits to the doctors were no secrets; one year ago Angelique had told her gynecologist that it was a problem for her that her clit was so extremely sensitive… It caused her pain during masturbation… she had never had sex with a man yet. The doctor had of course tipped her off; she knew what the government was looking for, they had sent out some decrete to all doctors in the country to search for extremely sensitive young girls… The fee for finding them was considerable.
Natasha smiled, for the first time, and closed the file…
"It's your sweet spot, isn't it my darling… Your doctor obviously betrayed you…"
The young blonde stared in disbelief. Her worst nightmare was about to become true… She had dreaded this… The stories that she had heard at school about what had happened to the other foreign girls that had disappeared were true after all… She could only beg now…
"OOOH … NO PLEEEASE, PLEEEASE, NOT THERE, NOOOT … THEEEERE… OOOH MY GOD … NOOOOO … NOT THEEERE… ANYWHERE BUT THERE…"
"So 'there' it shall be then… of course…" Natasha teased her victim… "But first, let's make it a little more sensitive, shall we?"
So saying, Natasha bent down between the poor teenager's legs, and with a swift movement she buried her thumb and index finger of her left hand into that musky, smelling jungle, parting the labia of the immobilized girl. "What are you doing… what… take your hands off me…" Natasha now stuck her right thumb into her own mouth, wetting it generously with saliva, and then gently begun to massage the clitoral hood of her victim. She caressed the youngster ever so softly, knowing that she would respond to the treatment in a few seconds. The young one's were always the most sensitive ones, Natasha thought… for pain as well as for pleasure…
The intimate caress obviously aroused the helpless girl on the table. She began to writhe and breathe heavily and pant from the rotating thumb. Natasha smiled and bent further down, making her tongue search for its way under the protecting fleshy hood, finding the most sensitive spot on sweet Angelique's body. The young girl reacted as if she were being jolted; unwillingly and filled with shame she felt her arousal becoming increasingly overwhelming, she was near climax now… oh so good…
As the caresses suddenly halted. Natasha left the panting girl on the verge of orgasm, almost there but yet so far away… Natasha stood up, sucked the sticky fingers clean, and turned to the general.
"This treatment is very common in the Soviet Union", she explained. Of course, all girls are sensitive down there, and particularly the young ones, but with this method I can ensure you Sir, they will respond even more wildly to what's coming next…"
The general smiled, massaging his cock through his trousers.
Turning back to her helpless victim, Natasha leaned over the tearstained pretty freckled face and whispered in a low and sexy voice: "Was it good darling? Was it? Good, because now comes the dessert… It will feel different for you, I guarantee it…"
Natasha once again sat down between the out splayed, muscular thighs, enjoying the wet and musky smell of a teenager in heat, once again parting the labia with her left hand, then lifting the poor little girl's clitoral hood and fixating her still erect clit with her long red thumbnail, as she begun to scrape the clit from the other side with the nail of her right index finger, slowly but steadily, scraping it and listening to the high-pitched squeals of agony that arose from the poor, poor girl…
"AAAAAAAAAAAAARRRRRRGGG …. AAAAAAAAAAAAARRRRRRGGGGGGHHH … NOOOOOOOO ….. AAAAARRRRGGGHHAAAAA… AAAAAAAAAAAAAAAAAAAAAAHHHHHHHAAAAAAAAAA …. PLEEEEASE NOOOOO … MEEEEEERCYYYYYY…"
"But Angelique darling, what is it? What is it? I've hardly begun…" Scraping it…
"AAAAAAAAAAAAAAAAAAAHHHHHAAAAAAAAAAAHHHAAAAAAAAAAAA…. OOHNNNOOOOOOOHHHNNNOOOO … NONONMONO PLEEEESASE PLEEEEASE STOP IT… STOOOOP IT…"
"Why should I stop Angelique? Do you have a suggestion? Why?"
Continuing… "MAAAAMAAAA PLEEEEASEHELPMEEEE …. AAAAAAAAAAAAAAAAAAARRRRRGGGHH…"
"She can't help you… In fact, she is the one who told us that this was your weak point…". Natasha told the truth – they had had their fun with Angelique's gorgeous mother last week, a 35-year old well trained Nordic blonde woman, who finally told Natasha everything about Angelique; where she lived, what her biggest fears was as a child… Amazing what a little electricity could do to the basic instinct, to protect your own child… When Angelique's mother got it down her throat, she gave in immediately… Everybody has different weaknesses, Natasha thought and smiled at the memories…
After ten minutes of slowly scraping away the skin of the clitoris, Natasha finally stood up from the now a bit sore cunt, leaving Angelique laying on the table, still naked of course, sweating and hoarse from her screaming. She instead picked up a bundle of thin metal wire from a tray, rolling it up and stretching it straight, about six inches long, then cutting it off from the bundle. She now turned to the general and explained:
"This is a method that I've heard they used in Greece during the dictatorship. They used it on men, but I've tried it on women as well and let me assure you Sir, it's just as effective – if even not more painful. The females scream more than the men at least…"
The general smiled evilly and nodded his approval. Natasha turned back to the table, once again letting her well manicured fingers of her left hand bury themselves into the musk smelling bush between the outstretched, cramping thighs. With a well practiced movement, she easily parted the labia of the poor little one, letting her fingers once again search for the inner lips, without hurry, folding them aside, diddling the urethra…
"Oh, what have we got here… This must the place, isn't it my dear… Here is a little something for all the times you wet your pants as a child…". She put the wire exactly to the opening…
Then she slowly, ever so slowly, begun to worm the wire into the naked helpless girl's urethra. The effect was immediate. The poor little one screamed out loud, her arms and legs fighting the implacable bonds, she tried to arch her back but failed as she was secured tightly to the table… Natasha licked her lips. This was so good, she thought, slowly continuing her cruel task… What had been until now was mere child-play…
The wire crept up the tight and oh so sensitive urethra of the small girl, just as if it was alive, knowing it's way, eagerly climbing up towards it's goal… The experienced fingers of the Russian torturer kneaded the wire, back and forth, back and forth, but slowly, very, very slowly, to be able to savor it all, the shrieks, the pain in the panicked eyes of her victim… Listen…
"AAAAAAAAAAAAAAAAAARRRRRRRRRRRRRRRRGGGHHH… AAAAAAAAAAAAAAAAAAAAARRRRRRRRGGGGGGGHHHHH… AAAAAAAAAAAAAAAAAHHHHHHHHHHHH AAAAAAAAAAAAAAAAAAAAAA…"
The girl was almost not able to form any words… Only guttural sounds erupted from her throat… to the sheer joy of Natasha and the general…Further up… millimeter by millimeter…
"AAAAAAAAAAAAAAAAAAAAAAAAAAAA SSSSSHHHHHHHHAAAAAAAAAAAAAAAAAAA….."
Finally, the steel worm halted, at its goal, reaching inside the bladder… Natasha noticed that from the trickle of urine that came out beside the wire… She did not hesitate and started to twist the wire around… slowly…
"AAAARRRRGGGHHHH … NNNOOOOOOOOO AAAAAAARRRGGHHHHH …. PLEEEEEAAAASSSSSEEEE…."
Finally Natasha stopped, seeing that the nice freckled but oh so tormented face was getting pale. She inserted a syringe in the arm of the young one, and fastened a plastic bag of stimulants to a hook hanging from the roof. This would help her to stay awake for the next wonderful part, Natasha thought, once again getting wet from sheer anticipation…
She picked up a needle, showed it to the little bound baby on the table, and asked:
"So young lady, what, exactly what, do you think I'm going to do with this little friend of mine…?"
She did not wait for a answer from the petrified youngster, just reached out for some rubber coated wires…
End of part 1
———————————————————–
General's Garcia Playroom – part 2
by E. All rights reserved.
Somewhere in South America at the end of the 70's
Natasha picked up a thin, long needle, showed it to the little bound baby on the table, and asked:
"So young lady, what, exactly what, do You think I'm going to do with this little friend of mine…?"
She did not wait for an answer from the petrified youngster. The needle was aimed at the already oh so sore clit. The long red nails of her left index finger and thumb eased the little hood aside, and the tip of the needle touched the very top of the little bud.
"AAAARRGGGHH… OOOOHHHNNOOOOO… PLEEEEASENOOOO… NOOOOT THEEEEREEEE…NOOOO…"
Angelique was panicking. Her worst nightmare coming true… Her weakest, most sensitive and vulnerable spot was to be penetrated by this sharp needle… ohnooo…
Natasha did not hesitate. Not at all. She had heard the screams before, from so many girls, even much younger than this one… No reason to stop it. She savoured the moment, drank in cute Angelique's fear, seeing her wide open eyes and listening to her pitiful pleas for mercy… How naive, she thought, as she let the needle start it's slow march into the clit, and further on into Angelique's slim body.
The poor naked girl, secured to the metal table, went totally wild. Her scream was the highest so far during this session. Listen to her!
"AAAAAAAAAAAAAAAARRRRRRRRRRRRRG … GGGGGGGGGGGGHHHHHHHHHHHHHHH AAAAAAAAAARRRRRRRRRRRRRRRRRRRRRRRRRRRR … GGGGGGGGGGGGLLLLLGGGGGLLL…"
A continuous vail, her body bent in an arch as long as the very tight straps allowed… This was SOO good, Natasha thought with a grin on her face… But still just the beginning…
Natasha halted. There was no hurry, absolutely no hurry at all. She held the needle between her fingertips and watched smilingly how Angelique tried to manage, tried to deal with the pain. Her breathing was very fast and she was sweating as her scream slowly died out as the needle did not move. Natasha waited for her victim to calm down… just to have the pleasure of breaking her again…
But first, Natasha leaned over the trembling, innocent girl's face and kissed her on the forehead, whispering softly:
"But it's just a needle, sweet Angie… just a needle… it cannot really hurt THAT much, can it… oh, I forgot, the clit is Your weakest spot… that explains it…"
As she whispered into Angelique's sweet ear, she begun to twist the needle slowly again, pressing it ever so slowly up, into the clit… worming it upwards oh so slowly… still whispering… and licking Angie's ear softly…
"Aahhh… feel it piercing you… yessss… no, don't scream, Angie my dear, don't scream yet… in a while you will have a better reason to scream for me…"
Natasha felt Angelique convulsing under her, secured down on the table. Yes, Natasha thought, it seemed that Angie did not like her treatment… she did not like it at all… as she slowly continued to worm the needle upwards…
As the needle finally had found it's way into Angelique's body, all the way to the small metal handle in the end, Natasha softly wiped away the tears from the freckled girl's face and whispered to her:
"So, my dear… just a start… tell me the names of your guerilla contacts and it will all be over… I promise…"
Angelique had no way of stopping the torture, but to sell what she had to sell. She sold it. The names, addresses, all that she knew about her young female contacts…
Everything to make the nightmare stop…
But it didn't…
Natasha wrote down the information and then calmly laid the sheet of paper on a table, and instead picked up a lighter… The dear girl didn't believe her eyes. What was this? It should all be over now – she had promised that!
"Wh-what are You doing? You promised me it should all be over now, that you should stop… I gave you all the names… P-p-pleeease set me free… Oh God…"
Natasha grinned evilly, leaned over her victim, softly whispering in her ear:
"Never trust a woman… I simply lied to you… Oh, my dear, I would not miss this for all the gold in the world… Oh no…"
She flicked the lighter, showed the flame to the bound and helpless teenager, and then slowly lowered it towards that soft and vulnerable area between her legs… Angelique just whimpered; she was beyond panic now, she could do nothing, absolutely nothing, to stop this from happening… She had nothing more to sell… Oh nooo… So cruel…
When the flame touched the tip of the needle at first, Angelique braced herself for the pain. She felt so much pain from the needle itself, that this addition of pain meant nothing to her. But as Natasha let the flame burn the very same spot for a while, Angelique experienced pain beyond anything she ever could have dreamed of. The heat multiplied the excruciating pain from the needle, and Angelique screamed. And screamed again. Listen:
"AAAAAAAAAAAAAAAARRRRRGGGGHHHH…. HHHHHSSSSSSAAAAAAAARRRRGGGHHHH… AAAAAARRRGGGHHHAAAAAAHHHHAAAAAAAA…"
Yes, Natasha thought, what an event… For so long had she longed for using this method on a small girl again, and this was the moment… the moment of joy…
The flame continued to flick the needle…
"AAAAAAAAAAAAAAAAAAAAARRRRRRGGGHHHH OOOOOHHGOOOODNOOOO…" AAAAAAAAAAAAAAAAAAAAAAAAAARRRRRRRRGGGGHHH…"
"What's the matter my dear? What is it?"
Natasha teased her victim as she took the lighter away from the now red hot needle.
"P-P-PLEEEEEEASENONONO… OH G-G-GOD… HAVE M-MERCY…"
Angelique's silly attempts to stop the pain were unheard. Natasha smiled slightly, bent down and licked some tears away from Angelique's cheek, and then once again flicked on the lighter as she whispered softly:
"Are you afraid of something, Angie my dear? Why? What are you scared of?"
Angelique took all the chances she got. She stuttered:
"T-T-THE N-N-NEEDLE… OHMYGOOOD… I-I-IT'S SO HOT, I-IT HURTS SO MUCH… M-MY POOR CLIT… OOOOHHNOOONOOOOO…"
Natasha chuckled with a sneer and looked at Angelique in disguise.
"Oh, You are afraid of the needle… but it's still just a needle… What a coward you are… I will see to that you will have reason to really be afraid soon…"
Angelique was in panic.
"M-M-MEEEERCYYY… M-M-MEEEERCYYY…"
The whispering answer came immediately.
"Oh no, oh no… no mercy for you my little girl…"
The flame touched the needle once more, just to draw inhuman squeals from Angelique's mouth. But then the flame moved slowly the short trip from the needle… to the wire…
"OHNOOOHNOOOHNOOMYGOOOD…"
The flame stayed put… heating the tip of the wire…
"PLEEEEASENOOONOOONOOO…."
Angelique was petrified. But the flame did not care… It just went on heating up the wire… which slowly was getting hotter inside her tiny little channel… the pain…
"AAAAAAAAAAAAAAAAAAAAAAAAHHHHH AAAAAAAAAAAAAAAAAAAAAHHHHHHH AAAAAAAAAAAAAAAAAAAAAAAAAHHHHHHHAAAAAAAAAAAAAAAAAAAAAAA…"
Her scream was never ending, it seemed that she did not inhale any air but finally she had to, but she couldn't, the pain was all to much…
Natasha let the wire rest from the flame for a minute… the wire was still hot… The poor girl was breathing fast, trying to regain some kind of control, but she did not – she was totally in panic. She now realized that this ordeal was more than she could handle… and it was still just the beginning of it… just the beginning…
Natasha smiled, and wiped fresh tears from Angelique's face, whispering:
"But dear Angie, what is it? What? Why are you screaming? Does it really hurt? Does it? Oh my dear little one… can this really hurt so much…"
The ominous flame once again flicked the very tip of the wire protruding from the tiny opening, through the pubic hair.
"AAAAAAAAAAAAAAAAAAAAAAAHHH AAAAAAAAAAAAAAAAAAAHHHH AAAAAAANNNOOOOGOOOOOOODNNNOOOOOOOO…"
Finally Natasha stopped. Angelique was no longer just an innocent girl, she thought; oh no, she had experienced so much pain in the last hour that women were not supposed to do even in a whole life. Yes, Angelique was now a woman; a young woman, but nevertheless a woman… Natasha smiled and said:
"You now have passed the exam of pain… so let me introduce you to these two… eh, friends of mine…"
So saying, she held out the two rubber coated wires with alligator clips in one end that she had picked out from a bag earlier… She held them in front of Angelique's freckled and once again tearstained face, saying nothing more… She just smiled happily and watched poor, naked Angelique's reactions…
The General had difficulties sitting down when he saw what was about to happen… This was his favorite fetish, and he always loved it when Natasha used it on the poor, defenseless girls he brought into his playroom… He wanted to take part in the wonderful torture but managed to calm down, to sit back and enjoy the show, just as he had planned… His hard-on was clearly visible now, and he slowly massaged his aching cock through his pants…
Natasha bent down and whispered softly in poor Angelique's ear:
"Maybe, just maybe, I'll let you go… without finding out what electricity can do to such a young and innocent girl's body and soul like yours… But that's depending on how sweet you can beg me for it… Would you like to get loose?"
Angelique fell for it. She begged like a five year old girl:
"OHPLEEEASEPLEEEASEPLEEEASELETMEGO… I BEGYOU, PLEEEASE… OMMYGODSETMEFREEEE… UAAAHHA, MAMAAAAA…"
Natasha listened, smiled, and caressed her victims face softly.
"You nasty girl… Were you really trying to fool me to let you loose…? For that I will make you pay dearly…"
So saying, she slowly begun to fasten one of the wires to the needle protruding from the oh so sore clit. Angelique panicked again. Natasha whispered softly:
"Unless…"
"U-U-UNLESS WHAAT? W-W-WHAT? I'LL DO ANYTHING. OHGOOODANYTHING…"
Angelique was a looser. Natasha leaned over her, taking the tip of the needle between her thumb and index finger, softly twisting it while whispering:
"More names, my sweet one… more names…"
"AAAAAAAAAAAAAAAAAARRRRGGGHHH…."
This was what made Angelique babble out all the names she had, addresses where her sweet girlfriends lived, some of them even younger than she, addresses of girls she only had met with once, girls she hardly knew… and all of them totally innocent of subversive activities… She did not care that they would take them in immediately, to torture them in the same way… only that the pregnant ones got even worse treatment… as they were even more vulnerable… no, she did not care at all… because now her ordeal was over… she thought…
…But it was not…
Natasha calmly connected the other clip to the very tip of the still warm wire, hummingly making sure that both clips were secured, fastening the other end of the wires to a magneto, taking a rubber glove on her left hand and a crank on the magneto in her right hand, and then whispered:
"Tomorrow we'll have your little sister here to watch this…"
"O-O-OHNOOONOOOGOOOODNOOO… Y-Y-YOU PROMISED…"
Natasha chuckled and said softly:
"…and I think she'll have to try it as well…"
She injected some stimulants into the arm of the bound and secured Angelique, before she – still hummingly – started to crank the magneto… slowly, ever so slowly… Angelique froze; the current flowing into her most sensitive areas was all to much for her. She peed and started to whine like a child. Listen:
"OAAAAOAAAAHHHHAAAAOAAAAA…MAAAMAAAA…HEEEELPMEEE…"
But there was no help to get for poor Angelique. Sweet seventeen stayed put, even though she convulsed and tried with all her girlish strength to get up from the table. All in vain of course….
Natasha savored the moment and stopped the crank. She licked her lips and massaged her own – now soaking wet – sex through her panties. Oh my god how beautiful, she thought… how beautiful… How could it be possible that she was so lucky, to have the opportunities to inflict such wonderful torture on all these innocent girls… How could it be..
She listened to, and enjoyed, all the pitiful pleas of mercy that Angelique stuttered out…
"P-P-PLEEE-EASE…P-P-PLEEEASE… M-M-MEEEERCY…OHNOOHNOOHNO…"
She started turning the crank again… a little faster this time… The reactions of the naked teenager's body were so lovely… oh so wonderful… and the screams…
"AAAAAAAAAAAAARRRGHHHHHAAAAARRRGGGHHHHAHHHHHA…."
And it had just begun… still just the beginning…
Natasha inserted the index finger of her gloved hand into the pained vagina, to actually feel the pain… the spasmodic movements of Angelique's vaginal muscles…
"A little rougher on her I think… She hasn't experienced anything yet…"
The General had spoken; he wanted Natasha to speed up the magneto, and so she would. She smiled at the General and said:
"Of course General, I'll take her to hell and far below… Do you want her to suffer as much as that small girl we had here last week?"
The General begun to breathe even harder from the memory of that long, successful torture session…. What Natasha had been doing to that petite girl was incredible… Her reactions had been so strong… so strong…
"Would you please, Natasha…"
Hearing that, Angelique now begun crying, like a newborn baby, crying in total hopeless desperation… Natasha asked her:
"Why are you so sad my little one? Don't you like being here with me and the General? We will enjoy each other for a long time…"
So saying, Natasha once more inserted her rubber coated fingers into and up the tight vagina of her athletic victim, and with her other hand let the magneto begin singing it's song of pain, turning the crank faster this time, accompaigned by the oh so unlucky shrieks from petite Angelique… who was urinating once more, a thin spray of urine trickling out from beside the wire… and screaming her lungs out… while Natasha calmly and with her knowing hand varied the speed of the crank, to make the little girl experience the pain in full… it never stopped…
EPILOGUE
The General once again entered his playroom after a light meal and a shower. Oh, what a night it had been! Natasha had not let her girlish victim escape into unconsciousness, not even rest more than a few seconds. He was surprised that such a young girl could take it for so long… but the stimulants that Natasha had given her helped of course. This was Natasha's specialty: just to torture someone was not so difficult – no, the challenge was to extend the pain and to take it to new limits.
Natasha was surely an expert; the General thought as he climbed up on the metal table and slowly entered the bound, secured and completely naked Natasha who was waiting for him with out splayed thighs.
Funny that she always wanted this treatment after a session, he thought, as he let his cock slowly slide in and out, in and out, of her tight and moist vagina, while she was moaning "No… ohno…ohgodno…" but at the same time responding by meeting his thrusts with her pelvis… They both watched a video screen which showed a recording from the session with Angelique earlier… right now showing how Natasha had stuck a long needle down screaming Angelique's throat and another one up her vagina and then had charged the needles, using the magneto…
Yes, the General thought as he felt his first but not last climax building up, she must have a thing on that… to fantasize about being one of the victims… and so do I sometimes, he thought… I fantasize that she is…
The General imagined how a dark haired girl slowly inserted a thick electric baton into Natasha's vagina, and then he orgasmed for the first time that night and lay down on the bound blonde woman… He regained his erection quickly, still with his cock inside her warm and slippery vagina, as Natasha whispered her plans for the girl for tomorrow in his ear… How could she know that he was dreaming about the baton, he thought as he felt his second climax beginning… She was really a genius…
THE END
Incoming search terms:
| https://pornextremal com/torture-stories/general-garcia-electrosadist/?amp (2) |