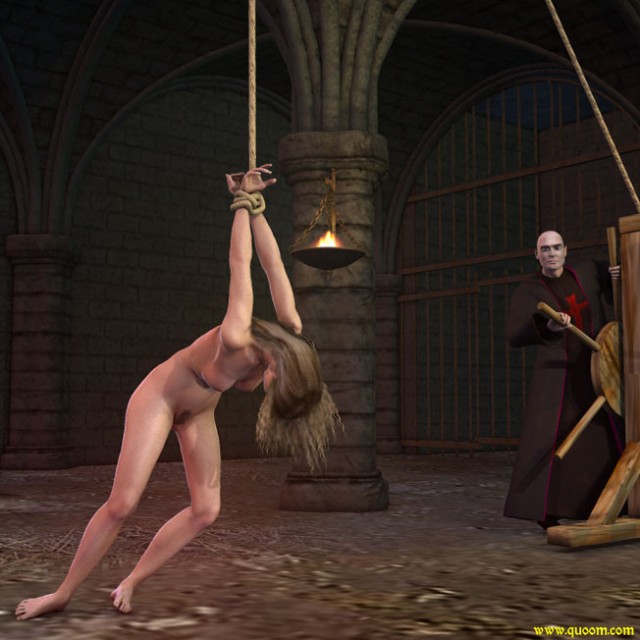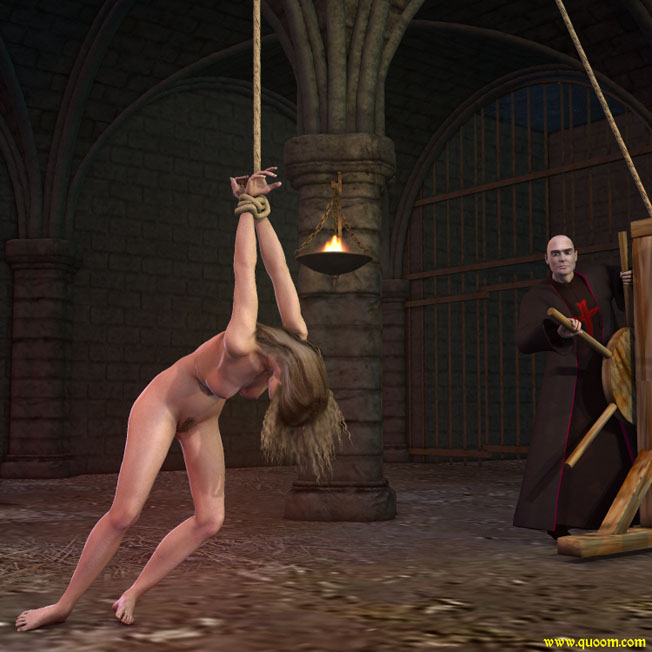 "Come on, Inez, here is the place where you may prove that you are
innocent!"
The monk pulled her to the centre of the room, not really rudely, but with just enough emphasis he hold her trembling hand in his own.
"But what…?" Confused and with raising fear the young girl looked into the huge dungeon room. Her eyes widened with the coming of the understanding.
"You…you want to torture me?"
"No torture… you only will be token a meticulously interrogation according to the law of the inquisition."
"But I'm innocent, i have not done anything wrong. I swear by the Lord,
that…"
"Well, then you have nothing to fear. If you are innocent, then the Lord will make you strong enough to resist the interrogation. He will then prevent you then from any harm… but other wise, if you are not so innocent as you pretend to be, you better should tell it now, before the pain will force you to you confess."
Inez shuddered in fear as they stopped near by a thick rope dangling down from the ceiling. Her eyes followed the rope that led to a winch, and she didn't need a lot of fantasy to imagine the purpose of this rope.
"Please not, you may not do this to me. I…"
"Stop this now." The hooded monk who had been waiting in the room stopped her with a harsh gesture. "What she is accused for?"
"She had been watched to refuse to eat pork meat. So most likely she follows the heretical rules of the Jews."
"But this is nonsense, I told you, that I just don't like the taste of pork. I'm a good Catholic, and I never had…
"QUIET, I said! You answer, when you are asked. And obviously you are impenitent enough that we need the help of the meticulously interrogation. Undress yourself!"
"What?" Inez looked at him in disbelieve, she never had been seen nude by a man, and now she should undress here in front of three of them?
"Hurry up, or shall we do it for you? Have you hidden heretical witch-amulets under your clothes to protect yourself?"
"No, of course not, but…"
"Then obey at once!"
She pressed her lips, tried to in vain to hold back some tears, but she did as he told and slowly open the top of her dress, let it glide down until she was bar breasted and looked with glowing cheeks to the floor.
"Go on… you have to undress everything! And hurry up, I don't have the whole day time for you!"
Trembling she let her skirt down as well and undressed her stocks and shoes as well. She felt the gazes of the man like needles on her skin and tried to cover her nudeness as good as even possible with her arms.
"I ask you now a last time before the interrogation will begin: do you confess to follow the rules of the Jewish faith?"
"NO!" She almost shouted it out loud enough, that her answer echoed from the vault. "No, I never done anything like this; i don't even know anything from the this faith, i just don't like pork that's all."
She wanted to say more, but her voice trembled, when the monks grabbed her arms and bent them backwards, where they quickly bound her wrists firmly and tightly with the rough finger thick rope. She trembled from hair tips to toes as she watched the monk moving to that winch to her right.
"I will tell you, what we are doing next!" The hooded monk has advanced and hold her chin to force her to look up to him. "With this winch we will pull your body upwards, until you dangle in the air. The weight of your body will hang only on your shoulders, and even if you are light weighted, sooner or later you shoulders will break under the pressure. You certainly can
imagine that this will be very painful, and you should better confess before you will experience HOW painful it is!"
"Please not… please don't do this to me, I swear I'm innocent," she sobbed lowly, but those sobs were overturned by the quaking noise , when the winch was turned the first time.
Slowly her arms were pulled upwards, the rope contracted tighter and tighter around her delicate wrists and her torso was forced to bent forwards when the shoulders reached the point, where they could not twist upwards anymore.
Inez gasped already from pain, tried to find a better place for her feet to support her shoulders and almost lost the balance, as her already sweat-covered toes glided over the cold stone of the floor.
Incoming search terms: