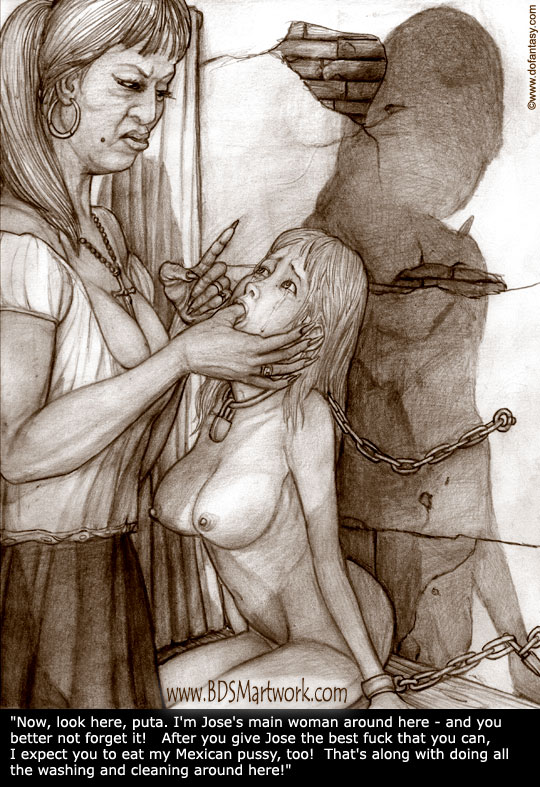 It was always dangerous for settlers traveling the vast distances to their various destinations in the Wild West. There were many groups of armed outlaw gangs who specialized in stopping wagon trains, robbing and killing those unfortunate travelers. And it was always an added treat when there were attractive females amongst those that they waylaid along the main wagon routes.
"Yeah, we'll keep these two. Mother and daughter pairs sells good."
"Come here my precious, let's have a good fuck you and me. You soon will forget about your husband. Plenty on new cock for you from this very moment… Ha Ha Ha!"
Captured white females were worth their weight in gold. After providing their captors with many days and nights of pleasure, they were herded together and kept locked in a shack, each of them awaiting their turn at being sold or bartered and taken away to spend the rest of their lives as some outlaw's fuckmeat or forced to whore inside some cattle town brothel.
"Yeah… You'll be mine for the night, my pretty. Start wetting this piece of fine cunt for me, it's going to be a long night and we don't want this lithe pussy of yours to get raw, uh?"
Poor Penny, ever headstrong and self-willed, had made the mistake of trying to escape from Jake, the wandering never-do-well who had purchased her. Jake was angry, but he wouldn't kill Penny for her dishonorable attempt to run away – Penny's pussy was so tight and she fucked him pretty good whenever he mounted her – so he made sure that his new slavewhore would have trouble running away again. Subjecting Penny's feet to the fire served to make her quite a compliant and obedient lady.
"You don't need your feet to suck and fuck your owners!"
Beatrice had been re-sold twice since being captured. Now she was being again offered up for sale to help pay off her latest owner's gambling debt. Beatrice's tall, strong body and her youthful good looks attracted many prospective buyers who were willing to bid against each other for the chance to own her. She would be bought by a big-time rancher who would keep her chained in a corner of his bedroom and fucked almost every night.
"Look at this lithe tongue… I certainly trained the little whore to use it! No matter the place, your prick, your balls or your asshole it'll give you hours of pleasure. Non-stop!"
Maria had immediately rushed to meet the new Gringa bitch that her boyfriend Jose had taken when he and his gang had robbed another bank on the american side of the border.
"Now, look here, puta. I'm Jose's main woman around here – and you better not forget it! After you give Jose the best fuck that you can, I expect you to eat my Mexican pussy, too! That's along with doing all the washing and cleaning around here!"
Jose, being the active sort of man that he was, managed to acquire quite a few Gringas during his forays across the Rio Grande. That made life back in his otherwise quaint little village very enjoyable.
"Look at your owner face when you suck him, gringa. I love your face… this' why a fuck it. C'mon now, take it again down your throat and don't dare to close your eyes for a second!"
'Get on your knees, blondie… ever licked a smelly pussy before? No? You'll do now and you'll keep doing until I cum a dozen times and until my it's clean and shiny!"
Incoming search terms:
| pornextremal sadolez bdsmartwork (25) | | bdsmartwork lesbian (19) |