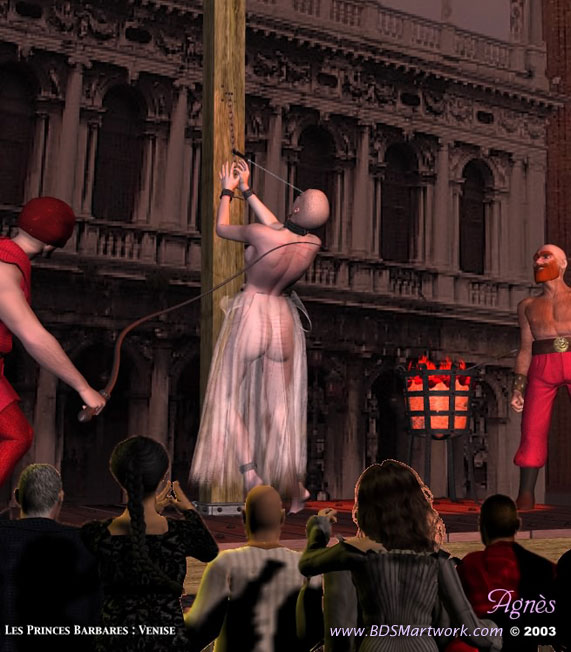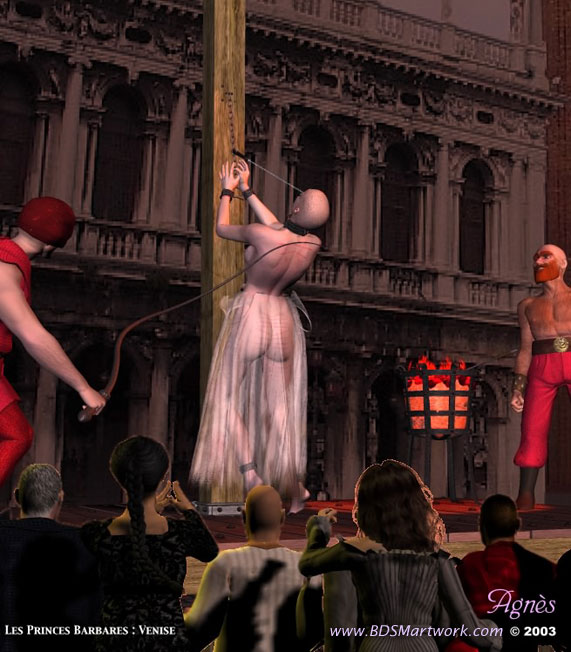 Act 1, scene 1 – Dona Ziani's Palace.
A masked Ball in honour of Prince Morozov is just ending. He joins his hostess on the balcony overlooking the Grand Canal. He presents her with a glass of Crimean wine.
Eleonora: (with an ironic smile) One of your country's wines? I don't wish to be rude but surely no-one other than an animal could prefer Russian wine to ours?
The Prince: Dona Ziani, in my country even the bears appreciate its effects. It is good for hunting, for making one vigorous. It gives one a wonderful feeling…like the kiss of a whip. (He lifts her hand) In my country we also appreciate a woman who chooses to wear a collar and bracelets on her wrists as you do. But doubtless you will think that is nothing but a crude barbarian view also.
Women, from servants to ladies of quality, wear such things to show that they have accepted servitude voluntarily.
For me there is a special pleasure in holding the leash that is attached to a collar round the neck of a beautiful young lady such as yourself. Then, making her submit… until she kneels before me.
Eleonora: How dreadful! This is slavery we are talking about!
The Prince: That is so my lady. But when consent is freely given such slavery opens the door to sexual torments and pleasures of exquisite intensity.
Eleonora: (unsettled) You amuse me Prince, and intrigue me as well. Please, if you will pardon my forwardness, may I ask you to visit me again a little later tonight? You must wear the same costume too.
The Prince: Your wish is my command Dona Ziani. You will find me an excellent teacher. I have no doubt you will enjoy the experience of being under the control of a true Master. Now, for the moment, do I have my lady's permission to withdraw?
Eleonora: I grant you permission to leave. But return quickly.
The Prince: You have my word. I bid you good night, Dona Ziani
Eleonora: (insisting on her first name) Eleonora, Dona Eleonora Ziani. Goodnight, your Highness.
Act 1 scene 2 – Dona Ziani's palace. The entrance from the Grand Canal
Eleonora: You are welcome again, your Highness. And what do you have in that large bag? More Crimean wine?
The Prince: No, Dona Eleonora. I have merely brought a few implements to allow you to experience those intimate pleasures we talked of earlier this evening. I'm pleased to hear that you continue to mock your guests. It will give me even greater pleasure to punish you for such impertinence.
Eleonora: You rouse my curiosity, and make me even more impatient to begin. Give your bags to my maid; she will take them to my apartments where we will have dinner.
Unless that will embarrass you?
The Prince: By no means. An invitation to dinner is an excellent opportunity to begin the lesson I promised.
The Prince: The apprenticeship begins, training is the same for any creature, a bear or a dog – one starts with obedience.
You will undress. Undo do those laces and ribbons.
Eleonora: Yes, your Highness. I will obey you. But may I plead with you…?
The Prince: I'm listening…
Eleonora: I implore you not to be too harsh with me. Have mercy, I am a novice.
The Prince: Agreed. Now obey your Prince's orders.
Present yourself naked in front of your Master.
Eleonora: I am here as my Master commands. Is it your wish that I remove my stockings?
The Prince: No, come closer. Kneel so I may tie your hands behind you. This collar is for you. Now these bracelets for your ankles.
Eleonora: Yes master.
The Prince: You are an apt pupil. Can you feel the gentle pressure of the collar encircling your neck? That is the symbol of your submission.
Come! Kneel up straight, offer yourself to me.
This riding crop is your reward. Do you shiver as you feel the leather tip caressing your breasts?
They shall both receive equal punishment.
Like this…
A Master has a duty to punish a slave for every small mistake.
The severity of the punishment reflects the importance of the error.
Eleonora: Th-thank you Master for showing me the error of my ways.
The Prince: Slave Eleonora such exemplary conduct should be further rewarded.
Let me fasten your ankle bracelets so your legs are held apart so….
Now you are ready for your Master's pleasure.
Ah so ready, so wet and open…now feel the size and virility of your Master's manhood.
Some while later…
Eleonora: (murmuring softly) Thank you your Highness. I love the exquisite pleasure you have given me as your slave. Thank you for being my teacher in the arts of love…
Meanwhile, elsewhere in Venice: Signor Fradentelli signs the warrant for the arrest of Eleonora.
Act 2, scene 1 – Dona Ziani's Palace.
It is late at night. Dona Eleonora is alone when the Doge's guards burst into her room.
First Guard: Lady Eleonora Ziani. You are herby under arrest by order of the Doge. The charge is High Treason. Your property and possessions are forfeit to the officers of the Serene Republic. You will appear before the Grand Tribunal but first you will be taken to the Prison of the Republic and tortured until you confess your crimes.
Second Guard: Stand up traitor, hands behind you so I can tie them.
Eleonora: (who doesn't fully understand what is happening) No! It's a lie, a foul slander.
First Guard: Such a garment is too good for scum like you… rags are all you deserve.
Second Guard: Open your mouth, kitten. We don't want every one to hear. This wooden pear will keep you quiet.
Second Guard: An iron mask, a nice gag and a rope round the neck… that's how we deal with traitors in Venice…
First Guard: Ah… you find my little saddle cord uncomfortable. Don't complain, it's nothing to the pain you will feel in prison…
First Guard: Hey, Pietro! Whet do you think of our gondola's new figurehead?
Posted August 17th, 2003
Act 2, scene 2 – The main torture chamber in the infamous Doge's Prison.
Master Giaccomo: (very obsequious) What a great honor to welcome you on your first visit to my humble prison, Lady Ziani. I have had your rooms prepared specially. I will escort you there without delay.
Oh but first, your clothes… we don't allow clothes for TRAITORS! (yells)
On your knees, whore!
Sergeant, stretch her neck until she's on tiptoe… while I whip these rags from her body.
Master Giaccomo: Watch carefully my friends… you will not see such skill with a whip often!
Master Giaccomo: Girls are like mares. They need a good blacksmith to add that special touch… There, nearly finished. A pretty pair of manacles for your wrists. Now, just the waist belt and neck band to complete your prison jewellery.
Master Giaccomo: Let me give you a short tour, you will find it interesting. This girl is a witch. She is riding our 'pony' so she will confess before her trial starts. Just like you. Here, I do not bother with truth. I make people suffer and provide a little glimpse of Hell. If they are foolish enough to tell the judges they are innocent… then they are returned to Hell until they change their mind.
Master Giaccomo: These are the ancient reservoirs for the city. They run below the prison, now we keep them for the most obstinate and special prisoners. Or the more desirable… I'm sure you will find them charming and refreshing. Oh yes, I did leave out one little detail. The tide comes in twice a day. And when the water rises…
Master Giaccomo: The dungeons, the first two are in use but I have reserved number 3 for you. Ah yes, a pleasant looking young man. A poet, he was foolish enough to publish some verses that mocked the Grand Council. His tongue's been cut out and he's been castrated. He's been less talkative since then.
Master Giaccomo: This is an interesting device, don't you think? The body of the criminal can be secured and fully exposed for questioning. Like this… A useful device to use with lovely young ladies like you…
Eleonora: Oh please sir, please let me go…
Master Giaccomo: Release you, that's a joke! Come now we haven't even finished preparing you yet. I'll just shave your cunt. Later Paolo can be your hairdresser and cut that blonde hair short so you don't get cold in the dungeon.
Eleonora: Oh God, have pity… plea… (Her words are stifled as Paolo forced the head of his cock between her lips)
Master Giaccomo: Don't resist. Open wide and use your tongue. Show Paolo how skilled you are. Swallow the refreshment he's giving you… Such soft smooth skin… (Eleonora writhes in pain as they twist her nipples and whip her breasts) There is one more hole to fill. Aah… yes, a true aristocrat, you can always tell, smooth as warm silk.
Master Giaccomo: A fine whore. As payment for your services I shall flog you tonight. Now it is time for you to rest for a little while.
Master Giaccomo: Here we are. Turn round so we can attached the hook to your waist belt. Then it's down you go… Getting up is a more delicate matter… it depends on how I feel. It's up to your torturer to decide.
Eleonora: (sobbing) Oh please, please I implore you…
Master Giaccomo: Shall I whip you now, kitten?
Eleonora: No, Sir.
Master Giaccomo: Then be silent. (he turns and speaks to Paolo) Lower her… slowly…
Master Giaccomo: Good night, harlot. Give my regards to the rats… (the rest of his words are cut off as the trapdoor slams shut)
SLAMMMMMMMM!!!
A pale glimmer of light seeps into the dungeon. A glimmer that slowly dwindles and fades leaving Eleonora dangling in the blackness of anguish and despair.
Posted August 29th, 2003
Act 2, scene 3 – The Grand Torture Chambers beneath the Doge of Venice's Palace. Dona Ziani's dungeon cell.
Master Giaccomo: Hoist the traitoress up. I suggest you hold onto the chain as you come up. We have a long day ahead.
Eleaonora: (gasping and pleading) Gaaah! You're strangling me!
Master Giaccomo: Of course. But don't worry; we won't let you die… yet. Do as you're told and we'll let you down. There, like a turkey plucked and trussed for the table.
Master Giaccomo: Ah, a delightful and stimulating view, don't you agree Paolo?
Paolo: As you say Master Giaccomo. Plucked and ready for stuffing.
Master Giaccomo: Her arse is tight as a fist. But we'll soon loosen her up. You have a certain cure for that don't you…
Paolo: I'll hold you by the neck and you can wriggle your arse down onto my cock. That's right. My old mother (God bless her) said dwarves were always particularly well endowed and virile, Nature's way of compensating, she said. Don't you agree, whore?
Master Giaccomo: There now, you've made my cock all slimy and ready for you to clean. Suck it carefully. You won't get anything else to eat and if you don't satisfy me it will cost you an extra 20 strokes of the whip.
Go on…attend to your task. This is something you will be doing every day until your trial is over. If you're lucky you'll be here for weeks… if not, it could be months.
Every morning the prisoners are taken from their cells … The women are raped and whipped… for our own pleasure and amusement and then the men are made to fuck the women.
The prisoners always make sure that they suck every drop of semen from our cocks… after all they get nothing else to eat.
Aaah, no, no don't stop my kitten. I can feel more sap rising in my balls.
After the fucking comes the whipping.
(He grunts with excitement) Aaaah, yes…yes the torture and pain of the morning whipping…
The long bullwhip is our favourite toy. We encourage each prisoner to sing out in turn… while the others are hung up, dangling like smoked hams, to await our pleasure.
Listen well, being raped and whipped in the morning might save you from being raped and whipped in the even…
(He cackles with mirth) …some hope!
Aaaaah! Oh yes, yes, faster… I'm coming….I'm coming! Yesssss!
Yes, you whore, swallow it. Swallow it all… that's your meal for today.
Ah-hah, I see you were hungry.
Not too bad for a first time as a newcomer.
Master Giaccomo: She makes a pretty hanging toy. Something for you to play with, Paolo
Paolo: Let's watch her dance as I teach her the song of the whip. There Master, just a few strokes and she's wriggling her bottom and making those nipples bounce wildly for us.
Master Giaccomo: (ironically) Truly a dance of excitement. She's wriggling and squealing like a stuck pig. But our guest's little diversion is over. It is time for her to begin to pay the penalty for her crimes.
Time for the cross, kitten.
Eleonora: The cross? No, no please…I'm innocent, innocent of everything. Please have pity Master, I've done nothing to deserve this.
Master Giaccomo: (he slaps her face) Silence, you whore!
Who gave you permission to speak? I am Master here. Your body is mine to do with as I wish. Of course you may scream and groan as you wish as each torture increases. Eventually you will tell me all I wish to know… you will plead to be allowed to confess, to say anything I wish you to.
Eleonora: Never! Torture me as you wish. But I will never give in, whatever obscenities you subject me to I will not sully the honour of my name!
Master Giaccomo: Your honour? You just don't understand do you? Behind these prison bars you are no better that the cheapest prostitute. You are a filthy whore with no rights on honour to protect,
Paolo, a rope. Twist it tight round her neck and stop the bitch's tongue wagging.
Master Giaccomo: Tighter, her mouth is still open. That's it, relax a little, Paolo.
Do you understand now, kitten?
Will you obey me?
Eleonora: (Unable to speak, she nods desperately)
Master Giaccomo: Very well.
Paolo, tie her elbows together…very tightly. Yes, like that.
Listen, my pretty lady, my pretty little whore…
However much you wriggle and kick you are quite helpless. I will control your tongue from now on.
Very soon we will clamp the lead weights onto your tongue, your nipples and your labia.
Then, after the crucifixion, for some extra entertainment we will pierce you in those places before hanging the weights from the holes.
Posted September 12th, 2003
Master Giaccomo: Gently Paolo. Let her slide down onto your shaft. There…now her ladyship can enjoy the pleasure of two cocks fucking her at once…
Paolo: Where are the clamps I want?
Eleonora: (in an agonised whisper) Pity, have pity.
Master Giaccomo: There, good thing you've got a nice long tongue; the weight will swing nicely.
Master Giaccomo: What do you think of the nipple weights… are they tugging yet?
Master Giaccomo: There…that should keep you busy…stop you relaxing too much. Now, if you will excuse me there is a stubborn young sorceress who needs my special attention. Some extra chastisement to loosen her tongue.
Master Giaccomo: (a little while later) I apologise for the delay. Ah, I see you are making use of the wooden wedge. The more you sit on it…the harder it gnaws and scrapes at your cunt. How do you like the feel of this whip. It's one the Turk's use for teaching their women obedience…see!
Dona Ziani screams and writhes at the searing, hot kiss of the lash. But, eventually, even a master like Giaccomo is forced to halt as she slumps unconscious against her bonds. Night falls and the torture chamber is silent apart from the sobs and tormented groans of the victims. From time to time, Eleonora, left high on her cross of pain, struggles back to consciousness, but the pain of her crucifixion is almost unbearable. The lead weights clamped on her tongue; her nipples and her labia, sway gently with every little movement. Each time the do, they stretch and twist the delicate flesh with stabbing agony. The rough wooden wedge of the sedulum presses deep into her cunt, a splintery saddle that rubs her most sensitive place into raw, burning agony. Eleonora hangs alone in the darkness, every muscle a blazing sea of unending pain…
Act 2, scene 4 – The Grand Torture Chambers beneath the Doge of Venice's Palace. The following morning.
Master Giaccomo: The stench is repulsive. She's dribbled and pissed as well as soiling herself. Well, well our poet's cock is hard.
Let him fuck her then put her in the cage. She can join the navy at sea for the day. This evening she can have my full attention..
But, at the moment, I must attend to this young sorceress.
Paolo: Come on, you rutting pig, mount the sow!
The Poet: Your pardon, my lady. I have no choice in these degrading antics
Eleonora: (She says nothing but closes her eyes)
Master Giaccomo: (talking to the naked figure of the young sorceress dangling upside down behind Eleanora) Ah, ready for me again? My little cat will warm you up in a moment. Now, kiss the tails nicely before I start…
Paolo: This ankle spreader will hold your arse and cunt wide open so they get well washed.
Undo the mooring lines! Enjoy your trip in our gondola… and the bath!
Paolo: I hope you don't have any bread with you in the cage. The rats are always hungry and they'll nibble at anything.
Until later, kitten. Tonight we will have some special games to entertain you.
Hah… hah… hah (he giggles obscenely)
Farewell!
Posted August 21st, 2003
Act 2, scene 5
Paolo: I hope you're clean, bitch! Let me check… Eh, eh. Getting cold while I handle you? I'd gladly warm you up, but today others will take care of you…
Oh! There she is fainting… I'll have to carry you to the examination machine. You'll have to pay for this!
Master Giaccomo: Witch! Paint her up like a whore. Eyes and mouth. Tits and cunt. And the ass, too. I want her to look bitchy, to be a tease in the most whorish way. And don' t forget to shave this hair she's still got down there.
Master Giaccomo: You look beautiful this way. You'll be a nice slave when I sell you to the Barbarians.
Paolo: Let's see that cunt. Her slit is like a target waiting for the arrow that will pierce it. The witch did well.
Master Giaccomo: Such a good job should be rewarded. I'm going to make her squeal. Bend forward, bitch, right over the machine.
Paolo: Here comes the slave, Master, wrapped in her fish net. Just like a fish, fresh off the sea.
Master Giaccomo: Nice catch, Paolo. I hope we'll get a good price for her! Is the standing-stock ready upstairs?
Paolo: Yes Master. And ideally located so that everyone can fully enjoy the show.
Master Giaccomo: I'll take the harem slave-to-be with me. Blindfold her while I'm getting ready. She dances better when blind (smiling).
Master Giaccomo: Walk away, slave. Tonight you'll be a whore for the soldiers. I hope you'll do well and bring me a small fortune!
Posted September 7th, 2003
Master Giaccomo: Here my 'Lords' we have a true harem slave. She was once a noble lady but she betrayed our glorious Republic. For her crimes she will be sold as slave-flesh to the Turks. But it is a pity to let such beauty go to waste and it is only fair that you should be able to sample her charms first. Look at her smooth skin; note her aristocratic bearing and those firm, full breasts. And there's more… I can see you're desirous of seeing more. She will be your toy, your plaything for you to use as you will. All that is asked is few small coins for each hole you use to take your pleasure. First, to whet your appetite, she will dance for you… See, see how she responds to the whip. Such a delightful and stimulating show.
Master Giaccomo: Did her dance arouse you, make you hot and hard? Now, my Lords let me unveil the body that awaits your virility
Eleonora: Please, please my Lord… have mercy…
Master Giaccomo: (Enjoying his role as market seller and ignoring her protests) Open those thighs wide, slave. Show the gentlemen the hidden delights that await them. Observe my Lords, the sweet, moist flesh… those full cunt lips like a juicy pear awaiting that first luscious bite. A ripe and juicy pleasure-fruit indeed, my Lords.
Master Giaccomo: Patience, my Lords, patience. First let me arrange her posture for your complete convenience… there, the stance of a slave in heat.
Master Giaccomo: There, my Lords. Ready and prepared… held open for you so she is unable to resist your virile attentions (He whispers to Eleonora alone) As for you, bitch, arch your back and push your arse out… and your tongue too! Unless you want me to use these pincers on your teats?
Eleonora: No, no Master, please have mercy…
Master Giaccomo: Don't forget top drop a few coins in the cup she holds my lords… fill the cup… and fill her too. Fill her till she dribbles seed from every opening. (The grinning guards all roar with laughter at the jest.)
For long hours the guards abuse Eleonora's pinioned body. Each takes advantage of her again and again, in the cunt, the anus or in her mouth.
At times she is fucked at each end simultaneously. And with each fresh impalement another insulting coin chinks into the cup gripped tightly in her hand. She knows not to let it fall now. She did once, when the first man rammed himself into the tight, virgin hole of her anus and she screamed in pain.
The penalty for that lapse was a vicious thrashing from Master Giaccomo… so now she holds the cup tightly, another lesson learned.
The drunken guards took her without respite, slobbering foul wine-sodden kisses on her face before forcing her to suck another thick, smelly penis until her mouth filled with semen once again. And when they were spent they used the things that lay around, a bottle or the rasping hilt of a sword, to continue their foul assaults… Eleonora never knew exactly what it was they thrust into her cunt.
One thug even used the fire tongs from the grate, crude pincers of rough metal, to twist and pinch her breasts and pull her tongue so she feared it would be ripped from her by the roots. Then, without warning, everything stopped.
Master Giaccomo released her and she staggered forwards, her thighs and chin glazed and dripping with sticky trails of semen. He wrenched her arms behind her, cinching her wrists together with metal cuffs before throwing a coarse fisherman's net over her head. This time there was nothing to conceal her nudity… or the marks of her recent abuse.
He clipped the leash to her hated collar and led her back towards the great Torture Chamber. Every step filled Eleonora's soul with total despair… when would this torment cease?
click on images
Posted October 29th, 2003
Act 2, scene 6
Paolo: Did she serve them well, master?
Master Giaccomo: Oh yes, quite well… and my purse is fat with the profit of her labours. See, she is an excellent working slut.
Aren't you, my pretty bitch?
Enough of this idle chat though. She must be made ready for her trial… it starts on the morrow. Take her down to the caves, a good overnight soaking will work wonders.
Eleonora: Oh God, please, please Master, not the cage! I will not survive that again. Please, I'll do anything you want… but don't put me in the cage… please!
Master Giaccomo:
Well, well, this is new… our little aristocrat is suddenly co-operative …
And what exactly would you do for me, slut?
Eleonora (whispering):
I-I-I w-would b-beg you, M-Master, t-to use my m-mouth for your p-pleasure…
Master Giaccomo:
Well how kind… but do you think I would want to be tongued by someone so filthy… i
t would be like dipping my cock in a sewer…
But I am a generous man and I will grant your request…
we shall find another way to cleanse you properly.
Paolo will take you to the Chair…
among its many uses it allows us to clean our guest most thoroughly.
Ha-ha-ha (he laughs aloud at his own wit and grins sadistically at the shivering girl)
Let me remove my official garments and I'll be back to witness the cleansing of Donna Ziani.
(Master Giaccomo strides off still chuckling while Paolo, tugging on the leash, forces Eleonora towards a small, dimly lit room opening off the main torture chamber)
Eleonora: (as she catches sight of the grim apparatus in the room) Ah no! No, not the iron horse!
Master Giaccomo: (having changed robes and smiling unpleasantly) Not exactly the traditional 'iron horse'. This one is much more… versatile… as you will discover. You see this extra apparatus here, the tubes, jugs and funnels? You will mount as usual to be saddled on this iron ridge. This leather cock will keep your anus well stretched and filled whilst the spikes on the sides of the horse and the backboard will provide a continuous reminder of your plight.
Oh yes, the phallus is hollow and connected to this tank up here… and the other section, here connects to your mouth thus holding your jaws wide apart.
These taps allow me to control the flow… from a single drop to a gushing stream. We are going to fill you from the inside this time… a powerful jet into your rectum and a slow, constant drip into your mouth.
Eleonora: Noooooooooooo!
Master Giaccomo: You begged and I listened, how can you complain?
And when you are bloated like a drinking bladder we will hang you up with your peephole and anus well stoppered. You will wait until I say you may relieve yourself. After all, we don't want you pissing until you've swallowed the full ten pints of water.
Master Giaccomo: Here is the hollow shaft that will stretch your anus so we can fill it with the other ten pints that Paolo is preparing. See how hard it gushes…
Up the arse and down the throat… equal amounts… Ha Ha Ha
Paolo: The jars are full, master.
Master Giaccomo: (to Eleonora) Take it all the way down your throat, lick it until it's wet and shiny… you want to make sure it will slide up into your arse nice and easily don't you?
Master Giaccomo: Hurry, step up and onto the stools… sit down!
Hurry up, or shall I use the crop on your arse as well? That's right… finally you're doing as you're told.
Master Giaccomo: There, all ready… cunt closed, mouth and anus stretched open.
You're quivering with anticipation, aren't you?
Are you impatient to begin… i n a hurry to be filled to the brim?
Master Giaccomo: Let us not keep our guest waiting… open the taps Paolo!
Master Giaccomo: Aaah, yes… you have that growing sense of fullness, distension? Disturbing isn't it.
This is but the beginning… once you hold the full twenty pints you will understand what true suffering is.
Master Giaccomo: There, your guts are distended like a sow's belly. The rest you'll swallow… drop by agonising drop.
Master Giaccomo: The sow is near overflowing. Stop a moment Paolo, turn off the tap. Leave her to relish the growing agony of her plight for a little while.
Finally, Eleonora faints from the horrible pressure pain of the water in her bladder and rectum. Some time later Master Giaccomo and Paolo return and take her off the iron horse
Eleonora: Arrrrh, I can't h-hold it please, please let me relieve myself!
Master Giaccomo: Relieve yourself? You jest… this sport has barely begun. You will stay like that, bloated for your foul crimes for a good long time yet.
Did I not tell you the water stays until I decide to allow you to release all you have taken in. And just to make sure we have some cleverly designed stoppers. Look, see how ingenious it is… just a little twist of this knob and it widens out as much as you desire. This one is for your mouth… and its companion will keep your anus tightly plugged.
Go on Paolo, ram it right up… her arse has been well stretched already.
There, that's all done…
Master Giaccomo: Go on, hobble back in there… and don't you dare leave any crap on the floor… hold it in good and tight or else…
Master Giaccomo: You will hold the water until noon. These spreader bars will keep you open. Remember, you may not relieve yourself until I tell you at noon.
Paolo: Master, look, the filthy sow has soiled the floor!
Master Giaccomo:
Despite the clearest instructions you choose to disobey already,
you foul, disgusting whore!
I'll punish you myself for this…
That offence demands at least thirty lashes across that swollen bellyful of piss and cum.
Scream and wail all you want…
but leak another drop and I'll flay the skin from your body with the Turkish whip.
Paolo, take the other crop and join me.
Master Giaccomo:
We will be back to see you later, whore.
Oh, yes, I almost forgot…
this afternoon you face the High Court of the Republic…
Rest well!
When the water had first gushed into her rectum, Eleonora had bucked in spasms, her body fighting the restraints as she screamed in pain. But as she rode the iron blade of the horse, ramming the hollow probe even deeper into her anus while the cruel metal clamp twisted and pinched her cunt lips, her screams died to no more than a bubbling whimper. A second stream trickled into her open mouth, forcing her to gulp and swallow continuously to avoid choking.
Eleonora could feel the pressure growing in both her belly and her rectum as the water continued to flow, swelling her body beyond endurance. Even when the first jug was empty and no more water surged into her distended rectum, the endless drops still filled her mouth. Each drop swallowed bringing another tiny increment of agony.
Her eyes rolled back until only the whites showed between slitted lids as her throat worked and worked, each convulsive movement adding to her own self-torture as her distended body became a single bloated sack of pain
A long time later, after they had taken from the horse, there was further agony as cruelly shaped plugs sealed her mouth and anus, each one slowly expanded so they stretched her flesh while their spiked surfaces scraped and scratched the most tender membranes inside her body.
They took her to a rack to be hung spread-eagled, with iron bars keeping her splayed open.
Of course, as they well knew, it was impossible that such an overfilled container would not leak… and leak she did, a foul mixture of saliva, bile excrement and urine that dribbled and trickled from every orifice to form a stinking puddle on the stone flags.
And for that transgression she had been punished. Two grown men enjoying their work, their strong arms wielding crop and cane with practiced, diabolical skill so the strokes seared bars of pain across the swollen mound of her belly. Stroke after blazing stroke of pure, white hot agony until consciousness seeped away and the welcome darkness closed her mind to horror.
Dimly she heard them talking about her trial… let it happen, she screamed silently in the agony of her mind. Whatever the verdict, whatever the judgement… let this hell come to an end…
Act 3, scene 1
Master Giaccomo: It is time the bloated sow was drained. Hold your arse over the bucket!
Paolo, take the plugs out…
Master Giaccomo: Now you are drained you will wipe the floor and clean up this filthy mess!
Master Giaccomo: Now for your turn, a quick wash to make you presentable to the Judges.
Paolo: Bend over bitch, so I can wipe your arse!
Mmmmm, clean as a whistle, my finger slides all the way in…I feel like fucking her up there right now.
Master Giaccomo: Enough, Paolo, stick your cock in one of the others if you're desperate but she's got to be presentable for the Judges.
Master Giaccomo: We won't need a collar. Just a halter round the neck and a robe, not forgetting the leg irons, the manacles and the waist chain.
By the pox, Paolo, watch what you're doing! The robe's trailing in that liquid shit!
Paolo: I'm sorry, master. A thousand apologies, my lady but your fine gown is somewhat soiled.
Master Giaccomo: Ah well that's the prisoner's uniform. Looks dreadful and sackcloth is so harsh…but who cares? Such rags for a harlot are quite good enough.
Master Giaccomo: Put the noose round her neck, it's time.
Walk before us, traitor…it's time to hear the charges
Act 3, scene 2
First Judge: At last, the prisoner we've been awaiting. Court will come to order. Read the indictment.
Eleonora: This is monstrous, an outrage! My Lords, I swear by Almighty God that I am falsely accused and that I…
First Judge: Silence! The prisoner will remain silent or her tongue will be ripped out and she will be branded here and now! You will speak only when ordered…
Just in case, Master Giaccomo…heat the irons!
First Judge: Tighten that noose round her neck a little…trying to avoid slow strangulation should keep her silent for a while.
Posted December 6th, 2003
First Judge:
Let it be known that in this Year of Grace 1788 the Most High and Serene Republic of Venice doth charge one Dona Eleonora Ziani with High Treason.
The evidence of these foul crimes is overwhelming, being attested to by loyal and diligent servants of the Republic. In regard of the high esteem and confidence reposed in these aforesaid servants their depositions in this matter shall be taken as true and therefore not subject to question or enquiry. The Court therefore….
Second Judge:
(Talking quietly to Master Giaccomo while his colleague drones on) This is delightful…somewhat unsettling, perhaps for my lady's more private places. Although I am told that some ladies actually find such treatment arousing. A few men too, it is rumoured. Ah, my thanks, Master Giaccomo. (He takes a thick leather glove, slips his hand into it before taking the white-hot iron.)
Listen carefully, my lady. You have a choice. Either do exactly as you are told, or I will roast your flesh with this rod.
Remove the irons and strip her!
What an exquisite specimen…such firm, tender flesh (the judge uses his other hand to maul and pinch Eleonora's breasts. She can do nothing to prevent him.)
And she even smells like a fragrant rose…a delicate bloom marked by the kiss of the whip.
Look hard at the iron, my lady…can you feel the heat on your flesh?
Now…what will it be, obedience or burn?
Eleonora: (panting with terror) I will obey you Your Honour…and remain still and silent as you command.
Second Judge: Excellent, Oh yes we will listen to you singing in a little while but for now the court has no desire to hear you. Master Giaccomo, I perceive that my learned friend has finished reading the indictment. You may proceed to make the prisoner ready for the Question.
Master Giaccomo: Come here slut. Step up and stand astride. Hold the pole behind you while I tie your ankles.
Good, all secure
Now, kneel down. Just like a prayer bench isn't it. You'll be praying hard in a few minutes…praying to talk that is …
Second Judge: Master Giaccomo. Be so good as to explain the working of this new device.
Posted December 18th, 2003
Master Giaccomo: (Still busy lashing Eleonora down to the restraints on the torture platform). My pleasure, your Honour. As you can see she is tied at ankles, wrists, waist and neck and kneeling spread legged on this hinged frame. That's locked into place with this wedge, here. The device holds the victim splayed open so her cunt is in exactly the right position for the insertion of this serrated and spiked metal stake. Naturally the position of the stake can be adjusted so it can be inserted into the anus if preferred…
Now, when I remove the wedge…the platform swings forward and the prisoner slowly slides onto the stake.
Second Judge: What an interesting invention. The effect on the victim must be exquisitely painful…
Master Giaccomo: (chuckling) Agonising, my Lord. Oh yes, don't forget the noose that tightens slowly to strangle the victim as well. But, my Lord, here is the really interesting part.
Observe the ingenuous mechanism, these ropes and pulleys. Without effort I can drive the metal stake deeper and deeper…all the way until they are riding that ring of spikes if the victim should prove reluctant to confess. In truth such pressure is rarely needed. The agony is quite unbearable anyway. (He laughs aloud) You can rip her cunt open and crush her neck at the same time with almost no effort at all!
Second Judge: Marvellous. Such skill and expertise…any prisoner should feel proud to be put to the Question by such a Master Interrogator.
First Judge: (approaching the group) Is the prisoner in position?
Master Giaccomo: Yes, Your Honour.
First Judge: Prisoner Ziani, you will now be put to the Question. You will be tortured until you confess to the crime of High Treason of which you have been accused. Do you understand Prisoner Ziani?
You may reply
Eleonora: (trembling with terror) Yes, Your Honour.
First Judge: Very well, let us begin. Do your duty Master Bourreau!
First Judge: Confess, woman!
Eleonora: (barely able to speak) N-no, no..aaahh.
First Judge: Force the stake a little deeper Master Bourreau.
Eleonora gives a strangled gasp of agony as the dreadful device forces the tapered metal shaft even deeper into her cunt, stretching the delicate inner flesh to the limit whilst at the same time the noose tightens slowly round her neck.
Second Judge: (whipping the outthrust peaks of Eleonora's breasts with a short leather quirt.) Will you not confess your crimes?
First Judge: Enough for the moment, release the pressure a little, Master Torturer, so she may have a chance to speak.
Eleonora: I…I…c-c-c-confess.
First Judge: Speak them, we are listening.
Eleonora: I will say whatever you wish, confess to whatever you want bu….
First Judge: No stamina at all…she's passed out. Undo the noose and revive her…we must have that confession in her own words.
Eleonora: (coming round) I confess that I have betrayed the Most Serene Republic…that I am guild of lewd and immoral behaviour… that I have…
First Judge: …Enough, we have heard enough! The court is convinced of your guilt. Unstrap her and bring her here that she may hear her sentence pronounced.
First Judge: (pronouncing sentence) The prisoner will kneel before the court. Dona Eleonora Ziani, you have been found guilty upon your own confession of the crime of High Treason. Your sentence reflects the dreadful nature of the crime you have committed.
You are hereby stripped of name, rank and title and your rights as a citizen. Your goods, lands and properties are forfeit to the Republic you have so wantonly betrayed.
You will be taken from this place to the scaffold in Saint Mark's Square where all may see and learn from your disgrace.
Your nose will be pierced and ringed
You will have all the hair shaved from your head and body before being whipped, naked before the assembled crowd. The sentence is forty lashes from a cattle whip.
Finally this court sentences you to be branded as a harlot…the letter P to show you are nothing but a common prostitute, a mark you will carry for the remainder of your life.
After that, since you are no longer a citizen of the Republic, you will be sold as a common slave to the Turks…or any other stranger who may bid for your carcass.
The sentence is to be carried out without delay.
Guards, take her away…and give the bitch some clothing.
Interlude
Kept informed of the situation by one of Eleonora's loyal servants, Prince Morozov seeks audience with the authorities and demands Eleonora's immediate release. His request is met with harsh refusal on the grounds that the trials is complete, the prisoner has confessed and sentence is about to be carried out. Mad with rage, Prince Morozov breaks off the treaty negotiations and leaves his palace in haste, desperately trying to think of a way to save the woman he loves.
Act 3, scene 3
Master Giaccomo: Mouth open and keep on sucking the Lieutenant's cock while I fasten this collar, you bitch.
Master Giaccomo: Go on, walk to the steps you traitorous cow
The crowd is yelling:
Death to the traitor!
Death to the filthy rich whore!
Kill her!
Master Giaccomo: Fellow citizens, hear me! This woman has betrayed our great and glorious republic. For this terrible crime she is condemned to be sold into Turkish slavery. But before then an example must be made. She is to be pierced, whipped and branded as a whore. Be assured, the bitch will scream for your enjoyment, citizens.
Master Giaccomo: Hold still, the more I stretch your nose the easier it make the job of pushing the skewer through!
Master Giaccomo: There's a fetching piece of jewellery. Ringed like a farm beast you're marked as a slave now.
Master Giaccomo: Stop moving your head your stupid cow…you're messing up my work.
Master Giaccomo: No, wait Paolo, branding after the whipping…it hurts more that way! Then the burning pain will keep the bitch awake so she feel it more.
Master Giaccomo:
Citizen of Venice, gather round for this is the part you've been waiting for…
the scourging of the whore! And the sentence is….40 strokes!
(The crowd yells in approval and eager excitement)
Master Giaccomo:
(counting each stroke with slow deliberate care)
One…two…three…
Thirty one… thirty two….thirty three…
Master Giaccomo:
Very well Paolo, get your iron… you can brand the traitorous bitch now.
Act 3, scene 4
The Prince: (leaping onto the scaffold, he swings his sword in a slashing cut that slices Paolo's hand at the wrist. The point threatens Master Giaccomo.) Release her at once you sadistic animal!
The Prince: (addressing the crowd) This fair lady, so brutally punished before you has been falsely accused. All you have been told is a foul lie! So she is condemned to be sold into slavery?
Then let me buy her! I offer a thousand gold ducats. A high price for such an abused lady I hear you say?
It is a price I pay willingly…but not to the scheming, evil sadists who sought to disgrace Dona Eleonora Ziani. No, I pay my gold to you, the good people of Venice.
(He throws handfuls of gold coins into the crowd who surge forwards screaming with excitement.)
In the confusion, Prince Morozov frees Eleonora, throws her onto his horse and leaps up into the saddle behind her. Together they gallop towards the frontier and safety..
The Prince: Oh my darling, what have they done to you? That horrible ring, your hair and those weals across your flesh…Venice will pay dearly for this outrage, my Lady.
Eleonora: My Lord, I am so ashamed that you see me like this. They have broken my spirit as well as scarring my flesh…I will take time to heal so be patient with me… I owe you my life and honour…Master. I shall be your slave forever. (for the first time in many days, Eleonora smiles)
But give your humble slave the time to heal, Master…thin I shall be fully yours, I promise.
The Prince: Have no fear my darling Eleonora. You will have all the time you need. But for now we must free you from those shackles and find someone to remove that ring. Once we cross the border I know where there is a blacksmith who can release you. And after that…why a hot bath to cleanse the stink of that place from your body (He grins at her). My new slave has a somewhat ripe odour I fear!
Eleonora: (rapidly recovering her spirits now she is free of the nightmare) And yet you knew that when you bid for the goods my Lord.
A month later the lovers finish the long journey to Saint Petersburg. Eleonora gradually forgets the pain and humiliation of her arrest and her torture and ill-treatment in the Venetian prison. Steadily, coaxed by the gentle and experienced ministrations of her master, she learns with increasing passion to experience the ecstasy of making love once again. Prince Morozov shows her the sights and delights of her new home, an attentive guide to the beauties of the Russian capital.
The Prince: Lady, I offer you my city, my name…and my heart. Will you accept my gifts?
Eleonora: (smiling) How can your slave possibly refuse, my Lord.