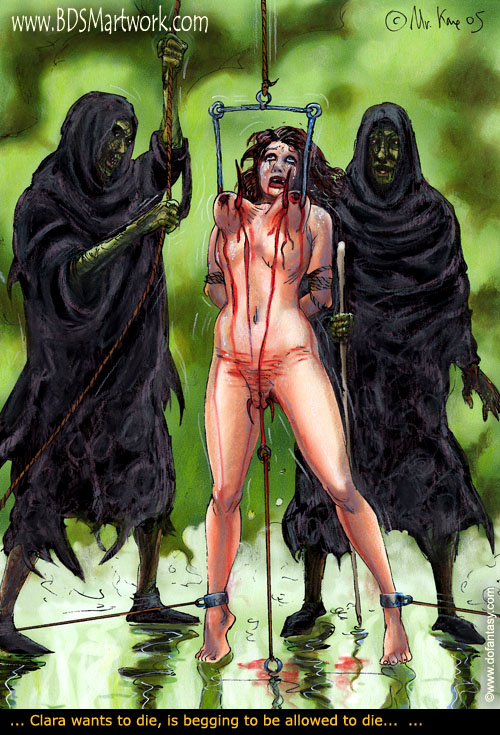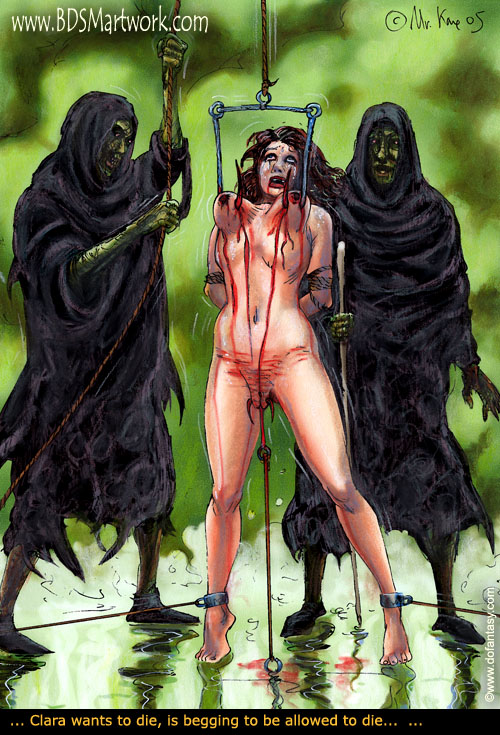 Since time immemorial the Necromants have inhabited the dark places of the world of humans, often dressed as beggars or lepers and passing almost unnoticed. They belief that their only hope is to seize beautiful young women and subject them to terrible torments in order to placate the ire of Sogot and win his eternal Grace. In this way they hope to be finally liberated from the disease with which they are born.
The victims are locked up in cells where they are raped and subjected to the filthiest, vilest kinds of sexual abuse. Those that do not become pregnant suffer eternal torture.. Day after day they are subjected to the most atrocious punishment on the edge of the abyss.
Yaneta was first abused for several days and then ringed. She has been chosen to satisfy Sandred, one of the Brethren. She hopes that she will escape the horror of sacrifice in this way…
Lena writhes in agony on the altar. She is barren and has been condemned to unspeakable torture. One after another the Brethren pierce her body with iron spikes and scratch her with their cracked nails. They sink their claw-like fingers inter her delicate vagina again and again, cutting it and stretching it mercilessly. The luckless screams, but her cries are drowned as they rape her mouth.
Torture by fire is slow and cruel. Patricia has been sentenced to be burnt alive. She shouts in despair as she imagines the slow process. The fire will burn her lovely flesh and leave it black and unrecognizable. Her desperate groans reverberate around the walls. The High Priest Kassius drones out his redemption litany…
Maria passed out after the last session under the whip. She has been suffering for several days now. It started when she was ringed and the lips of her vagina were cruelly stretched. Miraculously her flesh held, but to little purpose. She was suspended so that the fierce whip could take the skin off her body. The session is not over. There are many lashes still to be delivered. The Brother is getting ready to administer a new session of pain…
Clara wants to die, is begging to be allowed to die… She cannot take any more torture. After profaning her lovely body, they took her to the scene of their ritual butchery and they showed her the suspended, mutilated bodies of other women. The women had been sacrificed, quartered and served up as raw flesh for the great banqueting table dedicated to Sogot, where the faithful would celebrate the god's birth and ascent from the deep.
They pierced Clara's breasts with hooks and left her hanging for a day before they began beating and flogging her, first between the legs and then on the buttocks. Later they pierced her lips and pulled them apart, in readiness for the ritual flesh ripping.
The boiling sulphur drips slowly onto Cloe's open, aroused vagina. She screams. She is not even aware of the hooks pulling at her breasts as the intense pain sears through her nerves, driving her crazy. She hardly feels it when the monk burns her breasts with a hot iron. Every ten drops, another Brother twists the rod that is destroying her anus. But Cloe, crazed by pain, only sees the burning drops and struggles in vain to keep them off her swollen, red vagina.