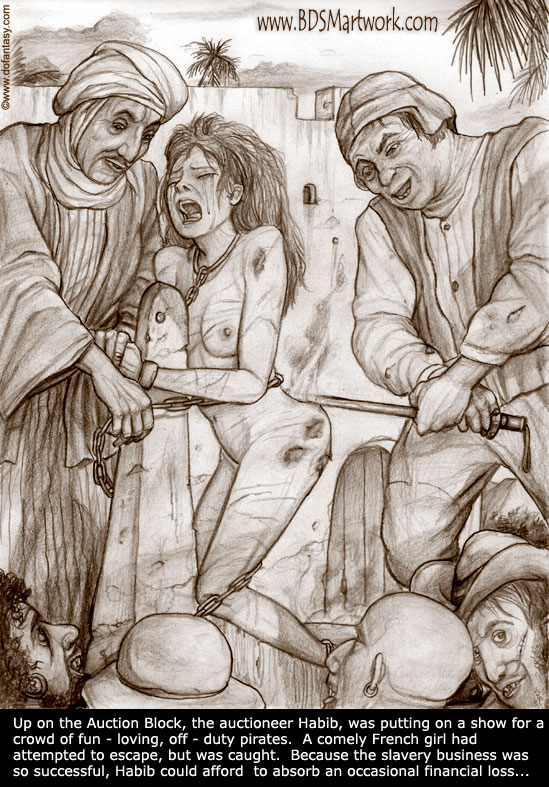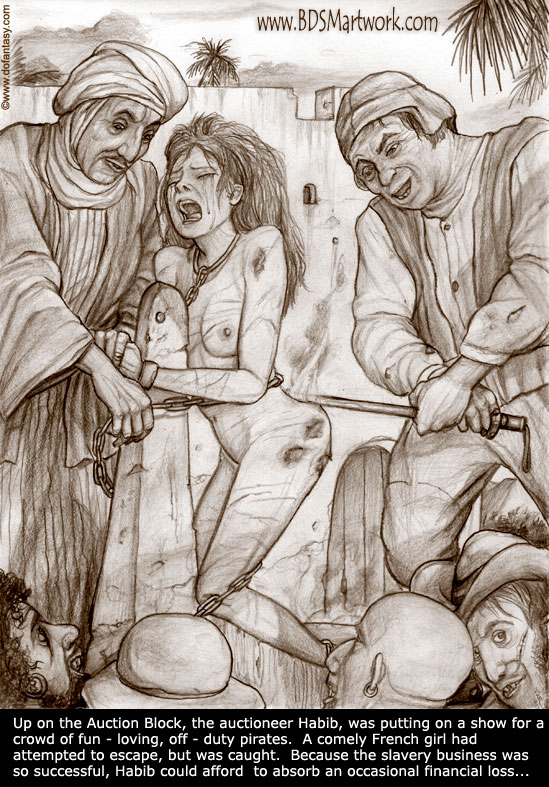 Well, my sweet lass, we've finallly arrived . You'll like our little island – everyone's so friendly here! But you might not be staying that long, as you'll be going up on the auction block right away.
"But before we part ways for a while, your ol' Captain wants to thank you for all the good fuckin' that you've given me. It made the long voyage much more pleasant ! So open wide and swallow down one last bit of my salty spunk as a going-away present!"
Up on the Auction Block, the auctioneer Habib, was putting on a show for a crowd of fun – loving, off – duty pirates. A comely French girl had attempted to escape, but was caught. Because the slavery business was so successful, Habib could afford to absorb an occasional financial loss. So he would pay the French slave's captor a good price for his trouble and use the slavegirl as an example to any of the other slaves who might consider trying to flee.
The poor slave's screams attracted more and more onlookers as Habib's henchman began to burn off her skin with a red-hot poker.
Such a show served to keep habib in high esteem with his pirate cliente and suppliers.
Some potential buyers of slaveflesh preferred to do their inspections in a more private setting. In the relatively tranquil environs of the holding and breaking-down chambers, they could discuss, choose and haggle over the prices. "I want this, how much is it?"
Luc-Girad knew that his choice of the young blond slave was a good one. Both of his mistresses, usually so difficult to please, were instantly enamored with the slave's beauty and submissiveness. Luc-Girad had enjoyed a long fuck session with the captive; she had such a tight, smooth pussy. Now he would enjoy watching as his new purchase was whipped and introduced to body worship before being taught the fine art of eating pussy.
"C'mon little one… you know the place… get those lips and tongue all the way up…!"
Pierre the Large was named that not only because of his tall and wide stature. Pierre's cocksize was also a thing of legend – and most of the free women of the Island refused to subject their pussies to that monster shaft. So Pierre had purchased a cute
Scottish captive for himself – someone who could not refuse him at any time or for any type of fucking that he wanted. Yeah… you gonna be chained like this day and night, always ready for poppa's big cock…
Pierre was not a man of tact or patience. After handing over the purchase price to the auctioneer, he pushed the his slave against the wall and immediately began to shove his giant cock up her ass.
"Don't worry, girl," he grunted as put his weight behind his shaft. "I'm not gonna to ruin you by slamming this big thing into you hard right away. I'm gonna to give it to you slow, let you get used to it…"
But Pierre's new slavegirl would never get used to so big a cock. As she would each and every time she was fucked, she screamed wildly as Pierre's huge cockhead forced it's way through her anal pucker. And she would continue to scream as the bulkiness of his foot-long weapon began to split her open…
The gruffy old scallywag of a pirate named Baleau like his drink almost as much as (some said even more than) fucking beautiful slavegirls. When a thoroughly frightened slave refused to share his liquor, the usually half – drunk Baleau would jam a funnel in her mouth and pour …
Don't want to swallow your Master's cum, bitch? Let's see if you do it drunk Ha Ha Ha!