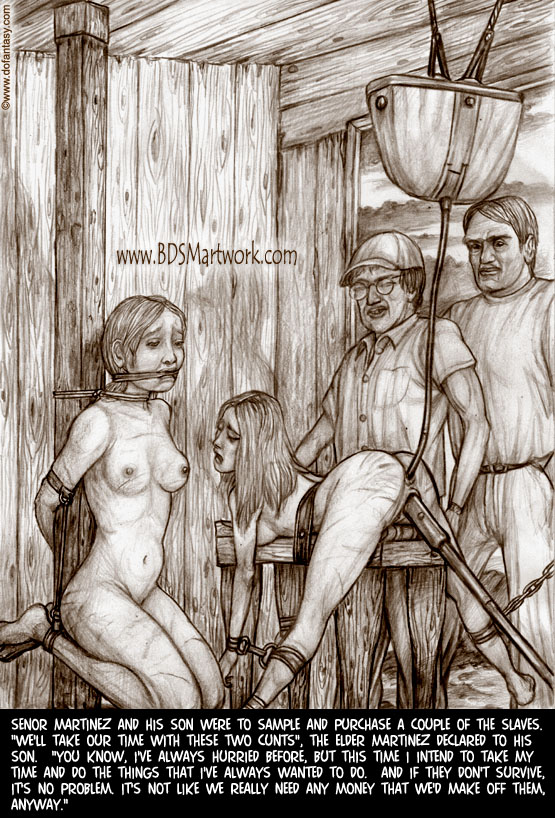 These were no rebels who swooped down upon the group of visiting Gringa college students camped out in the jungle. These men were on a strictly commercial venture. Pretty young Gringas would bring a hefty price from the landowners who in turn would use them for their personal pleasures and as featured additions to the country bordellos that most of them maintained a secret financial interest in.
The invaders would indulge themselves overnight in an orgy of punishment and rape before marching their unfortunate captives to their fates.
And what had began as a wonderful summer foreign-study program for these female students would become an ongoing nightmare as their lives of relative privilege would be replaced by a life of forced sex, pain and humiliation….
The girls' escort, a nice – looking32 year-old female professor named Mary had tried to protect her charges, but was immediately put in her place by a bit of slapping and whipping. The kidnappers made a special example of Mary, leaving her a quivering, dispirited and totally obedient piece of meat who now realized that she was to be no more than a piece of pussy to be used .
But all was not so bad; Mary's performance as a submissive fuck-slut had been appreciated by Meko, who would keep her for himself instead of selling her to the landowners. The captor took his new forced-wife-to-be away from the nosey, chaotic campsite to a more quiet location so that he could better concentrate on her.
Such a nice bitch, Meko thought as he pumped yet another load of his cum deep inside her sore cunt. …..
"What do you say, Lucita? Do you approve of her? Do you think that you two will be friends?"
"Uhhhhh… Si, Teresa! She …..Uhhhhh…..has such a good tongue….and such soft lips….. We will be very close, she and I! I'll spend more time with her…..teach her…..Don't stop, you cunt! Faster, now! Yes…that's it….keep it like that….."
"Now, now, don't get your hopes up. Remember, there are a dozen other girls that get to share her with us. So she'll get to learn everything rather quickly, I think. And guess what? Tonight, we are each going to be allotted 20 minutes to use the belt and paddle on her. Just her and the each of us, alone, in the upstairs cage."
That news sent Lucita over the edge. The thought of making this beautiful, lithe – bodied white slave spasm under the strap pushed her into a violent orgasm." Aggghhhhh….. Ssssssss……Oh, you bitch ….Uhhhhhhhmmmmm… I'll make you feel the whip… YESSSSSSSSSS…!!"
03/19/2003
Senora Violeta was the Patron's sister. She was also the accountant to his many criminal enterprises. Although Violeta, because of her short stature, had suffered much insult and abuse in her younger days, no dared not to show her the proper respect now.
And Violeta came to love the gift of absolute freedom in all her brother's whorehouses, having had developed a real sexual appetite for the younger girls – especially the newer ones. The more extreme forms of erotica is what she preferred.
"You see how easy it will be to get along with me? Look how your pretty friend drinks my water? I'm so readily pleased and I have no interest in hurting you. The others have taken that role; I just need you both to thrill me by giving me my orgasms and amusing me with your instant obedience. If either or the both of you show that you will always try your very, very best to give me what I want, I will make that you are treated as sex whores instead of pain whores."
"Si, let me explore your mouth……so moist, such soft lips…..Don't worry, your friend's not going to have all the fun. While I'm instructing her on how to eat my cunt, I'll let you start out by exploring the sweetness of my asshole with that lovely tongue of yours.
" Uhhhhh……..Ahhhh….I think I might be in love again!"
Incoming search terms:
| hines sex slaves (17) | | Slaves sex porn (1) |