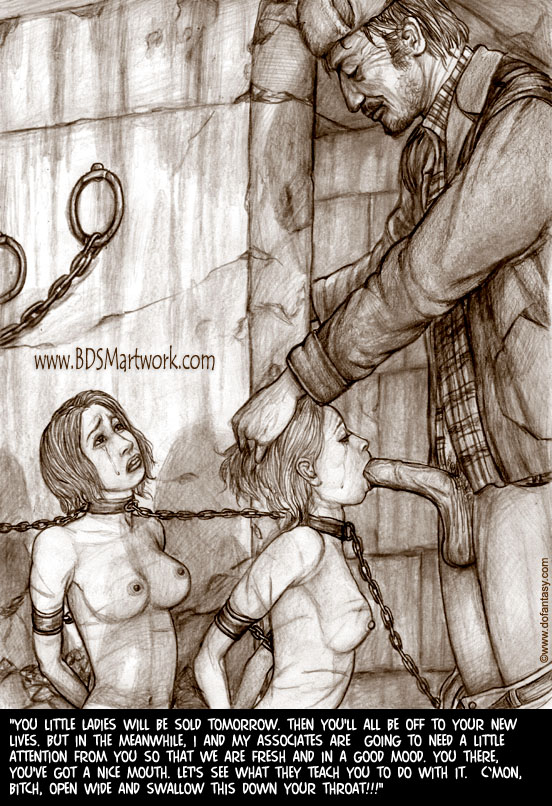 Now the prime buying market for abducted Eastern European sex-slaves was increasingly in South America. Not only were there plenty of venues in which the captured women could be used – brothels, sex/death shows, domestic slave-owning households ,etc., but South American had turned into an excellent auctioning and transport center for buyers in the big North Americano marketplace.
So Senora Marquez was a frequent visitor at many of the major slave import centers located in her area.
Some of these new pale putas would be reserved for her string of country whorehouses. Others would be quickly offered and re-sold to established slave-buyers in Los Angeles and New York City.
This sweet blonde with the flawless skin showed great potential for bringing her a huge profit, no matter what duties or destination that would be in her future.
"Look at that cute little pussy, Manuel. So tight. She'll bring in big money if she's not used very much at the time of sale. That means we'll just fuck her for a few days and then leave her alone, got it?"
"Si, Senora. We'll just have a bit of fun. You know, just so that she has something to remember us by. Mmmm… Maybe we can use her ass-hole?"
"Yeah… you can use it, right. But we have the same problem here, so don't overdo yourself."
One of the anticipated pleasures of the slave import staff was dealing with the inevitable rebel. There would always be at least one difficult slave in every shipment. Such a girl would quickly be isolated from the rest of the captives and subjected to the cruelest punishment and eventual death. But she would be very useful as a lesson as to the fate of all those who resisted even in the least.
The poor slave's pitiful screams and cries of agony would clearly be heard by all the other inmates in the holding cells. And come the morning, they would have to slowly file by the mangled body of the still-alive victim.
Tatia knew that her life now depended on how much pleasure her sore body gave to Renaldo. On the bed, she immediately spread her legs wide, offering up her tight pussy to his large cock. Renaldo was rough when he entered her, causing her to cringe. But Tatia readily demonstrated her compliance by intertwining her small tongue with his large one, submitting to a session of wet, spit-filled kissing that worked to excite Renaldo even more.
Renaldo showed his appreciation by jamming his dick in to the balls and settling in to what would be a long and very hard fuck. He would take her many times that night, causing her to cry and whimper while he groaned as he brutally plowed her captive pussy and asshole.
No one could claim that the Latin American slaveseller were without heart. In fact, Renaldo had been so pleased with Tatia's absolute willingness to service his every need that he had decided to reimburse the operation for her cost and keep her as a strictly personal property.
Tatia was informed of this by Renaldo's big wife, Estaella as she first had Tatia branded with Renaldo's number and then escorted her up the couple's private quarters in order that they could get better acquainted.
"Don't worry. cute one. You'll get to know me very well. And I'm not the jealous, either. What is Renaldo's is also mine, so you're going to kept real busy between the both of us. There are so many things you'll have to learn about your duties, the cleaning, the scrubbing and all that. But first, I'm going to teach you how to learn to take my paddling. I like to paddle. I like it a lot. I'm going to spend hours spanking your pretty ass. Don't worry about fainting – they all do that. It's fun to wait until the girl revives so that I start up where I left off. You're going to cry and beg and it's going to be so bad and so painful for you. And so wonderful for me. And you'll eventually learn that what pleases me is the only important thing…..
"Come now, my love. Your Estella is so wet for you…"
The majority of Senora Marquez's newly-purchased slavecunts were quickly put to work in one of the more upscale cathouses. There, they would bring in a much higher price for their services than the regular local whores. But then, these European girls would be subjected to sexual acts that the local working girls usually refused to do.
Senor Minino had decided to buy himself his very own Euro slave. Not with any business purposes in mind – this was strictly for his private use. Although Senor Minino was a fairly successful businessman and well-regarded around town, his small stature had been a curse as far as finding a suitable wife. But with the purchase of this beautiful young Russian blonde by the name of Ivana, he now had a reliable piece of pussy to fuck when he returned home after a long work day. Si, she would not be like the other local women; she would not laugh at him or make rude comments about his stunted and misshapen form. And she would never refuse to open her mouth wide to dutifully swallow the cum that he liked to jack out of his rather ample cock.
And perhaps – just perhaps – Ivana would bear him a batch of normal-sized children after he started to really spend a lot of his spare time breeding with her down in that hot, damp little locked room……