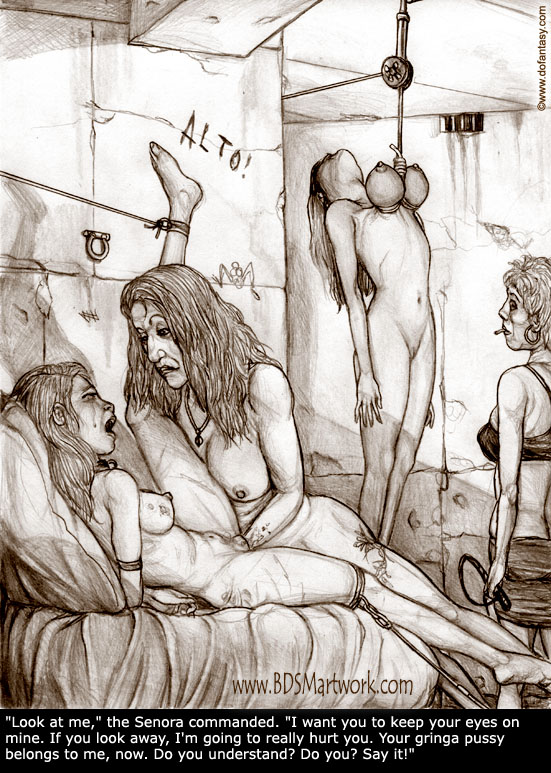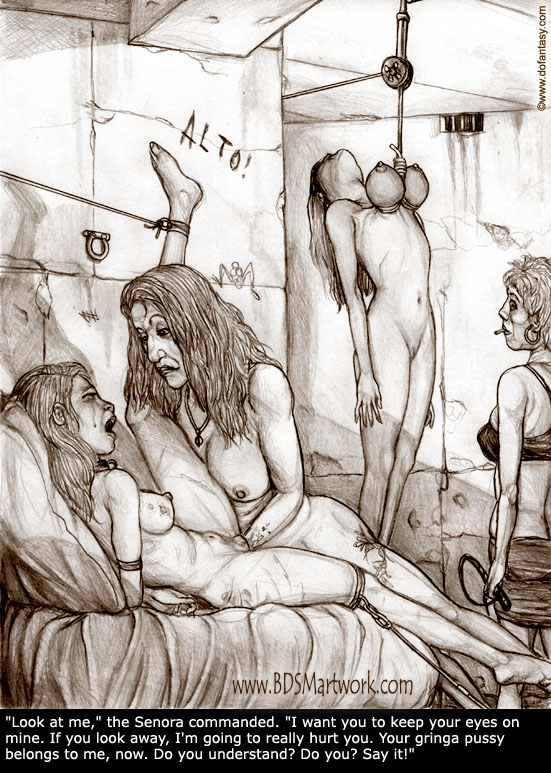 The Senora couldn't believe it – this gringa was a virgin! That stupid Maria had unwittingly broken the girl's hymen when finger-fucking her, Damn it! A chance to charge a really large fee to a customer for the privilege of deflowering her had been ruined!
But this didn't mean that the Senora couldn't enjoy breaking the girl in just a bit. Nothing like the feel of a tight pussy giving way around a fist.
"Uggghhh…No! Please! Uhhh…," the tourist girl screamed as the Senora slowly forced a clenched fist up her cunt. The Senora pulled her fist out a bit and saw the girls blood on it, then shoved it back again, this time a little more roughly.
"Look at me," the Senora commanded. "I want you to keep your eyes on mine. If you look away, I'm going to really hurt you. Your gringa pussy belongs to me, now. Do you understand? Do you? Say it!"
"Owww..Yes! Yes, I understand! Oh, God, it hurts!"
"Si, it does hurt, doesn't it?" The Senora jammed her fist deeper, deeper, until half of her forearm was inside the girl. Then she began to settle into a rhythmic fucking. " It hurts so good!"
"Si, keep looking into my eyes, girl. That's it. Now start moving your hips and pussy and fuck my fist back. Ahh, such beautiful eyes you have, girl. Such beautiful tears…"
"Ah, my sweet little Gringa – let us take a walk together over to that big tree over there. It looks like such a comfortable place for us to lie down and get to know each other, Si? We can take our time there and you can give me all the pussy that I want. You smell so good. Not at all like a lot of our local girls. And such a nice body you have. I just know that you're going to fuck as good as your friend is doing back there with my compadre. And your other girlfriend – can you hear that screaming of hers? That means my buddy Manuel has caught up with her. She shouldn't have tried to run away; now he's gonna beat on her a bit before he fucks her.
"I know that you are not like her, eh? I know that you're gonna show me what a good Gringa whore you are, huh? I know that you're gonna beg me not to hurt you and to please keep shoving my big cock in you. You like it hard, don't you? I can tell. You like it rough and I bet you like hard up your ass, right?
"Si, si – your crying really excites me! I like that pretty voice of yours. I'm gonna love it while you're asking me to keep fucking you……Come! Quicker! My dick is sweelin' so big, it hurts!"
Senora Guzman took a rest from her giving the lash to the Gringa called Blanche. Her arm was a bit weary and she would watch Manuel take his turn at Blanche with his belt. Besides, the other tourist bitch was really working on the Senora's pussy with that busy tongue of hers! Damn, this little puta was going to make her come again! Such a good little pussy-eater! These two exotic white tourists were well worth the money she had spent to buy them. Too bad that third girl, the one named Evonne, had still insisted on being defiant and stubborn. But some bitches like Evonne were just too stupid to realize the hopelessness of their situation. Oh, well, at least Senora Guzman had been able to re-sell her at cost to that very unpleasant Eduardo who liked to purchase the Senora's rejects….
"Stupid whore! I'll sell you to old bastard Eduardo! Your life will be short and a horror hell on Earth. You'll miss your Mistress, I can tell… and her old smelly pussy!"
Blanche's assigned room was hot, smelled of sex and the mattress was soiled and stained with semen. A week ago, she and her two college friends had been looking forward to enjoying a fun-filled vacation. Now the days and nights seemed to be all the same, meshed together as she labored as one of the featured foreign whores of Senora Guzman's busy second-floor bordello.
Her body was sore and ached from the constant rough treatment from the seemingly never-ending horde of working-class customers. She wanted to just lay there as they rode her – but she knew that if a hombre complained about her not being responsive, she would be beaten severely – or worse. And so no matter how tired or exhausted she was, she had to move her body and give the client a fuck.
And this particular customer was so rough and his oversized dick hurt so much as it pounded her raw pussy!
He had paid for the entire night with her and he was going to get his moneys' worth. Blanche pleaded and cried as she was turned into an abused piece of whimpering white fuck-meat with no will of her own and no choices as to her fate.
…"OK girl…lets do it again… c'mon, hug me tight and squeeze ma dick! A hired you for the night, we are lovers until morning!"…
But like all jobs, there were some occasional breaks from work and sometimes Blanche and her friend were accorded some time off – usually spent at establishing a closer relationship with the other brothel employees who appreciated their talents…
I'm going to bugger you, gringa… you are a dirty whore you know? You are provoking me lying like this."
"Yeah… the little slut sure wants it… right in there, don't you sweetie?"
And as for poor Evonne; in her capacity as Eduardo's personal playtoy, she soon came to regret being so quick to reject the very kind Senora Guzman's offer of employment and friendship…
"AAAAAAAAAIIIIIIIIIIIIIIIIIIIEEEEEEEEEEEE!!!"
"C'mon, girl, don't cry… It's just a little cut… I'm not gonna go all the way thru…"
The rest of Yvette's life would be long and hard. The days and nights would be long; so many constant demands made of her, demands that needed to be fulfilled. The cocks would always be hard; the Mendez men were constantly needing the pleasures that her well-used holes provided them. The tropical heat and humidity served to preserve the smells of semen and sweat, so the musky, sex-based aromas that pervaded the interior of the shack in which Yvette would spend the majority of her time tended to further inflame the arousal of her captors as soon as they entered. Yvette's body was so handy, so available…..
If it were only a matter of being fucked, Yvette's life as a sex slave would have been somewhat more bearable. But the nature of the Mendez clan was one that was basically crude and brutal – and that was the way that some of their men folk tended to enjoy their sex. Yvette would cringe each time the Mendez nephew, Marco, came to visit her. Marco liked nothing better than a bit of pre-sex session of slapping and punching before getting down to the business of some intense jamming and ramming. In fact, Marco was not able to reach an orgasm without first inflicting pain and abuse, so Yvette was indeed a lovely present…
Now it was yet another moment of pure pleasure for Marco, as his body arching as he spasmed his cumload up Yvette's asshole. " Aaaarrrggghhh……! Uhhhhhhh…..you bitch!"
It was so good.
Incoming search terms:
| bdsmartwork full (22) |