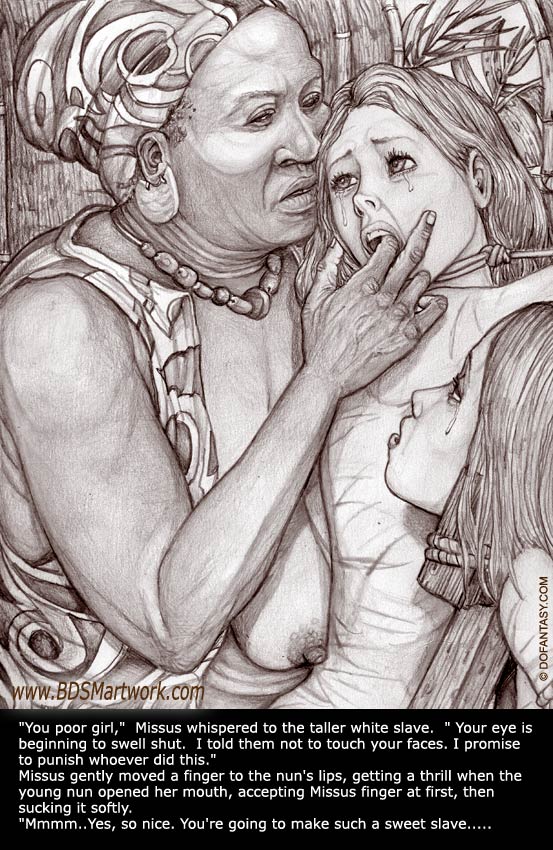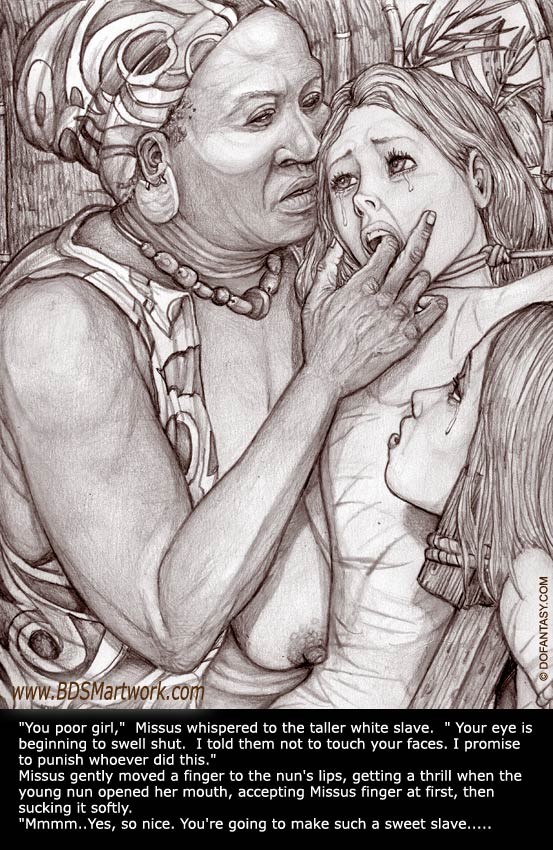 The Lady Western Ambassador Becomes a Fuck-Toy.
There was only chaos, violence and confusion in the isolated African country known as Butana and it was only natural that the small population of Westerners who resided there would be as caught up in all the bedlam. Mostly they consisted of the handful of staffers from the two Western embassies along with a few dozen dedicated aid workers.
But now there was no lawful authority in this poor, corrupt mini-nation. The Premier and his cohorts were dead and both the rebels and the rag-tag leftovers from the army roamed wantonly; killing, raping and pillaging at will. The walls and the status of the Western embassies meant nothing to them…
"P-Please, please don't hurt me any more! I signed the paper just as you wanted!", Madame Ambassador Patricia Maples begged to the tall African renegade officer named Okuru.
Okuru chuckled. "Yes, my little rich white bitch, you've shown that you do what you're told. I like that. Well, I'll fill in whatever crime that you've just confessed to later. But right now, keep stroking my cock, make it big."
"They might have made you some kinda Ambassador, but now you're nothing but Okuru's personal piece of pussy!"
The Western Ambassador's 19 year-old Daughter
is Impregnated by Her African Master.
Under cover of all the continuing violence and mass disorder, all the Western males in Butana's capital were murdered; only the white females were spared. Their pale bodies were considered exotic and they were rumored to the most extraordinary fucks – once they were broken in and put in their place.
Wiona Maples, 19, was the daughter of Ambassador Patricia Maples. She had mostly enjoyed her time in this quaint little African country. It was a bit boring, but the fantastic around-the-clock attentive service from the embassy's large staff of Butanian cooks, servants and maids had more than made up for it. Wiona had only to clap her hands and a eager black staffer would be there, ready to serve her.
But now it was Wiona who being forced into service. She had been given to one of the renegade army officers. She had resisted at first, but she soon was tamed after a few hours of rude punishment. Wiona was even forced to watch her own mother being fucked like a common whore; Wiona was amazed how her once-proud Mom submitted so thoroughly to that huge African cock that attacked her cunt and asshole. Watching her mother suck the cum from the cock that had just pulled out of her ass brought home the fact final realization
there was nothing for her but to give her Black Master everything and anything he demanded.
Wiona's pussy never seemed to be able to stretch enough to take all of Colonel Nomvebi's dick without pain. The big African always liked it rough and hard when he banged her pussy and asshole. And he liked it often.
Wiona cried as Nomvebi grunted in her ear, "They will never find you or your mother. And you will give me many babies!" His large hands cupped her buttocks and arched her slender body up in order take every inch of his dark shaft as he started emptying a particularly heavy load of his thick cum deep in her uterus.
"Move your little white ass, bitch! Yeah, that's it! Keep pumping out my cum! Work for my baby! Ahhhhhh…."
Nomvebi held Wiona's butt tightly in place, rotating her hips as he continued to impregnate the girl with the virile jism that pumped from his heavy black balls…
Uhura Chooses Young Marcela to be Her Prison Bitch.
But it was not only the African males who got to exploit and enjoy what the stranded Western girls had to offer. In their haste – and desperation – to flee from the marauding gangs of rebels and renegade army thugs, many Western females thought that maybe, just maybe, one of the handful of woman's jails and prisons might provide some kind of shelter.
But they would instead find, to their dismay, that their fates inside any one of these all-female African institutions would offer only another form of slavery and depravity…
Marcela, an earnest French aid-worker had come to Butana to help organize water and food projects for the benefit of the ordinary rural villagers. She had managed to evade the rape gangs that roamed the countryside and had finally found refuge inside the small woman's prison located in a rather isolated valley outside the capital.
Yes, they would take Marcela in – but she would have to be put in with the general prison population. The rapists would never think of looking for a white girl there. But Marcela would discover that once there, she would be just another inmate expected to abide by prison rules.
And one prime prison rule was that pretty young foreign white girls were expected to be sexual slaves to any tough African woman who wanted her.
Uhura was the biggest, toughest inmate in the institution. This was no longer an opinion, but a fact, because Uhura had just established herself as the toughest by thoroughly beating her nearest competition into a pulp.
And there was nothing Marcela could do but obediently comply when Uhura sat on top of her and told her, "My nipples need you to suck them, white girl. Suck them now and get them real hard before I start teaching you how to lick my pussy….."
Brenda Suffers One Last Ass-fucking Before She is Sold.
Brenda had served as the personal secretary to the Ambassador of another Western embassy in Butana's capital city. Her first shock was see the Ambassador shot dead as he tried to flee the surly crowd of rebels who had forced their way into his office. But that was only the beginning for Brenda. The next three days was a horrible mix of painful spankings, whippings and the most humiliating forced sex as the rebels turned Brenda in a whore.
Brenda could hear the cries of other white females throughout the building as they suffered from the attentions of one African cock after another. Her own snatch was leaking constantly from the mixed overflow of the many different dicks that were using it and her anus was sore from the way they liked to fuck her from behind.
There was no thought of resisting now; Brenda knew her body no longer belonged to her any more. No need to struggle, only the duty to give them what they wanted…
Brenda sobbed quietly as the rebel leader steadily pushed that overly-thick dick of his up her asshole.
"Mmmmm… Gaaa…", the big African grunted as the interior anal walls of Brenda's ass tightly gripped his engorged black shaft. He had begun to really enjoy his twice-a-day ass-fuckings with this petite but firm-bodied white girl and how she made him cum so hard. But the offer from the Arab was good money. He knew his Arab client was getting impatient standing there, but he was determined to enjoy Brenda one last time…
"Move that ass, bitch… fuck me back… Big eh? You'll miss my black sausage up the us, won't you? A pity they sold you. C'mon now, fuck harder and make me cum! Your new owner is waiting and you don't want him to get impatient!"
"Ohhhh… Godddd…!" Brenda trembled from the agony of the African's assault as he started to get his rhythm established, his foot-long cock slamming to the hilt against her captive buttocks.
FAP…FAP…FAP…
Regine Obediently Asks to be Whipped.
The American food-aid coordinator in Butana was an attractive 25 year-old brunette by the name of Regine Stewert. Ms. Stewert had seen some disquieting signs of unrest and preparations for violence some weeks ago, but her dedication to her job kept her from taking one of the early flights out of the country. Then it had been too late.
With a few other Westerners, Regine had sought refuge inside the notorious Jumbuti Woman's Prison at the edge of the city. Regine had a fleeting acquaintance with the middle-aged African woman who served as the prison's warden. While the woman, Miss Ngata, had made Regine somewhat uncomfortable being around her at times, Regine could only hope that she could provide shelter there.
Miss Ngata was indeed happy to take in Regine and her friends. It was not until Ngata summoned the prison guards to handcuff the other girls did Regine realize that there had been a reason why she felt entirely at ease with Miss Ngata. Ngata gave Regine the choice of being given over to one of the rape gangs – or to follow orders and obey.
"Take off your clothes, girl, and get to your knees so you can eat my pussy. Do it now!" Regine had never licked a pussy before, but Miss Ngata was experienced at teaching new girls. After a few attempts, Regine started to learn how to use her tongue sloppy-wet on that black pussy; how Miss Ngata liked to hold Regine's head in place by her hair as she climaxed hard. Miss Ngata's cunt-juice was thick, slimy and foul-tasting and Regine gagged the first time she had to clean out that African cunt with her tongue. But there behind the locked doors of her office, Miss Ngata gave Regine a few more opportunities to get used to it. In fact, it was four times within an hour that Miss Ngata's body shook as her pussy smothered the girl's mouth with more of her rancid juices.
With her mouth still tasting of the Prison Warden's rank pussy juice and musty asshole, the American girl has passed her first test.
Now the Warden tells her, "You must prove to me that you deserve the privilege of eating my pussy and ass every day. Show me why I should keep you as my property."
"This is Lamuba and Cybara, two of my most trusted guards. I want you to beg them to whip you while I watch. I want you to beg them to whip you hard, so hard that you faint. They'll do a good job if you ask them nicely. Then I'll reward you by letting you spend the night with all three of us…."
Missus Lamumba Examines Her White Slaves.
Things are tough and brutal in the Third World. There are mostly places in which there are those who have and those who don't. There are few controls concerning what is right and wrong; that is mostly a matter of those who have power deciding what is right.
Even in the midst of the chaos that was taking place in Butana, those who had real power did not worry. The renegades, the rebels, the Army and the gangs all understood there were those who controlled the gold and the mines; people who should not be bothered in any way.
People whose names were not to be mentioned. People who, if they asked for something, should be given it without hesitation, without question.
Missus Lamumba was such a person. Her husband was a powerful man who controlled the country's docks, harbors and railways. Her own family controlled 80% of the gold mines in the country and interest in others throughout Africa. When Missus Lamumba made it known to her underlings that she wanted something, she got it.
Missus Lamumba's instincts had told her that the ongoing violence within the country was the perfect time to arrange for the abduction of the two young Western nuns she had seen working among the villages for the last year. It was she who had made sure that nothing would happen to them, even when they naively traveled within the most dangerous areas to do their work. Both of them so pretty, in their early twenties….Yes, it was time.
It had been almost a week now, the two white nuns were being trained and punished daily. Missus Lamumba was in no hurry. In her experience, it would be best if their suffering went on for at least 6 months.
She wouldn't would have to wait that long to sample them, of course…
"You poor girl," Missus whispered to the taller white slave. " Your eye is beginning to swell shut. I told them not to touch your faces. I promise to punish whoever did this."
Missus gently moved a finger to the nun's lips, getting a thrill when the nun opened her mouth, accepting Missus finger at first, then sucking it softly.
"Mmmm..Yes, so nice. You're going to make such a sweet slave…..
There comes the time when a victim or slave-to-be realizes that there is no hope or anything to be gained by resisting those who own or control her. Any resistance would only make things much worse than what has already been inflicted or is about to be inflicted.
There is only the surrender of her body and soul to whatever desires her Master/Mistress might harbor; the slave can only let herself be used, sold, punished – or worse…..
The American girl, Lacey, had come to such a realization. The journey that began with her kidnapping in the States had now ended in this hot, dingy room somewhere in the Middle East. Her pale body and exotic blonde looks had commanded a very good price.
"Don't worry, Rehib, this infidel bitch's whip-marks will fade shortly and her skin will be flawless for your enjoyment," the Arab slave-seller said reassuringly.
Mr. Rahib was already rubbing his exposed cock up against the white slave's smooth buttocks, exciting himself for all to see. "You have always sold me the best of flesh, my friend, I'm not worried. But I hope you don't mind if I bend her over right here and take my first sample of that tight pussy…"
"Of course not, you're one of my best customers, Rehib…"
"Did you hear the salesman, slave? I'm gonna fuck your white cunt in front of everybody. And you better fuck me back like the white whore you are 'cause I'm gonna buy you anyway and you don't want me angry with you… understand?"
________________________________________
Rosiline was made to witness the whipping and beating of the other Western slave who had be abducted and transported to Arabia at the same time as she.
Rosiline had not gotten the girl's name – speaking between slaves was strictly prohibited – she only knew that the other girl had pushed way the probing hand of one of the female "hosts" when the both of them were escorted into the large room where their new owners had gathered to inspect them.
The other girl had started to scream and beg when they started in on her with their bamboo rods, their whipping being done with hard and heavy-handed swings. But her cries only resulted in the whippings becoming heavier and faster.
One of Rosiline's Arab owners laughed as he and his wife fondled and pinched at Rosiline's fine young breasts.
"You 're going to see your haughty friend there whipped to death. It's going to take all night before she finally dies, but we'll all enjoy taking our turns on her. If you try to look away, you'll suffer the same fate!"
"Yes, my sweet," the Arab's wife chimed in. "This is a good way for you to see for yourself what happens to those who forget their place. And your place here is to be our sex-slave, my husband's and mine. There's a lot of dick sucking, cunt licking and ass tonguing ahead of you…"
________________________________________
In her own little cell tucked away in the far side of the prison cellar, the lovely British tourist-turn-fucktoy named Katherine fell to her knees as Warden Nukuuma unlocked the door and entered the room.
Katherine was innocent of all the charges brought against her, but that didn't matter.
Twenty years was the sentence.
And nobody even knew that she was here.
There were only the reports of her having gone missing while traveling deep in the interior of the small African country's lush, thick rainforest. Of course, the local authorities said they were doing their very best to find Katherine. But there had been other vanishings of other Westerner girls lately – with none being discovered yet; all of them young and beautiful and strong-minded and stubborn enought to risk venturing off by themselves. Their respective families were crazy with grief and fear for their missing daughters…
But Warden Nukuuma knew just where they all had ended up. In the especially-built slave-holding section that he had commissioned for the large cellar of the women's prison that he oversaw.
Secure and soundproof, where unwanted ears could not hear the sounds that the missing white girls made as Nukuuma assaulted them over and over again.
Nukuuma loved how each light-skinned bitch moaned and cried as he opened and stretched their tight cunts and assholes with his huge African dick.
Katherine had been the latest captive and the Warden had spent the better part of the week visiting her cell at night; abusing her hard and rough.
So many times.
So many ways.
All of her resistance had been fucked out of her now. Now she knew only to please him….
Katherine looked up at the Warden for his approval at the way she so obediently knelt before him and started to massage his huge black cock with her soft hands.
"Mmmmm, you're learning fast. Just like all the other white bitches down here," the Warden complimented Katherine as his shaft began to grow in length by her efforts. " You really want me to fuck you rough, don't you, bitch? Tell me you want it because you love me…"
"Yes, Master, I love you so much. Please fuck me. Please hurt me when you fuck me…" She lied.
________________________________________
Some girls, like Rhonda, found themselves entering the realms of slavery because they had no choice.
Rhonda, a tall, trim beauty from the States, had not been captured or kidnapped into her present situation. Instead she had been forced into offering herself into slavery in order to save family.
Rhonda's errant brother had cheated the Cartel out of a good-sized chunk of drugs and money. The people that he cheated were not the types to forgive or forget. They hadn't been able to find him, but they did find his family.
It was only at the last moment that Rhonda has discovered that those Latin gunmen had been sent to kill her, her young sister and her mother. It was only at the last moment that she managed to make a deal that the ruthless men south of the border found acceptable: In return for sparing her mother's and sister's lives, Rhonda would offer herself to the debtors; to be used in any way they saw fit.
What the Cartel saw fit was for Rhonda to be the personal slave-for-life to one of their most trusted brothel Madames. After all, Mamacita had served them well and had earned them all at lot of money.
What better a reward that the gift of her own slavegirl?
For Mamacita, the gift could not be better; a nice Anglo puta to be broken and shaped into whatever Mamacita wanted her to be. For sex, domestic service, even for earning some extra money on the side.
Mamacita loved the process of breaking in and breaking down a girl. But since Rhonda had been given to her as her personal property, Mamacita was especially going to enjoy herself.
"Please, please, don't hurt me so much! I won't be bad! I promise!"
"I know, sweetie. But I'm still going to hurt you. A lot. No need to beg. It's going to be every day and night, sweetie. For months and months and months. You'll know nothing but pain and suffering for months and months. And then you'll love and adore your Mamacita. Forever."
________________________________________
It was in Chinatown that sweet Tara gave others so much pleasure by her ultimate surrendering of herself.
The bored, pampered ladies of the Asian Ladies Torture Society had especially ordered the kidnapping of a white college cheerleader for their latest sex and death toy. After all, what else could provide so much joy as the degradation of a perky, yellow-haired college cheerleader?
Just the thought had the older Asian women wetting themselves in anticipation. It took them a few weeks to choose Tara as the one they wanted, but it was all worth it when she arrived all bound and tied and frightened.
They had such a good time with Tara during the month's time before tonight. Tara might have cried and protested a bit loudly at first – but within a short time she provided such good entertainment with the way she trembled and obeyed orders to be silent as each of the Ladies abused her lovely, well-shaped behind with their various paddles and whips.
The Ladies taught Tara things that she had never thought of doing; using her stout little tongue to stimulate their aged pussies and assholes; how to show one's devotion by the sucking of toes and underarms; how to properly swallow the yellow streams of pee that the Ladies directed into her offered mouth as a reward for her various efforts to keep them pleased.
Yes, Tara had done well, very well. Now it was time for her to provide the Asian Ladies Torture Society with what they considered to be the best entertainment and service of all….
She could only cry.
"Come over to the sink, pretty Tara. so I position you properly. You such a good girl and we all like how you scream before. We take turns, go slowly, take pieces for souvenirs to remember you by. Make you scream loud. Scream long, long time, okay? Give us big thrill! Make us wet! Every Lady here very, very good…."
________________________________________
Rollo had kept an eye on the white landlord and his daughter for some time.
He followed them from a distance whenever one or the both of them came down into the 'hood to collect rents from their various properties, usually around the first week of the month.
Rollo was an experienced thug who mostly preyed upon the inhabitants of the ghetto in which they all lived, but Rollo deduced that there was more money to be made by robbing whites than his fellow blacks who were more often than not, as poor as he was. Besides, a lot of the poor black folks carried guns in order to deal with thugs like Rollo.
The white landlord was Mr. Smyles and his 25 year-old daughter's name was Amy. Rollo liked how good Amy Smyles' body looked through her tight skirt and blouse. He was determined to have it all if he got the chance.
The chance came the evening that Amy chose to come down by herself to collect the rent from the managers of a few of their old apartment buildings not far from where Rollo was hanging out.
Rollo spotted the large canvas bag Amy was carrying; must be hundreds of dollars, maybe even a thousand.
He also took another look-over of Amy's body; a nice peice of ass, he thought….
When it happened, Amy never had a chance to resist. Rollo's gun was pressed against her head and he was ordering her to shut up or he'd kill her, forcing her into the darkened alley, tearing off her clothes……
"If you don't do exactly like I say, I'm gonna shoot you, bitch, understand?" Amy knew that he meant what he said.
No one else was going come into the area, so Rollo took his time in directing the scared Amy in just how he wanted her to suck the cock that he shoved at her face and how he wanted her to lick his big, low-hanging balls.
Amy's mouth barely fit around Rollo's dick but Rollo was patient and fed it to her an inch or so at a time until she could almost take half of it down her gullet.
"Ohhhh, shit! Bitch!" Rollo grunted as he held Amy's head steady as he flooded her mouth and throat with his cum.
Amy obediently gagged and swallowed every ounce of the jism that Rollo's balls pumped out – but she thought, Okay, He's cummed out now. It's over and he'll let me go….
But Rollo surprised Amy by lifting her up on top of a full garbage can and spreading her legs, saying, "Don't you worry, girl. I still gots plenty of cum left and my dick stays hard for hours, bitch!"
"Yeahhh, I told ya I wasn't through with ya yet," Rollo chuckled as he slowly started forcing his big cock into the white girl's exposed pussy. "Uhhhh, tight, nice and tight. You ain't never had no dick like mine, huh? Hell, I is hitting the back of yo' cunt and I still only gots half my cock in ya, bitch! Keep quiet, bitch. Just you and me back here and I'm gonna fuck ya as long as I wanna. Gonna fuck ya in your sweet white ass too…"
Amy gasped in pain as Rollo began abusing her pussy.
"Yeahhh… Uhhhh… You takin' it all now! Maybe I keep ya instead of kill ya. Make ya have my baby… how'd you like that, bitch?"
Incoming search terms:
| poor villagers surrender wife to landlord for loam - indian harem sex stories (10) |