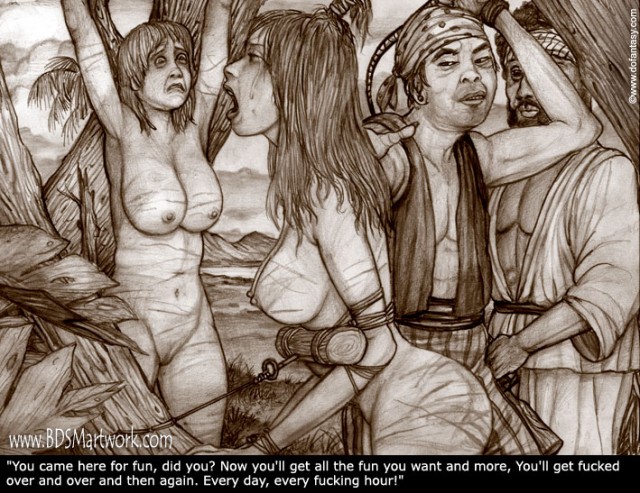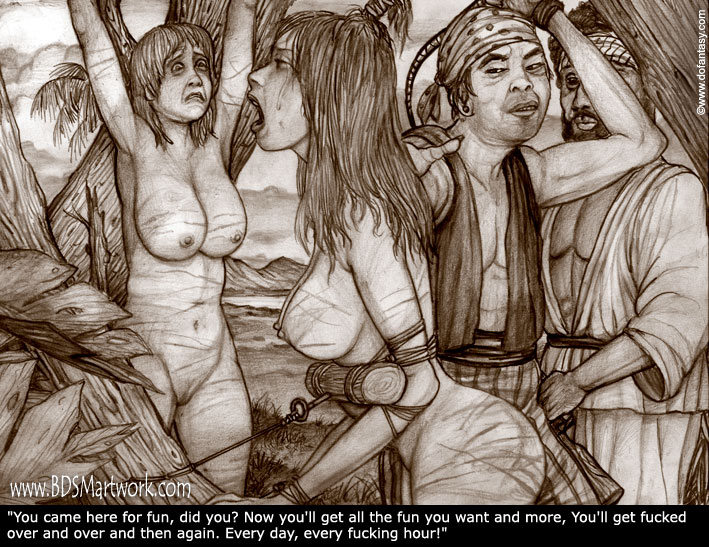 This was a good haul for the pirate crew that made it's living prowling the through the waters of the South Pacific Islands. Plenty of rich yachts visiting the area. Yachts containing a lot of money, valuables and sometimes a few good-looking women.
The island of Turtura was a central gathering place for many different unsavory elements, so it was a natural place for the selling and buying of slaves. Master Zerabeki was the operator of the biggest slave-auction house on Turtura and he loved his work. He treated his slavegirls like cattle, frequently herding them around by using his leather whip. You! Get up on your knees and face me… You gonna empty my balls with those sexy lips of yours!"
Yvette had been taken off her now-late father's yacht only two weeks ago – and now she was being exhibited by her new owner for the benefit of his group of friends and associates. They approved of his sense of taste and his good luck.
"She's quite a good fuck. She's a wise girl and learns fast. C'mon. dear… tell my friends how you hate it the first week and how you like it now…"
"Yes… Master… This slave… likes it…"
"What is 'it', girl? Don't make me angry…
"This slave likes… being fucked by her Master…"
"Where, girl?"
"B-back and front…"
"What else?"
"A-and to suck his d-dick… a-and her s-shit hole… a-and to… to e-eat his s-shit…"
"Isn't she sweet, my friends?"
Some slaves were purchased in order that they serve in one of Turtura's many whorehouses. Ahmed, the owner of one such house, always made it his solemn duty to personally train each and every new addition to his stable of slavewhores.
"That's it, girls. Look at my wonderful cock. Yes, stroke it gently, tenderly with your soft hands. Take your time – I'm in no hurry. I want you both to become very familiar with my shaft. Tell me, tell your Master Ahmed that his is the biggest, thickest cock that you have ever seen. Tell me that and i shall be merciful when I start teaching the both of you the proper way to fuck."
There was always another girl to be captured by the sea-based pirates; another girl to be abused and prepared for the slave market. Even now, aboard the ill-fated yacht Debutant , a 19 year-old Anna was being used as the latest fuck-toy for the crew of raiders who had surprised the boat. Anna would pleasure all the pirates with her sweet little pussy and mouth before being taken to Turtura and sold into slavery.
Old Ginny was in charge of a string of Turtura bars and saloons, but in her spare moments, there was nothing she liked better than looking in on her own personal supply of slavesluts. Tonight would be special for her. She had put out a big chunk of her savings to purchase this sweet girl named Carla. Carla's beauty of face and body and her aura of helplessness struck a chord in Ginny. Caused Ginny's experienced pussy to wetten and leak….
"Look at me, slave. Look at your Mistress and see how you make her wet…."
Incoming search terms:
| the pirates slave hell porn (18) |