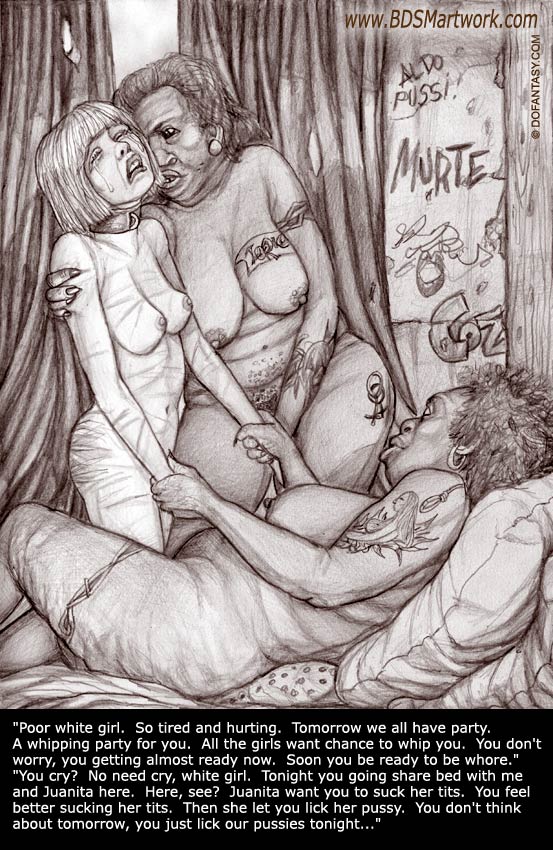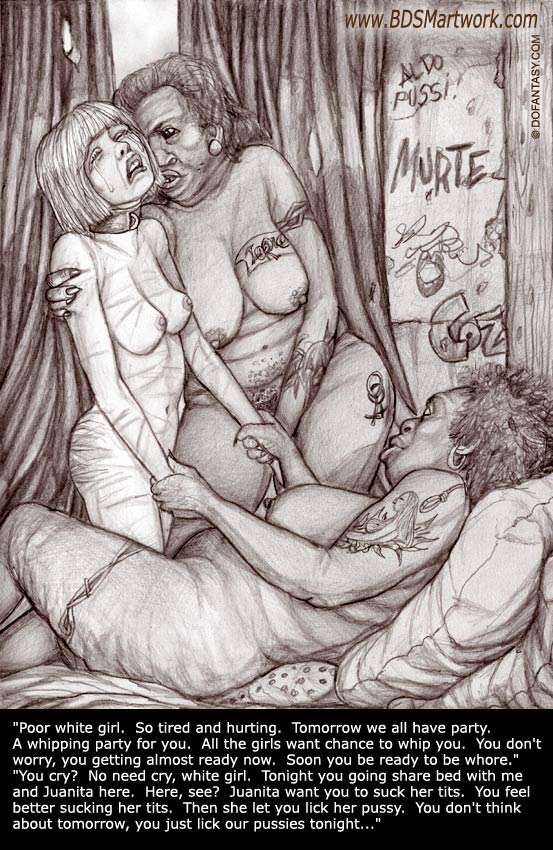 An innocent girl always makes a good whore when she is properly and thoroughly broken in. Those delicious gals who disappear from their college campuses or vanish off the streets while shopping tend to make their new Masters and Mistresses lots of money when put to work in the various sextrade businesses. Therefore, a lot of care is taken when choosing the right 18 – 20 year-olds to snatch – and even more care is taken to use brutal abuse and punishment to shred them of their identity and dignity n order to re-make them into good little whores to serve in the numerous brothels, street corners and whorehouses.
Carolyn had been taken only a night before. The first night began with a couple hours of punishment with her captor's belt, followed by a never ending painful introduction of his hard cock in all her holes.
Now it is morning and after only a few minutes' sleep in an uncomfortable position, Carolyn hears his approach……
"Sniff it honey. Guess what is it? Yeah, you know, how could you forget? It's your trainer's shit-stained dick, the same that burst your asshole last night. Now you're gonna suck it clean, right?"
"Please… oh please… not again… have pity… no… noooooo…"
Damn, you were such a good fuck! Been thinkin' about how you can make me feel even better with that tight pussy and ass you got. But first, before I fuck your gullet raw, I'm gonna start things off with a good, hard beatin'. Just to get you into the right frame of mind…"
________________________
For Barb and her blond friend, Patty, the last three days and nights has been hell; LeRoy's long black dick and Miss Shana's unrelenting and heavy-handed whippings had made both white girls scream and beg for mercy for hours on end.
There were the numerous shockings, the near-suffocations applied with plastic bags, the burning cigarettes on the soles of their feet. Both Patty and Barb had screamed at the top of their lungs – but no sound had penetrated the thick walls of the abandoned warehouse that LeRoy and Miss Shana had carefully chosen for their task.
The only things that had penetrated was LeRoy's always-hard cock and Miss Shana's big fist that she used to shove almost elbow-deep up both girls' pussies and assholes.
Now Miss Shana stroked Barb's tear-streaked face. Miss Shana was sure that Barb was going to be her personal little bitch while Patty was going to bring in some good money when she was put to work down on the street corners where her blond looks would bring plenty of attention from all those big black cocks. That didn't meant that Barb was going to get off easier, though….
"Baby, you is just so cute! You gonna be my bitch, my own little girl. I'm gonna be treatin' ya real bad. So bad. You gonna be hollerin' and yellin' fo' a long time while I break you down totally. But then it gonna be so good fo' ya after you been made ready. Then all you gonna be doin' thrillin' my big black pussy and my dark asshole with that sweet little tongue of yours. All my girlfriends is gonna be so jealous…."
________________________
Allie, nineteen and naive, has ignore her late mothers' advice against ever having anything at all to do with Uncle Jake. Mom had not told her daughter why, but it had gone so far as forbidding Allie to even mention his name in the house.
When her mom had died, having no other living relatives, Allie had sought out Uncle Jake. Surely whatever grudge Allie's mother had held so long against her sister's husband couldn't have been that serious. Allie found Uncle Jake's telephone number and called. He was glad to hear from her. He invited her to visit. Allie had nowhere else to go; her uncle's invitation to stay at his place rent-free was too good to pass up.
But when Allie discovered the truth, it was already too late. The reason Allie's mom hated Uncle Jake was that he used to force her to fuck almost every night after her alcoholic sister had fallen asleep. Used to fuck her hard and brutal.
Now it was Allie's turn – and Uncle Jake had other plans for her, too. After he had broken Allie in over the next few months, he was going make Allie support him by being the cute little whore that he would rent out to his friends. Maybe even have her make porn movies….
"Uhhhhh….", Uncle Jake moaned with pleasure as he slammed his huge cock to the balls in Allie's ass. "Yeah, that's the way I want it, bitch! Uhhhhhhh…!"
Allie, cowed by two weeks of savage beatings and abuse, mindlessly kept her butt elevated to meet each of her uncle's full-weight thrusts.
"Yeahhhhh, hold that little ass right there! So tight, like your mother used to be! You gonna make me so much money, gonna be my little money-makin' whore! Now fuck me back. C'mon, whore, move that little white ass and fuck uncle Jack back. Gonna flush your guts in now time!"
________________________
Renee vanished off the streets of the big South American city; no longer a tourist, she was now a slave. A Western slave destined to be broken in, prepared for service in one of Senora Martina's village-based whorehouses. Renee's white skin and exotic Western appearance would attract much business; the brown and black-skinned customers would gladly pay a little extra for a chance to ride and abuse a spoiled Anglo girl.
The Senora would take care of Renee's training personally. While in the States, the Senora had broken in dozens of Anglo bitches for various brothel operations. She enjoyed how they resisted at first. Si, they resisted , not believing that this was really happening to them. But after many days and nights of Senora Martina's whips, paddles and ropes, they were whimpering, obedient, pathetic creatures who would do anything to make the pain stop. When she felt that they had show enough sincerity in their begging, sometimes she would wordlessly take down her panties and spread her ass cheeks. Almost all of them never hesitated to crawl over to the Senora's exposed and waiting asshole in order to lick, slurp and suck it with their thankful tongues…
"Your name is Renee at the moment, but soon you will not recognize that name," the Senora informed the Western girl. Jose here is going to take you into my little private room and prepare you for me. When I come in, I will stay for the day and night. I am going to hurt you bad, hurt you for long, long time. You can scream and cry but it will not help you. Nothing can help you now, Western girl. Only when you beg me every day to let you suck the shit from my asshole, will you begin to get an idea of the good girl that I want you to be. I like the feeling and the sound that a cute Anglo puta makes when she sucks my asshole…."
________________________
It was in another foreign country that Ruthie failed to make it back to her hotel. While her family and the authorities searched the island in vain, pretty well-bred Ruthie was enduring the rude treatment that her kidnappers has designed to put her in her place. There were no more demands that she be released, now. No more struggling. Ruthie's cute little bottom twitched under the wooden paddles and her lithe body jerked when they used their belts on her. She fainted many times – but they always woke her with cold water and started in on her again.
Then it was the bed for Ruthie. That dirty bed with the cum-stained sheets on which Ruthie cried as she was forced to spread her long legs in order that the big black men could cram their huge black dicks into her captive pussy. Their cocks were strong and thick and they hurt Ruthie as they battered the very back walls of her pussy, her aching pussy. Ruthie, a girl from a snobbish, rich family sobbed as she was forced to accept the black men' tongue in her mouth, to intertwine her tongue with theirs as they fucked her. By the third night, Ruthie had learned to suck the thick cum from a dark cock that had been just pulled from her ass; learned to swallow every drop, milking it all out with her obedient mouth, cleaning her own filth from the cock.
It was a few more weeks of training that they took Ruthie to the brothel where they intended to put her to work. But the black whores there were not satisfied that Ruthie was ready; they started their own punishment training for the white girl….
"Poor white girl. So tired and hurting. Tomorrow we all have party. A whipping party for you. All the girls want chance to whip you. You don't worry, you getting almost ready now. Soon you be ready to be whore."
"You cry. No need cry, white girl. Tonight you going share bed with me and Juanita here. Here, see? Juanita want you to suck her tits. You feel better sucking her tits. Then she let you lick her pussy. You don't think about tomorrow, you just lick our pussies tonight…"
________________________
Myra and Candice's sound-proofed basement served as the place where newly-captured girls were broken in and trained in the weeks before they were taken upstairs to begin their new lives as whores working in Myra's and Candice's Roadway brothel. Located along a heavily-traveled trucking route, the Roadway always had a steady clientele of horny truckers who demanded more young bodies and pretty faces. So the two madames were determined to provide new 18 and 19 year-olds to satisfy their customers' demands.
They had paid out a nifty thousand dollars for the three new arrivals who had been snatched from their camp site down by the recreational lake some fifty miles away – but they would make that back the first day they put the girls into service upstairs.
Luckily, Myra and Candice had brothers and other relatives who enjoyed being the ones in charge of getting new captives ready for service. And it looked like they were beginning to the training already….
The two madames saw that everything was coming along fine down the basement. Their brother Clevis was just beginning to use the little brunette, making her cry. Clevis had a eleven-inch monster of a cock, so it was no wonder that the girl spasmed as he started to pound that tight pussy of hers.
Cousins Randy and Brother Spiral were dragging the blond captive over to the bed in the corner for their fun session and Cousin Babs was getting into a rhythm with her trusty belt on the girl who was against the wall…
"We'll have to wait little one… can't you see the gentleman and the lady haven't finished yet? Now kiss me deep and dirty to build up some momentum… The three of us gonna have a lot of fun on that mattress.. "
"Yep, another couple weeks and we should have three mo' gals just ready and willin' to keep our customers happy," observed Candice.
Incoming search terms:
| hines artwork pornextremal (14) |