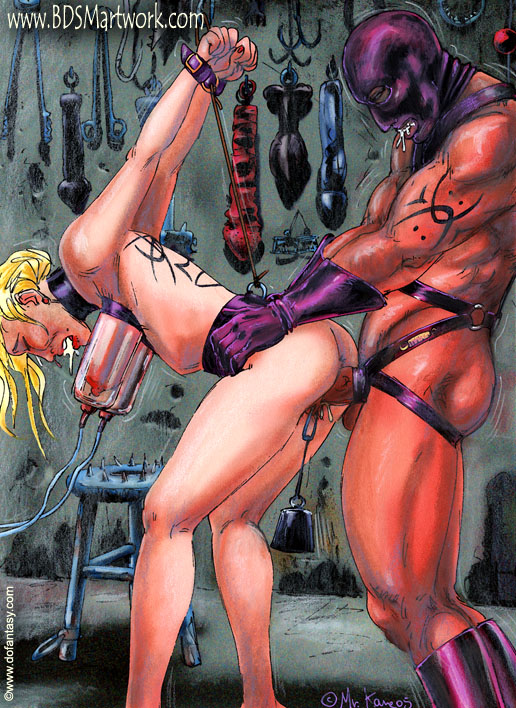 The impressive Mirador Hotel occupies a privileged position on the other side of the wood, at the top of a high hill.
The Mirador Hotel is listed in all the most exclusive guide books. It is set in a remote area, and is difficult to get to by road, but many guests consider the journey worthwhile. The hotel offers unrivalled facilities of all kinds, some of which are not listed in the guide books. One of these is the select, totally depraved social club known as Pain Club. It is the Mecca for seekers of ecstasy through physical pain.
The eccentric members of Pain Club come from a variety of different backgrounds, but have some things in common. They can all afford the high membership fees. They are all anonymous. And they have all taken an oath of loyalty which none would dare to break, for fear of their lives.
___________________________
A club member, Mr D, lost his shirt in the hotel casino one day. Now his lover, Monique, will have to pay his debts. She has been taken down to the Humiliation Chamber where the smell of urine lies heavy in the air. She is being filmed by several closed circuit television cameras in an obscene auction. She has been forced to wet herself in front of the cameras. The auction is beginning…
Lady T is a rather bored high society lady. She has voluntarily subjected herself to a series of penetrations so brutal that she will be left in a state of shock. She knows this, but the intensity of the orgasms always outweighs the savage pain caused by the steel rod that stretches and punishes her deep, well-stretched vagina. She controls the rod's movements herself by giving instructions to servants, who increase the frequency of the shafting and of the vibrations until a whole series of orgasms, one running into another, leave the woman senseless.
Madame E prefers total humiliation. She submits to a strict program of brutality and physical suffering which goes far beyond the usual rape and sexual torture. The sessions are long, detailed and totally exhausting. Sometimes Madame E pretends to ask for mercy, twisting and turning in pain and pleasure so that the torturers will be even crueler and will punish her body on and in all its most intimate, sensitive parts, again and again…
Candy is an ex-member of Pain Club. She has become a slave because she broke her oath of silence. Several members of the club were placed in a very difficult position as a result of her betrayal. The Punishment Board met to decide what action to take.
The woman she spoke to about the Pain Club has also been captured, and will soon be trained a sexual slave.
But first she will be punished, and the punishment will be administered publicly, on closed circuit television. Both club members and slaves will watch the terrible torture.
There are no hierarchies in the law of silence…
Lady Ann and her stocky chauffer Pete make the most of all their visits to the club. Lady Ann always reserves the Equipment Room for two days and makes Pete work on her with all the many different pieces of equipment designed for sexual abuse. Pete is a conscientious, brutal torturer. He works on his mistress's body until she screams for mercy. She is a strong woman, with unusual stamina and an insatiable cunt, and Pete always ignores her pleas for mercy. He is a true stud, and enjoys his work.
Lydia is a beautiful blond Slav. She is going to be sacrificed in a horrendous wager.
Lydia once belonged to Lord G, but she fell in love with Mr. H and gave herself to him after a session with the birch twigs. Lord G took offence at what he considered the loss of his property, and demanded that the girl be punished for her infidelity.
Mr H took this as a personal challenge to his authority, and wagered a fortune on Lydia, betting that she could withstand any kind of punishment that Lord G might choose for her. Lord G chose impalement on cross, and has bet twice that sum that Lydia will not be able to take the punishment.
Poor Lydia is struggling to survive the tremendous penetration while other members of the club place their bets…