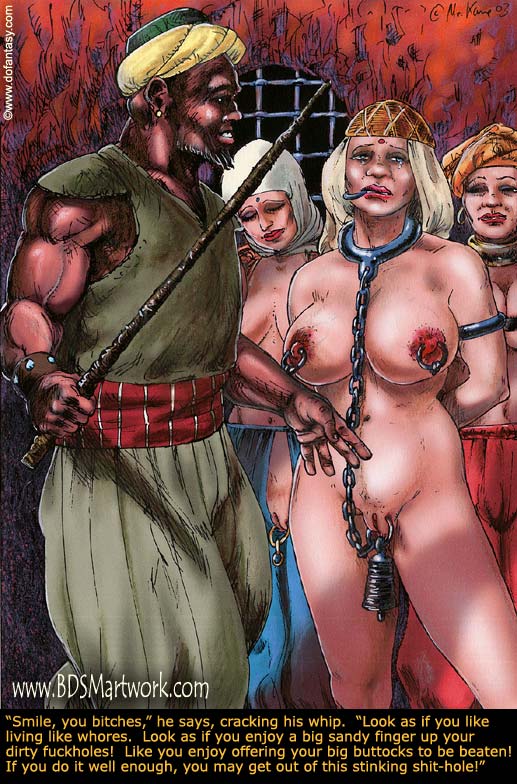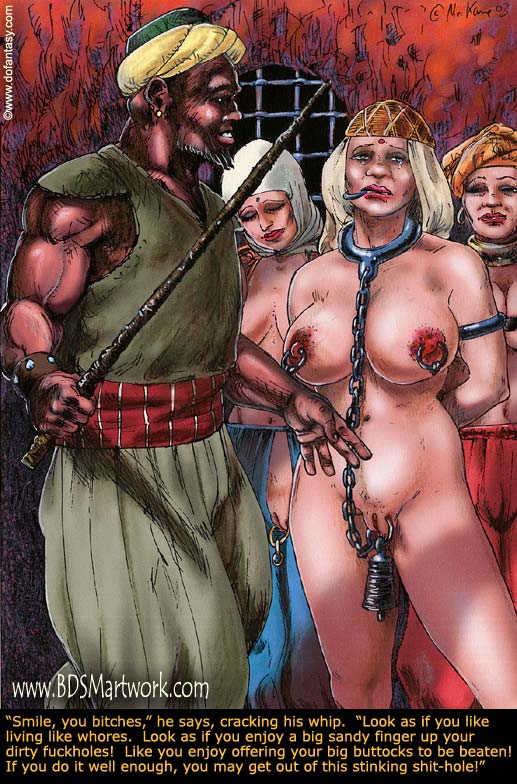 Dealers and Bandits Many young women are deceived by false promises of work in other countries. They fall into the hands of sinister organizations dedicated to the kidnapping and sexual exploitation of beautiful women. The unfortunate women are frequently subjected to all kinds of sexual abuse and torture, aimed at intimidating them. This makes them easier to control, and makes them less likely to try to escape.
Sometimes girls are returned to the dealers for disobedience or for trying to escape.
The older slaves face a terrible end. When their physical attractiveness wanes, most of them are obliged to take part in brutal orgies, which few survive. Others are submitted to some cruel final torture for their owner's amusement. The young replacement is made to watch…
Nov 11, 2003
Auction and sexual torment
Tales of white slavery
Women who are sold off like cattle in public auction are not normally trained and do not always know how to satisfy their owners. They are punished cruelly for their inexperience and no amount of sobbing, begging and pleading will reduce the number of whiplashes. Many owners think punishing their slaves is the most exciting part of being a slave owner, and they are very, very demanding Like Sheik Muley
Newly acquired
Hardly had young Sheila crossed the threshold of her new home when she received a tremendous beating from Sheik MuleyТs second wife.
YouТd better learn to suck dick, slave, or SulandraТs gonna break every bone in your body! You scratched me!
I wonТt do it again, Master! Please, tell her to stop! Please! Please!!"
ThatТs enough, Sulandra, put the stick down. Use the cane now. A good caning on those delicious breasts will do our young slave a lot of good
The white slave
The proud beauty of JamirТs slaves is well known in all Arabia. They are famed for their lovely bodies and their willingness to satisfy the most powerful lust The astute merchant spends a long time training them before he puts them up for auction.
"LetТs hear it, gentlemen, what am I bid for this beautiful blonde, gagging for dick! What do I hear? Look into this juicy cunt, what am I bid for this splendid Christian bitch? Which lucky guyТs gonna get this cunt all tied up on his bed tonight, waiting for it?
Fully tested
Sidi Hamet never buys a slave without trying her first. Not even a Christian beauty like this seductive young blonde with the most irresistible body you ever saw
The girl crawls in terror to the feet of her possible purchaser. Her task is not easy. She has to make Sidi HametТs tiny member ejaculate and then she has to swallow it all. If not, she will be cruelly flogged by the merchant who has put her up for sale. ItТs the normal punishment for slaves that fail the test. "Wet your lips and open your mouth wide, slave… If you do a good job IТll buy you. YouТll enjoy being my slave. IТll keep you busy day and night, youТll have a great time serving your Master!"
Street Market
Harim is a well-known merchant who carries beautiful slaves in his caravan. He has set up his stall in the remote oasis of Kachira The desert people cannot believe their eyes: so many lovely slaves, all worthy of the SultanТs harem!
What the onlookers do not know is that Harim always sells the same women. The trick is that when the caravan moves on, he leaves some men behind. They get the buyer drunk and take away the woman, who will be resold in another part of the country.
To get the buyers excited, old Harim knows all the tricks of his trade
Come on, you bitch! Get down and eat my dick. Let these gentlemen see what you can do!
BeyТs daughter
Sarisa, daughter of the pirate Bey, is finally ready to be sold. The once haughty girl has been cruelly broken in by the SultanТs torturers, and can be auctioned in the same port where her father auctioned the goods seized by pirate ships. Her father will not be there to see it. He was impaled on the SultanТs orders as soon as the outpost was taken.
Sarisa fears the worst. She is going to be sold to her fatherТs enemies, who are already trying to outbid each other for her
Wait till I get my hands on you, you slut! IТll flog you all over your naked body! IТll take the skin off your cunt, as God is my witness! the old merchant shouted, his eyes bloodshot with lust. He has just offered a huge sum of money. He knows heТs likely to get the woman
Slave Market
Bensar, a guard at the camel-driversТ warehouse, is getting the girls ready. The buyers will be coming soon, making their way down into the sinister basement to bid for the unhappy girls, all of whom face a life of terrible sexual slavery.
Smile, you bitches, he says, cracking his whip. Look as if you like living like whores. Look as if you enjoy a big sandy finger up your dirty fuckholes! Like you enjoy offering your big buttocks to be beaten! If you do it well enough, you may get out of this stinking shit-hole!