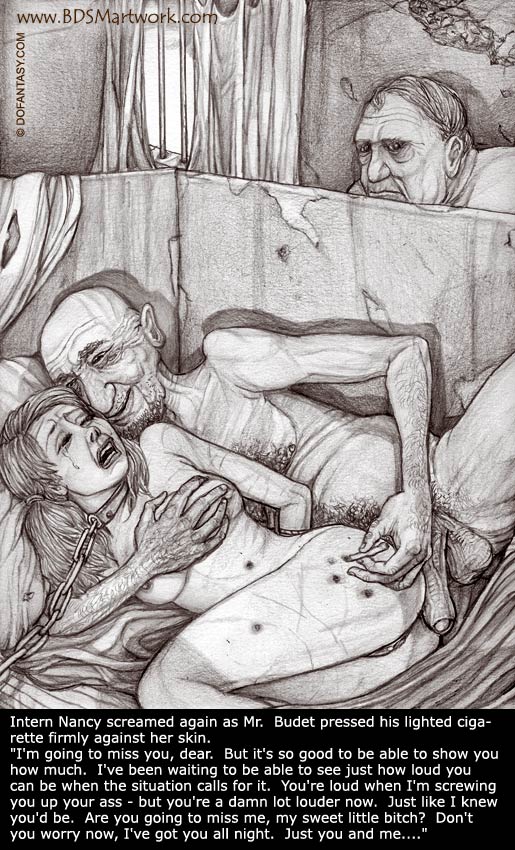 The Satyr Home for Senior Citizens is not much of a place to look at; not fancy at all. In fact, some would call it downright shoddy. But there's a BIG waiting list to get in. Word has it that the old man and women who stay at Satyr are the happiest, most content senior residents to be found anywhere. Maybe it's the unique way the Satyr staff runs the place, maybe it's the personnel themselves…..
Nurse Pantela always makes it a point to personally inspect and judge the newest potential interns that are caught and brought to serve Satyr's elderly residents. Intern requirements are always the same: Virgin girls from good homes, between the ages of 18 and 21.
"Don't cry and let on so much, girl. It doesn't help your prospects at all. Ummmmm, such a nice, tight little ass you have, darling. And such a tight little pussy. Our patients are going to enjoy you, I can see that. Then after you're deflowered, me and Nurse Rhonda here will take turns educating you further on the art of pleasing…. and you won't like any single second of it, HA HA HA!!!"
Each young Intern is on a strict daily schedule: making her rounds among the needy seniors who really look forward to her assigned visits. There, at each assigned compartment, the Intern does her best to lift the patient's needs and spirits. Usually the Intern spends a little over an hour inquiring as to just how she can help the resident feel better; assuring him or her that there's nothing she won't do to accommodate their wishes. Most of the residents have an idea of what pleases them the most……
Mr. Pitt liked to get on top of things right away……
"Been waitin' for you since breakfast," Mr. Pitts grunted to Intern Marie as he slowly pushed his greedy cock inside her. "Them little pills they give me have had my dick rock-hard for the last two hours – just waitin' for you to get here. Yep, feels gooooodddd…. Now let's take up where we left off yesterday – tell me how much you miss your family and how sad you are. I like it when you talk into my ear while I'm fucking you. Then I'll turn you over and we'll really have a good time together as I fuck your cute little asshole…"
At the Satyr Senior Home, there's the known fact that the more a patient gets the chance to express him or herself, the more lively and long-lived they will be. So it's each Intern's duty to cater totally to her assigned patient's wishes or fantasies, no matter how unusual or extraordinary they might seem. After all, the Satyr Home exists solely for provide pleasure and contentment for it's residents. Though the Interns are unpaid and might be a bit reluctant at first, it's usually just a matter of a few words of direction from the staff to make them see the light….
Mr. Budet, along with his spinster sister, was a long-time and contented resident of Satyr. He was as happy as he could be as he found out that Intern Nancy's time at Satyr has coming to an end. The girls whose 'employment' was about to end where always the ones which Mr. Budet preferred to spend an entire day or night with, showing them how much he really liked their company.
Intern Nancy screamed again as Mr. Budet pressed his lighted cigarette firmly against her skin.
"I'm going to miss you, dear. But it's so good to be able to show you how much. I've been waiting to be able to see just how loud you can be when the situation calls for it. You're loud when I'm screwing you up your ass – but you're a damn lot louder now. Just like I knew you'd be. Are you going to miss me, my sweet little bitch? Don't you worry now, I've got you all night. Just you and me…."
The Satyr Home's staff knew that Miss Elia Budet preferred a set routine that never varied. Some residents were like that; wanting the same thing each day. Since Miss Budet was indeed among the richest patients at the Home, she could afford being indulged. Satyr was designed to be a place that catered to it's residents' happiness and it could be safely said that Miss Elia was a happy old woman who getting everything she wanted.
During her early years, Miss Budet, not the best-looking woman, had not experienced much popularity or a full social life. Not many young men had knocked on her door. But here at Satyr, she had blossomed under the attention of all those lovely young female Interns. All of them so dedicated to seeing her happy and satisfied!
Miss Budet did wish sometimes that there wasn't such a constant turnover with these pretty young gals; it seemed like just when she was forming an attachment to one of them, that Intern was gone. The staff explained to her that it was for the best; the nature of the work called for more new young girls to be brought in. Oh,well…
Miss Budet liked how this new Intern kept her tongue wet. It felt so good as it licked Miss Budet's shaved and ringed old pussy. This was the girl's second night and she seemed to be working out just fine, the old lady thought as she began to feel the beginnings of another orgasm.
" Keep at it, sweetie. You're doing so well! Hmmmmm, you're such a good girl! We'll do it like the first time yesterday, okay? You keep your mouth open after I cum so I can pee down your throat, okay? And be sure to keep looking me in the eye while you drink it all down, okay? I really like that!"
An Intern's job sometimes call for her to perform duties that are somewhat 'unpleasant'. But that's the nature of working at a home for senior citizens; sometimes they need a helping hand. The typical Satyr Intern, being somewhat sheltered in her upbringing and unwise in the ways of the world, just might have some reluctance to performing certain duties, but it's again just a matter of a little firm 'encouragement' from the staff that makes the Intern realize the pettiness of her ways. It is her duty to serve. It's her duty to cater fully to the desires of each resident who needs her.
Mrs. Rhia Charmaine needed the assistance of Intern Bridgette. Mrs. Charmaine had found that Bridgette's tall, slim, ballet-dancer's body and fine facial features reminded her of all those wonderful days of traveling amongst the social society. The operas, the dances, the parties. Mrs. Charmaine had arranged to have Bridgette as her sole Intern for the duration. The old matron had a reputation for demanding lots of attention and prompt service, all which her beautiful Intern was obliged to provide….
Mrs. Charmaine's favorite chore was having to visit the toilet room to empty her bowels. The toilet room was nasty and filthy but Rhia didn't mind so much because she had the ever-so-attentive and ever-so-obedient Intern Bridgette to help her manage just fine…..
Rhia's lush old body trembled from the pleasure provided by her slavish Intern's young tongue as it probed ever more deeply into Rhia's moist pucker. Of course Rhia could hear the girl's soft sobbing as she performed the disgusting chore that the old woman insisted upon so many times a day. No choice, though – the punishment for failing to do as she was told was even more horrifying.
"Yes, my pretty, you're doing such a good job. No need for that scratchy toilet tissue when we have your tender lips and tongue, eh? Such a fine tongue you have, Bridgette! Now, suck on my hole a bit; it feels so goooodddd when you do that. And make those sounds while you suck my asshole, sweetheart! You know how I like to hear you do that. Oh, my dear girl! Ohhhhhhhhh….. Don't stop! Suck it clean, girl!"
And so it goes at the Satyr Home. Captured girls who spend the last days of their lives catering to the sexual tastes of elderly patients. The old residents never get tired of having these innocent slaves available to serve them – and they always want – need – more. And they have the money to pay for more…..
A wonderful way to spend one's declining years. And the staff, people like Nurse Tyre are responsible for managing the Interns who make it all so good. Managing the Interns means having the role of getting rid of each one when she's served her time of twelve weeks. The new captives are constantly being brought in, broken and trained. The residents want new flesh, new young girls to service them.
Now it's Intern Jenny's turn to disappear.
"You are a nice girl, Jenny," Nurse Tyre said as she looked into the eyes of the frightened Intern. You've been so good with our patients. They all have raved about how you've gone out of your way to satisfy them. Not one complaint about you!"
"You excite me, Jenny. Mmmmmmm, I want to give you a chance to live just a little longer, Jenny. All you girls want to live a little longer, don't you?"
"Tell you what, I'll let you humiliate yourself by getting down and eating my ass one more time before they come to take you away and dispose of you. If you eat my ass out really good, I promise that you'll be dealt with gently and quick. How about it, Jenny? Give me one more kiss and then get down on your knees and eat my asshole one last time? You eat ass so well……Yes, worship me, Jenny, and I'll have them wait so you can lick my crack as long as you want. I'll make them wait even longer if you want time to shit in your mouth and watch you swallow it all….."
"It's almost time for you to leave us forever, Jenny…… Here, give your Mistress your tongue for another long kiss……..Mmmmm, doesn't my spit taste good in your mouth? Yes, give me more tongue, Jenny….. and then I'll let you use it to ream out my asshole! Clean it out real good…"