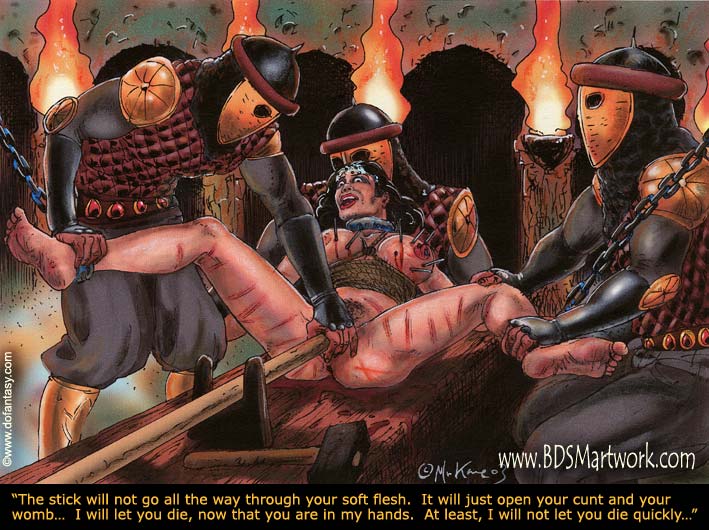 The Punishment Chest
Claudia has been shut up in the chest for several days now She knows that at any moment a guard may come and force her to suck him off. She knows too that if she refuses she will be punished with a heavy leather strap.
Claudia was kidnapped while on a luxury yacht. She became part of the ownerТs on-board harem, and was also forced to work as a prostitute. She managed to escape but the owner, a rich shipbuilder, rang the police and Claudia was quickly arrested. She was dragged screaming to the Gendarmerie in Berh-Delam, where the police examined her to check if she was concealing drugs. One of the policemen pulled down her panties and stuck his fingers into her ass. At the same time he pushed a little bag of heroin well up inside. Later he pulled it out, and it was presented as evidence against the girl.
Claudia was raped and flogged. She was then taken to the womenТs prison at Bardala, and she is now waiting to appear before a judge
The yacht owner tried to buy his slave back, but the price was too high. He decided to leave her to her fate. She would be raped and tortured and imprisoned, a suitable punishment for trying to run away
Iron clamps
Zuleika is happy. The lovely Fella will never be the same again after her torture sessions. The tight clamps will burst her breasts and her vulva will be pulled out of shape by the weight. It was difficult to convince his master that his lovely favorite was being unfaithful to him He had to bribe witnesses, and pay the handsome young camel driver.
But in the end he managed it. The sensual young Fella fell into the trap and committed adultery. Pity about the camel driver. He died on the stick and never once confessed.
Now Luleika was favorite once again, and was free to devote herself to her Lord and Master.
Fella staggers. She cannot stand the terrible punishment The brutal Kah is waiting for a signal from his master, who lies on the couch contemplating the terrible scene. Then Kah will pull on the rope again and tense FellaТs lovely body until he pulls her breasts off.
The knife
KarenТs eyes open wide as the gipsy brandishes his knife.
What are you waiting for, Patriarch? Sheik Kassir asks, leering at the unfortunate, disobedient prostitute. Punish the infidel bitch. You sold her to me yourself, so you can punish her and give me my money back. She refuses to obey me. Disobedience is a contagious disease. It has spread already. I have had to punish my women far more than usual since she came.
She was a rebellious cunt when she came, said Kah, but I thought I knocked it out of her. If you wish, I will punish her. But I will not take her back. She is yours.
If she is mine, cut her nipples off. That will teach her not to rebel. And you can send me a dark-skinned slave. Half price.
The Patriarch nods. He knows a good customer when he sees one. The Sheik buys a lot of women and also finds him customers. He has no choice. He will punish the slave, or he will have to return the money
The stick and the mallet
Fatmina screams and her cries echo round the walls of the terrible dungeons of Dendura.
The Cadi nurses his erection as the unhappy woman twists and turns on the impaling table. Then he orders the torturers to carry out the sentence.
The Empress Fatmina was overthrown by her stepson Admil, who first raped her and then handed her over to the terrible Cadi Alfanus, who is now enjoying the torture session.
Scream, shout all you wish, you lustful bitch, he says, writhe and twist and show me your nakedness. That is my wish. And do not fear. The stick will not go all the way through your soft flesh. It will just open your cunt and your womb I will let you die, now that you are in my hands. At least, I will not let you die quickly
NOOOOOOOOOOOOOOOOOO!!!
The breast-press and the lathe
How long will you remain silent, bitch? How long can you stand such pain?
Sid Ben Faruk is indignant His favorite concubine is in terrible pain. Her lovely body has been severely punished by Maluk and now her breasts are in the terrible breast-press.
Salira does not speak. She does not even protest her innocence. She just screams and sobs desperately, waiting to die.
Speak, you slut! the trader shouts. Give me the names of your lovers. I want to hear you say what all the women in the harem have seen with their own eyes. I need your own confession before I can act against your lovers!
NOOOOOOOO! Alright! Alright! I canТt take any more! Take the stone off! Stop! IТll tell you their names! IТll tell you! It was your uncle Karum, your brother Falek, and Ben Zoik and the camel-driver Ahmed and Jafe who carries the water and Captain Jadul and Mamek in the baths and your brother-in-law Tarek
The goat skin and the pillar
The old, decrepit Emir Salik Alb Kadur has decided to punish Catina, the beautiful Bedouin he received from Sheik Omar in payment for a debt.
The girl refused to carry out orders. She fooled around with her guards. She was caught with Captain FarukТs fat member deep in her asshole
The punishment was swift and brutal. First the offenders were obliged to fuck her again. Faruk was castrated as he fucked her asshole. She was then sat on a pillar in the well with his member still inside her, and Faruk himself was buried in the patio up to his neck.
Sheik Emir does not get a hard-on so easily these days. He does, however, get switched on watching his subjects being tortured sexually. And he flops his dick around as best he can in front of his unfortunate concubine
You wanted a big thick one up you, didnТt you, he says, gasping for air, you must be satisfied now. When the goat skin loses all its water, your asshole will be so wide weТll be able to sit you on your loverТs head. HeТs waiting for you in the patio. Maybe he wants his prick back! Ha! Ha! Ha!
Incoming search terms:
| pornextremal com mr kane (109) | | quoom witchtorture (17) | | bdsmartwork cross (10) |