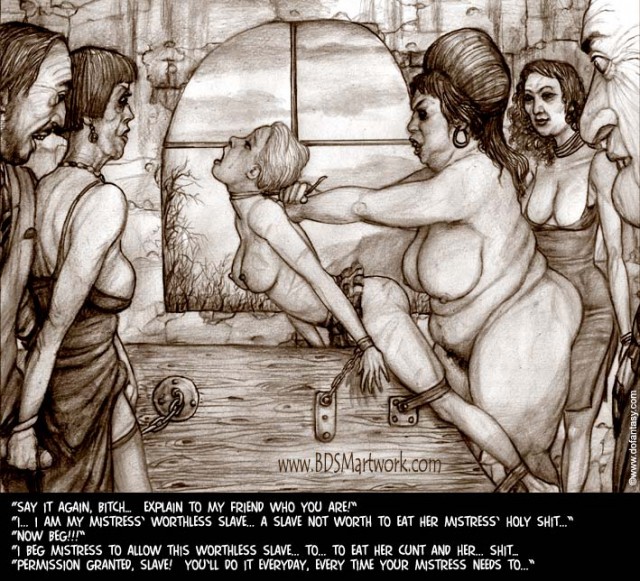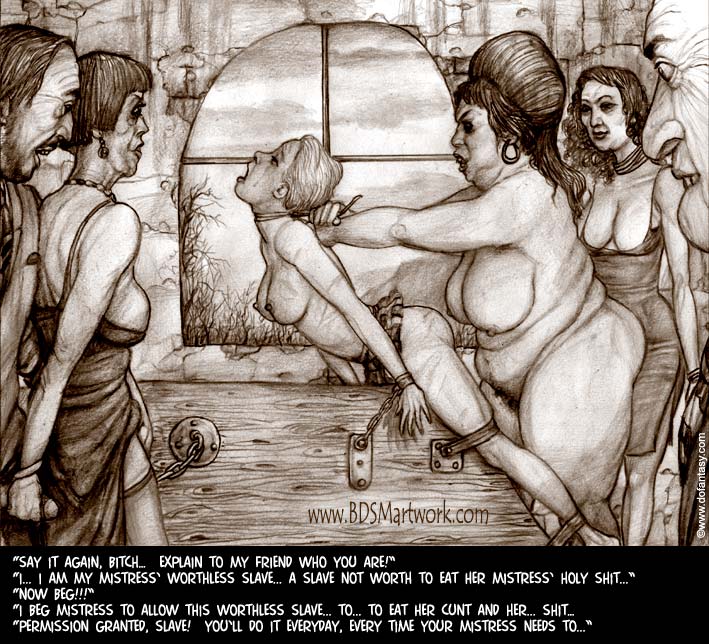 The madam of the city's most exclusive brothel and slave-selling operation was mistress Fontana. Most of her success was due to the fact that she could be trusted to cater to the most specific sexual and fetish requests of her many clients. The mistress knew that this latest project would be one of her more lucrative.
She had planned and had her thugs carry out a brazen hijacking of a bus full of college cheerleaders – and most of these new captives were already sold. Her slave-buying customers, located around the world, had immediately placed their bids when they heard of the mistress's daring acquisition of these delectable cheerleading sluts. She would have them broken and under control within the week and then would have them shipped out to their many different destinations, where they would be greeted by their new owners.
But the mistress would first examine and evaluate each of these sweet girls personally in order to better match them up with their respective buyers. as she surveyed part of the group of novice slaves, a petite one with strong legs and a freshly – spanked ass, caught her eye…
Miss Fenner had been assigned head chaperone for the group of cheerleaders for their journey to the college cheerleader competitions. An ex-cheerleader herself, Fenner had always taken her duties very seriously and she had initially tried to fend off the captors and protect her young charges. But her bravery had only brought her pain and punishment.
Now, after a night of being whipped and beaten, she was no longer miss Fenner – she was being transformed into a well-educated piece of fuckmeat for the mistress's clients. One customer, a mister Davis, took it upon himself to hone her cocksuking skills to his satisfaction. Paying for two entire nights with this new lady, Mr. Davis taught her all the tricks of giving good head.
As ordered, the two henchmen started slowly with miss Cooghan – the first swings of their belts were rather leisurely and mild. But even those half-hearted hits were enough to elicit loud screams from the cheerleaders' assistant chaperone. The thugs chuckled; just think of the sounds this already-terrified novice would be making as they started to put some real muscle behind their swings!
Yes, the mistress was right. The cries from this young woman would serve to instill even more fear in the young ladies who would be hearing her. And soon, their hard cocks would also cause her moans to further intimidate her sister captives….
Susan was the first girl to be broken by her rough treatment and by the horrible prospect of being subjected to the seemingly even harsher fate of miss Cooghan. With a shaking hand that was guided by one of the prostitutes, she would sign the contract that would forever bind her into a life of servitude; with no free will; with her only duty being to serve the whims of her new Master…..
Mistress Fontana's slave auctioneer enjoyed his job – it had so many perks… Most of the cheerleader slaves had been sold in advance to the mistress's foreign clients, but there were still a half-dozen or so that would be put on the block tonight.
And the auctioneer had made it his duty to sample each of them over the last few nights – just so that he could truly extol of their individual virtues; the way they moaned and screamed; each one's tolerance for pain; their fuck talents; the tightness of their pussies and assholes, etc…..
The first girl scheduled to be sold was Rita, who still carried the auctioneer's wet cum in her pussy. something about this tall and taunt 20 year-old especially appealed to him and he was seriously considering of taking the unusual step of claiming the first purchase rights to her. but he would have to see what the mistress thought about that…..
09/13/2003
AT THE AUCTION HALL
Now , now, Mr. Nagel," replied the auctioneer. "You know what's going on here very well – Well enough to know that an opening bid of ten thousand will not even be considered by me or by this establishment."
The auctioneer was very familiar with this old man's bidding tactics and would not waste much time with them. Besides, he knew that Mr. Nagel's pampered wife was the one who really indulged her self with the slaves that he purchased here. And her eyes were gleaming with interest in the big blond cheerleader now up for sale.
"Come on, Sir! Give us a decent figure before someone else steals this nice piece of pussy away from you and your lovely lady!"
HONG KONG
Madame Li was a considerate Mistress. Upon being being presented with the lovely slave cheerleader named Cindy by her ever-so indulgent husband, M. Li immediately set about the task of making the frightened captive feel wanted and loved. After a short session of whipping and paddling, slave Cindy was given a clean bamboo cage in which to sleep and the following morning, it was Madame Li herself who came down to present her with the breakfast meal.
"Here, my darling," cooed M. Li as she unlocked her slave-slut's cage and summoned her out. "See how you are appreciated and cared for? You will get to eat the very same food as our most pampered dog, whom we adore so much. It is quite an honor that is bestowed upon one who is yet to prove her worthiness to me…."
LONDON
Master McCreary wasn't really so sadistic as he was efficient; right away he made sure that this just-arrived American cheerleader/slave was shown that her new status was firmly established. Either she would give him pleasure by her body and her subservience – or she would give him pleasure by the many painful agonies that she would endure at his hands.
FLORIDA EVERGLADES
Senor Reyes gladly took delivery of slave Evelynn and wasted no time in teaching her just what he would be requiring from her. The captive cheerleader's muscular body was a joy to flog and her tight ass just begged for some attention from her new Master's stiff dick. And, of course, Senor Reyes obliged by forcing his excited cock head hard against her anal pucker, which painfully resisted for a moment, then gave way to accept the length of the rest of his swollen shaft.
"Uhhhhh…! God! Master, it hurts! Aaaaaa…Oh, Please! Master, please…!"
"Mmmmmmm…so tight….so good! Don't fight it, girl….or I'll beat you bad. Move back against it and take it all the way . Make it hurt, girl, and it will start to get better for you……Si…Mmmmm…Si ……that's it…such a good girl…..good girl…."
There was no gradual up-tempo in this ass-fucking – within seconds, his balls were slapping against her butt as he introduced her to the hard and brutal style of anal rape that he so preferred. And preferred at least 20 minutes at a time, and at least 6 times a day.
" Si, good girl…"
Master Reyes' money had been well spent.
MADRID
Cheerleader slave Marcia would find herself very much qualified for a particular duty that she must perform for her new Masters, Counts Bolero and Movida, in their finely-stocked dungeon. The two royal peers enjoyed nothing better than slave Marcia's strong tongue rimming their assholes and spurring them on and keeping their cocks hard as they played with and punished the many other slave-sluts in their only royal nightly orgies.
Just as one of them thought that their shafts were overly worked and their balls too drained for any more fun, there was Marcia cheering them on with her wet, hot tongue thrilling their sensitive bums and rekindling their sexual prowess.
EASTERN EUROPE
Madame Serovavich had spent attended college in the States and being somewhat rotund and unattractive at the time, she had been rejected in her naive efforts to be socially accepted by the so-called "in crowd" that controlled who was invited to attend the best parties, social functions and top-echelon sororities. And there was an especially painful memory of being teased and laughed at by a group of cheerleaders .
The Madame had gleefully purchased a cheerleader slave as soon as she has been informed of that special sale. And now she would indulge herself and entertain her close friends with this new American bitch before eventually enjoying slowly extracting her final revenge for those slights of so long ago…..
Incoming search terms:
| hines bdsm 2013 (19) | | namio harukaw lesbian (10) |