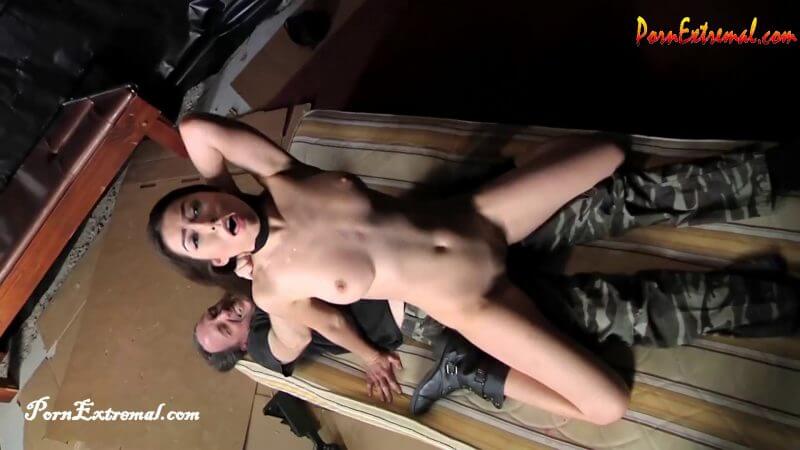 Peachy Keen Films – Sentry Showdown 10 Part 1
Categories: Strangle, Death Fetish, Snuff Play, Shooting, Abuse, Rape, Bagging
Description: Melissa is on sentry duty, armed with a powerful assault rifle, and wearing the standard uniform of her terrorist organization. The ruthless, all-female militia is known for their heavy, black combat boots, and matching black bra and panties, showing off their sexy curves and distracting their enemies. An agent of a counter-terrorist group has infiltrated their base and attempts to attack Melissa. They fight, but, ultimately, the agent gets control of her weapon. Not one to lose her head, Melissa begins to sway and strip seductively for her attacker, offering her tight body in exchange for her life. The agent sets the gun down and she mounts him, her wet cunt enveloping the manТs hard shaft and bouncing on his lap like a whore. She moans shamelessly, using him for her own enjoyment, as much as desperately trying to save her own life. After riding him brazenly, she stands up, only to squat down on his thick cock once again, this time in a reverse cowgirl position. They fuck like beasts, but then, sensing her chance, she makes a play for the gun.
The man expected this and blocks the move, looping a cord around her throat and pulling it tight, choking her. They wrestle, her naked body squirming, as he holds her fast against his chest, but he has all the advantage. Soon, she weakens and then goes limp, her dead eyes open, but unseeing. Still, sheТs a sexy little thing, and he never did get to finish. Laying her down, he fucks her dead, but still warm, body, thrusting into her defenseless cunt, until he pulls out and covers her belly with a hot load of cum. He is just beginning, however, and he props her body up on all fours and, grabbing her soft, round hips, pounding into her from behind. Staring at her sexy ass, he works himself up to another climax, this time spraying thick ropes of cum all over her naked back. Still he continues to defile her corpse, shoving his dick inside her mouth and skull-fucking her to another orgasm, his balls unloading a healthy quantity of cream into her pummeled pie hole. He fucks her one more time, going back to basics, with the missionary position, unleashing one more glaze of nut goo onto her hard-fucked body. He walks away, smiling with the satisfaction of a job well done. Violating the dead slut of a terrorist and emptying his balls, leaving her humiliated, coated in slime and naked for all to see her shameful end.
Fetish Elements:а Explicit Sexual Content, Violence, Lingerie, Peril, Begging, Stripping, Seduction, Boots, Nudity, Sex, Garrote Strangling, Necro Sex, Necro Blowjob, Cumshots, Body Play, Body Views, Foot Views.