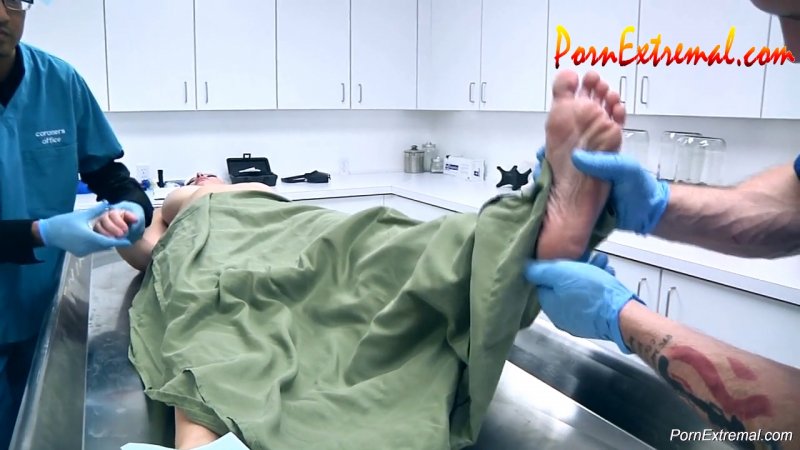 Peachy Keen Films – Uncomfortable Mystery 5
Categories: Strangle, Death Fetish, Snuff Play, Shooting, Abuse, Rape, Bagging
Description: Starring Jessi Summers, Miles, Rock, and Bolly Wood
Jessi is on the phone with her boyfriend, who is also part of the mob. She just finished ingesting the cocaine pellets. She's scared, but she's ready to do the drug run. She lays down on the couch, her feet are fidgety. She gets up to leave her apartment, but suddenly she is rushed by a strange intruder.
Some time later, Jessi is found dead, sprawled on her apartment floor. A CSI team arrives to investigate the scene. They inspect her body thoroughly, picking up her limbs, rolling her over, checking her legs and feet. Looks like the serial killer has struck again. They lift the body into a bodybag and she is taken to the morgue.
Once in the morgue, the team removes Jessi's body from the bag on the exam table. They strip her body, setting aside her clothing for evidence. Then they begin to perform standard post-mortem procedures. They move her from the slab to a gurney, where she is toe-tagged and covered with a green sheet and wheeled down to radiology.
Something was found in radiology that is peculiar for the typical patterns of the serial killer. The Lead CSI is hopeful that they'll find more in the autopsy, but the Assistant seems suspisciously concerned by this. They continue the procedures, uncovering the body completely, dusting her feet and taking toe prints. They examine the vaginal area, flip her over, examine her backside.
They cover the body again, and the Lead CSI leaves the room. The Assistant takes this opportunity to make a phone call… to one of the mob handlers. He tells him that the autopsy is going to be performed in the morning so they better hurry up and do something about the body or there will be consequences.
The handler enters the morgue, looks at the toe tag on Jessi's foot. They prep the gurney and place her on it, wheeling her out of the morgue. The handler picks up Jessi's body and carries her down the hall, away from information that could spell trouble for the mob.
Fetish Elements: Sexual Content, Morgue, CSI, Foot Fetish, Foot Play, Body Flopping, Limp Fetish, Stripping, Investigation, Lift & Carry, Foot Views, Body Views.