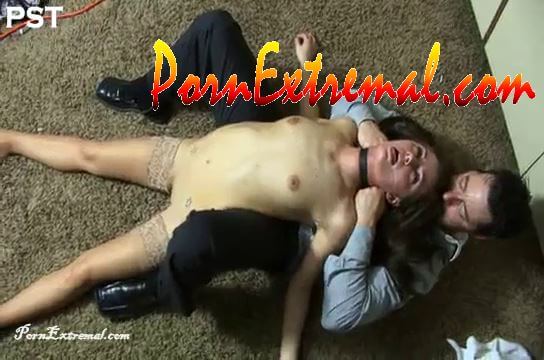 Psycho-Thrillers – Bad Company
Categories: Strangle, Hanging, Rape, Death Fetish, Maniac, RolePlay Snuff
Description: It was already 8 'o clock and Jack was still in the office, trying a clear a pile of work. He was getting tired and grouchy. He hasn't had sex for a week and he can't remember when he last masturbated. He wants to finish his work and get the hell home and relax with a nice porn movie. Just then there was a knock on his door. "It's open" he says not looking up from his work. He looks up to see a radiant Lily Carter, the young Assistant Manager from Personnel standing in front of him. She looked simply gorgeous. Her face was immaculately made-up, with blush on her cheeks, eye shadow and glossy lipstick. Blouse and short skirt show plenty of her long, slender legs in tan nylon stockings and high heels completed the picture. He always was hot for Lily but their paths never crossed because they were from different departments. But tonight, all that is going to change.
Jack ask Lily what can he do for her and she replies that she has been getting complaints about Jack behaving inappropriately to some of the female employees from her department and she was tasked to come to speak to him about it, hoping to smooth things over, otherwise she will have to bring the matter up to Human Resource and he might get the pink slip. She went on about the list of complaints but Jack just looked at her, leering at her lustily from her feet to her head. He was getting a hard on and his mind drifted. Jack imagines Lily coming on to him as she walks into his office. She walks over seductively to where he was sitting and soon she was doing a slow strip tease, removing her skirt, bra and panties until she only had her blouse unbuttoned showing her great breasts and stockings and high heels. She starts to jerk him off and then begins to blow him. She gave him one of the most tremendous blow jobs of his life.
Then Lily's voice booms over and Jack is jolted back into reality with Lily standing in front of him looking at him eyes wide and arms folded. "I hope you reconsider what I just told you Jack" said Lily. Jack didn't know what happen except nodding in agreement. She turns to leave his office and he gets up to follow her. Just as she reaches for the door knob, he attacks her. He wrenches her body around to face him and grabs hold of her neck and pushes her against the wall and begins to strangle her as he lifts her up. She chokes and gags, her feet lash about but couldn't get any leverage and she looses her high heels as they clutter onto the floor. He didn't want to kill her – yet. He strangle her just enough for her to slip into unconsciousness. Then he lays her down on the floor and begins to undress her.
He removes her skirt, her panties and her bra, leaving her blouse unbutton and her nylon stockings on. She was already coming to. He grabs her hair and pulls her up to her knees and unzips his pants. Taking out his cock, he says to her; "You always have to stick your nose into other people's business, don't you, bitch! Well stick this in your mouth then!" And jams his cock into her mouth and forces her to perform BJ on him. He skull fucks her and made her blow him until tears came to her eyes, rolling down her cheeks and she was gagging and choking on his cock as she drools with salvia and his cum down her chin. He climaxes, pulling out, splashing her face with his cum. But he was not done with her yet. As she tries to get her breath back, Jack decides it was time to end it. He could always use her dead body for his pleasure.
He removes his tie and loops it round her neck and pulls it tight. She gags as the silk garrote tightens around her neck. He begins to strangle her. Lily fights for her life but he was no match for the hulking killer with his pant up sexual frustration. He was determined to take her down. She fought violently; legs thrashing, arms flinging and crawling, eyes bulging, rolling and eyelids fluttering, her tongue sticking out as she gags and chokes. Soon she started to drool and starts to weaken; her limbs twitching involuntarily before finally becoming still. But he continues to pull on the tie; manipulating her limp body like a rag doll until he was sure she was dead. Then he carries her limp body over to the chair in his office and he begins to have sex with her dead body in various positions, playing with her like a giant doll and fondling her body as he fucks her body mercilessly. Finally, he leaves her body; grotesquely sprawl on his chair as he goes back to finishing his work, this time with a smile on his face. Occasionally he would go back and have sex with the lovely Lily lying across his chair. He would do this for a couple of times until he finish his work. She was in his private place so there was no need to get rid of her body yet.
Set-up, Dialogue, Day Dream Fantasy Sex, Nylon Stockings, Fantasy Consensual BJ, Fantasy Stripping, Undressing, Nudity, Surprise Office Attack, Upright Hand Strangulation POV Strangle, Suspension Strangle, Sleepy, Sexual Sleep Assault, Body Positioning, Body Handling, Body Posing, Fondling, Undressing, Breast Views, Ass Views, Bare Foot Views, Breast Worship, Vaginal Views, Vaginal Worship, Hair Pulling, Forced BJ, Gagging BJ, Begging & Pleading, Death by Necktie Strangulation, Death Stare, Drool, Ligature Marks, Death Twitching, Arm Carrying, 3-Position Necrophilia Rape, Body Pans, Up-skirt Views, Panties