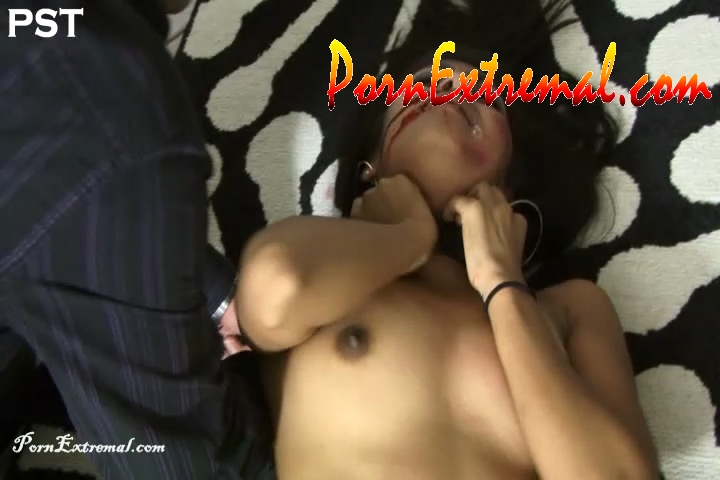 Psycho-Thrillers – I Finally Fucked You 3
Categories: Strangle, Hanging, Rape, Death Fetish, Maniac, RolePlay Snuff
Description: Contains: Set-Up, Dialogue, Teasing, Voyeur, Entrapment, Home Invasion, Fondling, Fighting, Wrestling, Groping, Forced Undressing, Nudity, Face Hitting, Face Bruising, Blood, Begging & Pleading, Taunting, Insults, 2-Position Live Rape, Breast Views, Vaginal Views, Ass Views, Breast Worship, Vaginal Worship, Ass Worship, Feet Views, Bare Feet, Leggins, Near Escape, Death by Belt Strangulation, Drool, Death Stare, Body Pans, Body Positioning, Body Handling, Extended Necrophilia Blow Job, Extended Necrophilia Urination, Body Kicking, Necrophilia Rape
Editor's Notes: If you love a young girl torture raped and strangled in an extreme way, then you'll love this one. Filmed in FULL COLOR HD! Description: She saw him sitting down smoking every day and she never said a word, not one hello. She was either walking her little dog or pretending to wait for her hus band to return home, always showing off those shapely legs and that hot Latin ass or tight leggins with no underwear to cover her pussy. She never said a word, never looked in my direction. One day that cunt went too far.
He was hanging out when she bent over at the waist pretending to adjust her sneakers. Her pussy was clearly showing through her black leggins. What a sexy pose. She was signaling for him to jump in and spear her cunt deep right there. He had made it back early that day, still not being able to shake her out of my mind. His cock was swollen with thoughts of her legs and body so he decided to do something about it. No one was around so he made my way to her house and knocked. She answered through the slide door. He asked if her husband was home and she said no. He asked if he could drop off a bag of dog food that would help their dog's development and fur. He figured she would trust him that far.
It worked. When she cracked the door open he showed her the bag and asked if he could come in to explain it. She let him in. Good. He explained how to feed it to the dog and that it made dog coats more shiny. He then decided to make a move on her. He was hoping she would give up the pussy easy and that he would get to fuck her. When she put the bag away in the kitchen showing him her ass again, he put a hand on it and gave it a soft squeeze but she spun a batted his hand away. "What you doing?" She said. "You leave now before my husband finds out!" She pointed to the door. "Listen baby, I was hoping when I came here you would wanna fuck. I think you're hot and just wanted to spend a little time with you. You're husband doesn't need to know. I won't tell." She pointed again. "You get the fuck out now!" He just stood there.
She made a move to the phone but he grabbed her and they wrestled to the floor. She started crying and trying to reach the phone but he grabbed her leggins and pulled them, exposing her cunt. He grabbed her hips and gave her cunt several big licks which made her cry louder. "You can't show me your cunt outside and not give any up. Who the fuck do you think you are you little bitch!" She turned and kicked him in the chest but he rebounded, twisted her top in my hand and hit her hard across the face. "Don't fuck with me bitch! Ever!" She was fucking dazed so he sat her up and quickly removed her top and her bra. He propped her up against the fridge and sucked on her tits strongly and hungrily.
He grabbed her and pulled until she was lying flat on her ass then he reached under and removed her leggins completely. He went down on her, enjoying the taste of her pussy in his mouth and licking her inner thighs. He quickly twisted her legs, rolling her over until she was on her belly. He worked her juicy little ass through his palms then sucked on it hungrily. He spread her ass cheeks and tongued her ass hole then sucked her cunt into his mouth as she groaned and slowly clawed the floor. He twisted her legs until she was face up and spread her legs. "Baby girl I gotta fuck you! I gotta fuck you good!" His cock was already hard and he slipped it in and started fucking the bitch. "You fucking bitch! You little cunt!" She was crying and shutting her eyes. "It hurts," she said at one point. He fucked her mashing her tits in his hands. He was fucking her passionately, wanting her to feel something too.
He grabbed her hair. "On your feet," and forced her to bend over the kitchen counter; it exposed her cunt just like it did outside. He stuffed his meaty cock inside her and started fucking it really good. "You should have given it to me!" he said. He pushed her until she fell on her side. As he knelt, she started fighting with him, making him mad. He tilted sideways a bit and carried one of her soft legs, palming and pinching her ass and the undersides of her soft thighs. He rolled off of her. He stood and grabbed his belt and stared at her. "You brought this shit on yourself you fucking cunt!" He went after her and managed to loop the belt around her neck and force her onto her back to take her medicine.
He tightened the straps and watched her die until her arms dropped and a trail of drool and blood fell from her mouth, legs twitching. "All this excitement just makes me want to fuck you again. He drags her into the bedroom and fucks her dead body after she'd pissed herself in the kitchen. He dropped her on a bed, cocked her juicy legs and fucked her again, trying to damage her. He finished then went back to the kitchen and got his things, taking the can of dog food back in the bag with him to get a refund of his money.