Psycho-Thrillers – Nikas Little Lesbian Secret
Categories: Strangle, Hanging, Rape, Death Fetish, Maniac, RolePlay
Description: Dani plays a young college student who falls in love with her Foreign Language Teacher. They met and had a brief affair in which Nika experienced lesbian sex for the first time. Married, Nika tries to conceal their affair until she is confronted by Dani at the doorstep of her home. Dani tries to reap Nika since she didn't return her phone calls or any of her love letters she left at the classroom.
When Dani threatens to break up Nika's marriage, Nika has to think fast about what she is going to do with Dani. Nika kissed Dani then leads her into the living room where she gives Dani a false sense of sense of security. After kissing her, her hands slowly lower to Dani's neck where she slowly begins to squeeze. When Dani has difficulty breathing, Nika slams her into the sofa behind her then tries to take Dani out forever. Thinking it is a joke or an aggressive form of love making, Dani smiles as she weakly fights to free herself but Nika's ever-increasing struggle to tighten her grip soon makes Dani believe that Nika is trying to kill her.
Once Dani hit's the floor and Nika takes a dominant position over her, Dani tries to fight back. Nika is too strong and pins her to the floor. Drool oozes from Dani's mouth as she cannot breathe. After long minutes, Dani weakens, her finger finding a way through Nika's panties and into her pussy. Nika enjoys the attention as Dani tries to appeal to her lesbian half in order to make the strangling stop but Nika denies her, strongly slapping Dani's hand away and denying her the right to squeeze on her tits.
Nika soon cannot deny the wetness between her legs and her own arousal in killing Dani. Once Dani is dead, she takes liberty in fucking her hands and feet inside her hot pussy before dragging her away. Once her husband returns, she greets him and tells him that dinner will be ready momentarily. After he slips into the living room, she bends down and whispers into her dead lover's ear. She will have more fun with her that night since her husband will spend most of his time in the bedroom. She will mix a drink to make sure he sleeps before she wakes up early to discard the body.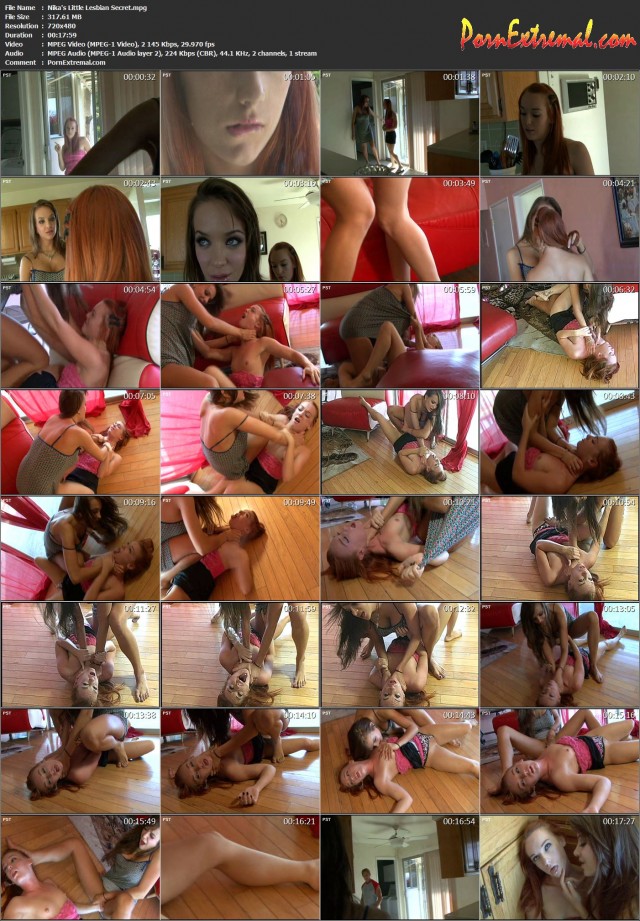 Nika's_Little_Lesbian_Secret.mpg 317.61MB