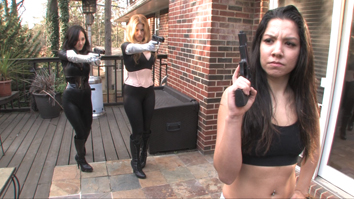 VelvetsFantasies – The Day The Clones Died
Categories: Death Fetish, SoftCore, Gun Fun, Non Nude, Non Sex, Girls Play, Amazon, RolePlay, F/F
Description: In this Clone Wars style movie, we open with clone agents Sumiko and Jacquelyn infiltrating a house that is heavily guarded by Jinx clones. They proceed to take them out one by one while they make their way inside. Once in the house, a different set of Sumiko and Jacquelyn clones have already made their way in, seeking to take out more of the Jinx clones, but with each new batch of girls proves to be more challenging than the last as they compete for their lives in a series of various confrontations that ultimately prove to be no challenge for the remaining Jinx.
The final scene of this video is of epic proportion as we see Jinx take on a barrage of clones and leaves them all in path of machine gun destruction!
This movie contains 19 different scenes, army crawls, wall slide deaths, body piles, Mexican stand-offs, point-of-view machine gunning, death stares, pained and wincing expressions, overkill, limp limb manipulation
There are NO blood scenes or special effects just sexy girls dying over and over in various ways!
**This movie features my gas-powered machine gun props that provide realistic recoil and occasional "smoke puff" effects!!**