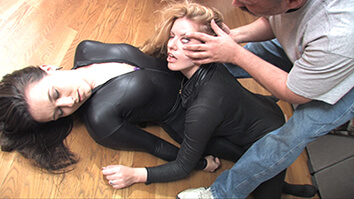 VelvetsFantasies – The Love Who Spied Me
Categories: Death Fetish, SoftCore, Gun Fun, Non Nude, Non Sex, Girls Play, Amazon, RolePlay, F/F
Description: Two lovers. Two spies. Fistfights, betrayals…and more twists and turns than you can imagine.
If that sexy and conniving concoction appeals to you, then get ready for one HELL of a Velvet's Fantasies release. Sinn Sage and Miss Velvets play spies and lovers whose devotion to each other meets its ultimate test. Turns out Agent Sage has been secretly working for a shadowy individual (played expertly by Scott Torvea), and has been stealing information from the woman she claims to "love". Things don't stay that simple, however, as the skilled Velvets eventually discovers her significant others plan and strikes back, leading to a series of KOs, sneak attacks, and a fistfight that ends with a loving kiss…and a struggle to survive against their new common enemy!
A final series of twists (including a killer 2 vs 1 battle) leads to a near-victory for our star-crossed spies, but a sudden POV attack from the evil Mr. Torvea leaves the lovers in an unconscious pile on the floor. We fade out as this tale comes to an end…
…or does it?
This movie contains sleeper hold KOs, punch out KO, wall slam KO, bear hug KO, double punch KO, over the shoulder carries, f/f OTS carry, cradle carries, butt slaps, eye checks, mouth checks, body piles, limp limb manipulation