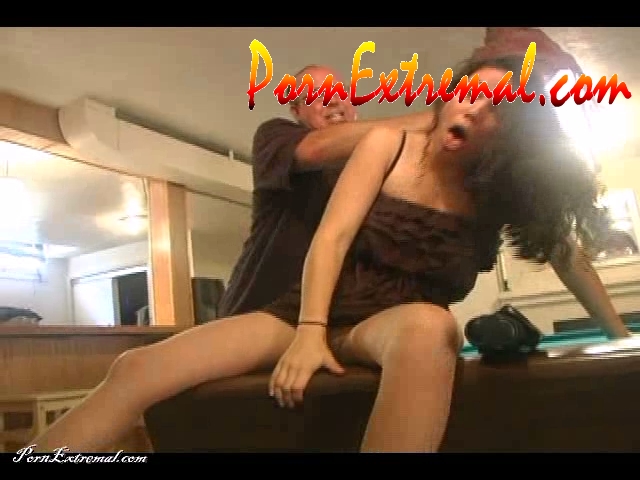 [New, Joint] Chris' Corner – Pool Shark Strangle 5
Categories: Snuff Fetish, Rape, Strangle, Bagging, Shooting, Abused
Description: She was late for the appointment, which ticked Chris off. Ten thirty is ten thirty and being punctual is a pet peeve of his. When she finally arrives he has the table ready, balls racked, and is about to break. She concedes since it was her fault she arrived late. At least she is a sexy dress, and control top, sheer pantyhose! Very Hot! Chris smashes a big break but leaves it open. She has good luck and runs the table with a few shots. As she lines up the eight ball she makes a vital mistake, not enough backspin and she scratches. She pleads for double or nothing but Chris is in a hurry. He goes to the bathroom while she breaks down her cue.
As she waits, Zayda texts and plays with her hair, showing her lovely neck, while Chris creeps up from behind, stretching his thigh high stocking and wrapping it for good grip. He throws it around her neck and pulls back hard, crossing it in the back to keep it high and tight! She fights hard, not really getting what is going on yet, but she kicks and her shoes fly about the room. Zayda's tongue flares out and her eyes beam wide as she finally realizes what is happening, by then it is too late. She still puts up a hard fight, bucking and crawling around trying to escape. She goes all over the table, and Chris leads the way bringing her upright to get a good glimpse as her breast pops out, and jiggles from the jerking motion of her defense. She fights long and hard not giving in till the very last moment. After she twitches and gives her last exhale, Chris removes his silky garrote, tosses it on her dress and starts in on his feast of necro fantasies. First, he fondles her breasts, legs, feet and ass that are covered in the silky hosiery. He drags her to the end of the table and rips a large hole in the crotch of the pantyhose. He fondles her sweet pussy and then decides he wants to do her still warm body. He does her for a while, pumping her hard so the breasts jiggle back and forth with the motion. Chris is so excited while messing with her feet, he decides to have sex with her lovely arches covered in pantyhose. This gets him so aroused he goes to a handjob, then sex, then back to the feet where he leaves his load on her lovely soles.
We see lovely Zayda's dead body in slow body pans to finish.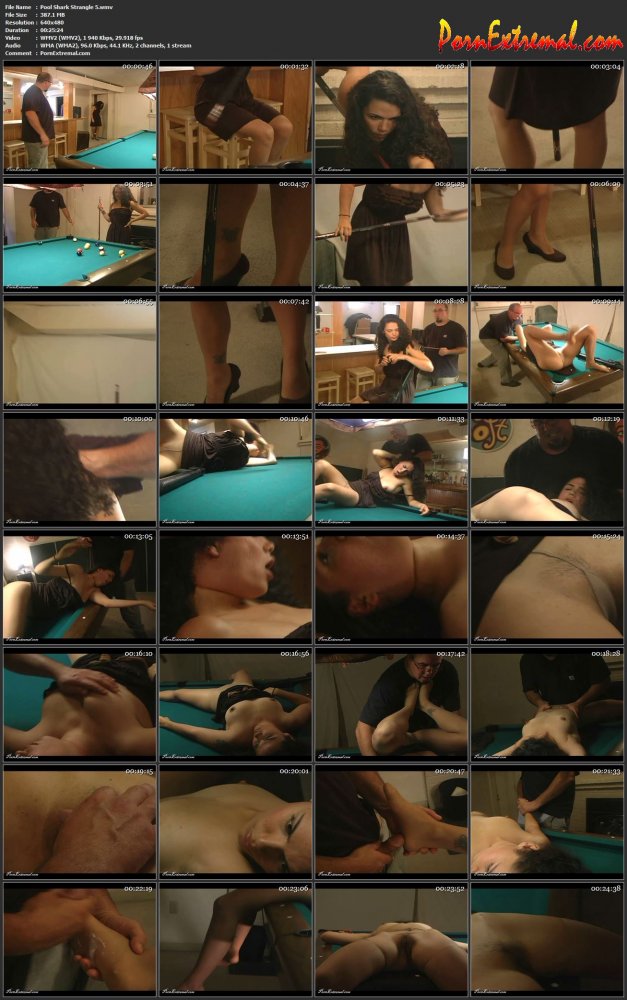 Pool_Shark_Strangle_5.wmv