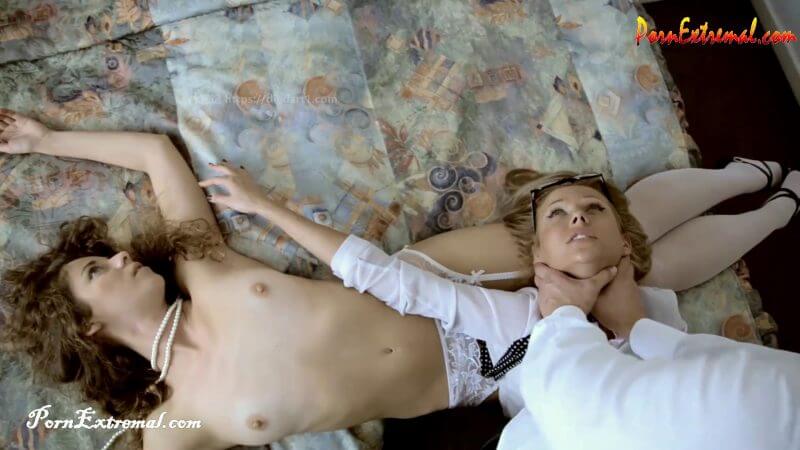 Crime House (aka Dark Rooms) – Double Sensation
Categories: Strangle, Death Fetish, Snuff Play, Shooting, Abuse, Gun Fun, Bagging, Nude Sexy
Description: If you kike strangulation scenes please don't miss this one. This movie consists all fetish elements of sexy strangulation:
Sexy miniskirt, sexy business girl, two victims, one by one murder, 25 minutes long (!), ultra sexy white stockings, death stares, legs kicking, face antics, agony, wheezing, carrying, many different dead poses, playing with corpses, touching bodies, bodypile. It's very sexy one!
Two young journalist decided to make career in press and earn one million dollars for exclusive photos of dead famous actress. To be first in this sensation report they decided… to KILL the actress. They invited her for private interview. She agreed and said that she has very busy schedule so it would be better to interview in her hotel number. They came to her place and when the girl asked questions, her colleague went behind the actress and started to strangle her. She was very surprised when two intelligent people – young man and girl in glasses strangled her like a bitch! She tried to escape but she had no chance for life. After long strangulation scenes with all fetish elements of sexy strangling clip (legs kicking, face antics, agony, wheezing) she died.
Journalists-killers played with her dead body like a doll to find the best pose for postmortem photo session. They took off her clothes leaving her only in white stockings and carried to the bedroom to make more photos. But bad girl didn't know that her partner decided to do double sensation. He wasn't going to share his fees for photos and attacked her too! «What are you doing?» – she asked in panic when he began to strangled her. He killed he on the dead actress's body. He tried to image the following article: «Famous actress and youg female journalist were lesbian lovers and were attacked by intruder when they were making love». So he stripped his dead partner and put corpses together in sexy bodypile.