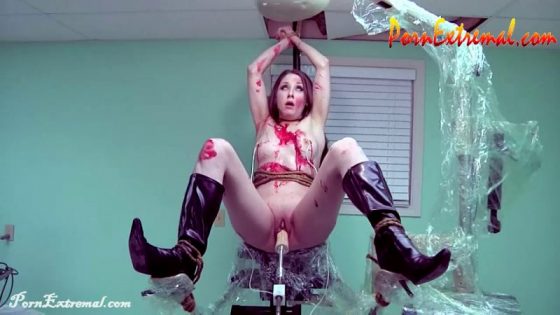 Peachy Keen Films – Cyborg Assassin
Categories: Strangle, Death Fetish, Snuff Play, Shooting, Abuse, Rape, Bagging
Description: Starring Jizzabelle
Note: This is awesome. If you are a fan of pulp comic, or 60's style science fiction, then you will love this. Great acting, intense performances and wonderful effects make this on to get.
Synopsis:
An agent is sent to find and evil doctor and destroy his creation. She finds more then she bargains for and end up on an electric dildo torture device where she pays the ultimate price.
Story:
Agent Amber Steel is tasked with finding Professor Lazarus O'toole and his evil cyborg creation and destroying it.
She infiltrates his lair and winds her way through the various sections avoiding lethal traps and energy alarm sensors.
She makes hit to his lab, confronting him. She forces him against the wall, securing his hand with a zip tie. Now, she uses her sexual prowlness to get what she wants. She does a sexy dance in her tight cat suit, gyrating and grinding against him. Then, she slowly strips it off until she is just in her stiletto boots.
Using a large knife she torments him, but soon, removes his cock and is lapping away at it while smiling up at him, holding the blade inches from his man parts. When it is evident that he is not going to talk after such enticement, she places the knife to his cock and threatens him.
He does not talk and as she slices him, she is showered with sparks. She flies back, realizing that Lazarus IS the cyborg. He breaks out of his restraint and lunges at her. He picks her up like she weighted nothing and tossed her against the wall. Then he pummels her and tosses her again to the floor. She goes for the knife, but he get it instead and uses it on her, slicing her torso. As she lay bleeding, he tears off a limb from one of the other cyborgs and uses it to bash her in the head–knocking her out.
She wakes up, head reeling from the blow, strapped to a contraption. He explains to her as he jams metal spikes into her breast, that the machine will create orgasms. But, for every orgasm, there is a powerful electric shock. He would be collecting her orgasm and a computer nearby would keep count. Then, it begins.
One after another, she tries not to, but the large cock ramming into her pussy is just too much to bare. She burst with pleasure, the instantly pain as 100's of 1000's of volts run through her. 78 orgasms later and she is finally ready to talk.
Afterwards, he has a new surprise for her. A specially modified attachment that, when triggered will fire burst of 9mm rounds. With the device incerted in her pussy, she tries her hardest not to have an orgasm. But, within minutes, she can hold out no longer, and the splat, splat, splat sound of the bullets, sileced within her pussy, exiting out her back, smacking against the wall is heard.
Her whole body quivers and the rounds tear into her. Blood pours out her mouth and after a few more jerks, she is dead.
He pushes the rest of her insides out, then leaves.
Later, she is on his worktable. He inserts something into her new, reconstructed body. Then, he fired her up. What awakens no one will want to be in the path of.
Contains: Violence, Nudity, Explicit Sexual Content, Spy, Espionage, SciFi, Blow Job, Beating, Knife Slicing, Knocking Out, Forced Orgasm, Orgasmitter, Shocking, Shooting, Body Views.