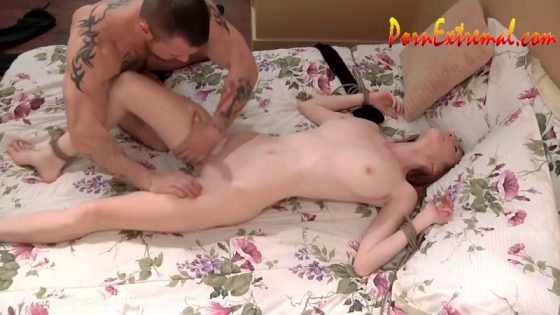 Peachy Keen Films – Dee Dee's Dirty Fantasy
Categories: Strangle, Death Fetish, Snuff Play, Shooting, Abuse, Rape, Bagging
Description: Dee Dee and her lover, Miles are hanging out one night while her husband is at work. She tells him about a fantasy she has had for a while where she is abducted and tied up and raped. She starts rubbing her pussy through her pants while she talks about it. Miles likes the idea, and tells her that he is heading out, and maybe heТll meet her later.
Dee Dee finishes rubbing herself and heads out. While walking down a dark alleyway, Miles grabs her and chloroforms her, knocking her out, then takes her back to her house. He swings her floppy unconscious body around before tossing it on the bed, then takes her shoes and socks off and starts sucking on her toes and licking her soles.
He strips her all the way, then ties her spread eagle on the bed and starts to finger her pussy until she wakes up. Then he starts to tickle her. Dee Dee laughs and tries to get away, struggling under his hands, but canТt.
He goes back to playing with her pussy, then slides his dick in and starts to fuck her hard and deep. Then he unties her and flips her over into doggy style and wraps a rope around her neck and fucks her while choking her until he cums.
He unties her and she thanks him for fulfilling her fantasy, but tells him that she needs to break it off and tell her husband. She gets up to go, but he attacks her, wrapping the rope around her neck and pulling her down. She tries to escape, but this time itТs for real, and he pulls on the rope until she is dead, then leaves her on the bed for her husband to find.
Fetish Elements: (HC) ATTACK, CHLOROFORM, KO, CARRYING, BODY FLOPPING, STRIPPING, FOOT FETISH, TOE SUCKING, BONDAGE, TICKLING, NUDITY, FINGERING, FUCKING, RAPE, CHOKING, STRANGLING, BODY VIEWS