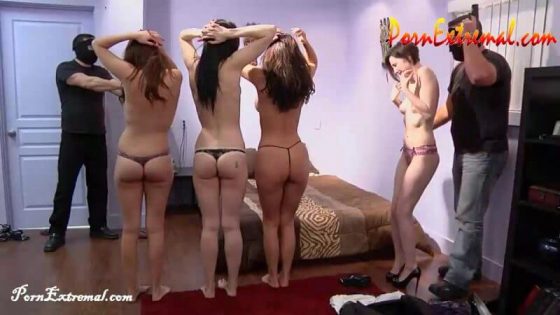 Peachy Keen Films – Expendable Girls
Categories: Strangle, Death Fetish, Snuff Play, Shooting, Abuse, Rape, Bagging
Description: Note: This is a long movie with lots of great, great views of these girls. Lots of ass views too. The summary below is brief but a lot happens and they final shootings are excellent!
4 girls are together, excited and emotional about an upcoming wedding.
Two men burst in–taking over the room. They force the girls to strip down to panties and line them up. They take lille time to admire there captors as they get them roped together like a strange girl-walking service and they lead them out of the apartment.
In an undisclosed warehouse, the girls are usered into a cage. They have been gagged and tied from before. One by one, they are taken out, photographed and made to speak to their loves ones for the purpose of securing a ransom. When all the girls have gon through this process, they are tied, face down and left.
After a while, the girls are escorted into a clean, white room with plastic covering the floor. They are lined up against the wall and eventually make to face the wall.
The ransoms have not been paid. The girls all know they are going to die.
Two at a time they are forced to kneel on the plastic and look their captors in the face as they are shot multiple times. They fall to the floor, still twitching, still a bit of life in them. After a few moments of squirming for survival, they are given kill shots to the heart.
With all the girls dead, they drag them into a pile and cover them up for later disposal.
Fetish Elements: Violence, Nudity, Explicit Sexual Content, Capture, Kidnap, Torment, Ropes, Gags, Ass Views, Multi Shooting, Body Pile, Body Views, Foot Views.