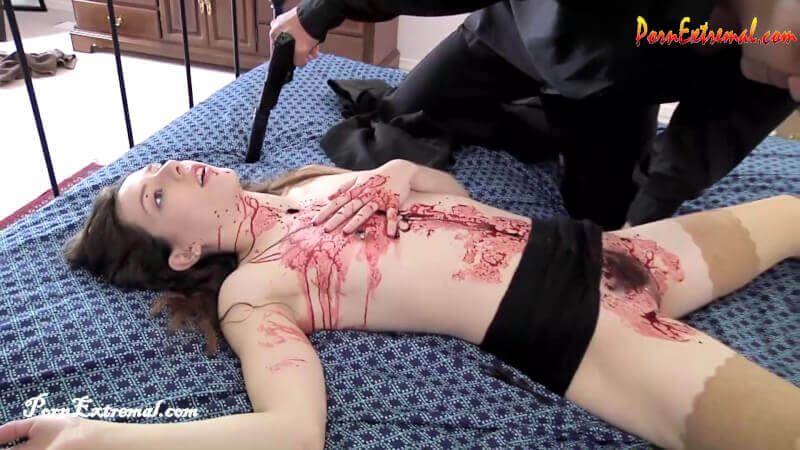 Peachy Keen Films – Explosive Surprise
Categories: Strangle, Death Fetish, Snuff Play, Shooting, Abuse, Rape, Bagging
Description: They only just met but the chemistry between Eric and Ember is so explosive they canТt deny it and so they leave the bar together and wind up back at his place.
TheyТre kissing in the bedroom and slowly taking off their jackets when Eric steps away for a moment to use the restroom.
Having only just met the guy Ember snoops through his jacket to reveal a shot gun hiding inside, she canТt believe what she is seeing. Ember pulls out her gun with a silencer attached and places it under the pillow before they start to fuck, just in case.
Eric comes back and begins to slowly undress her softly kissing her lips and pulling her shirt away so he can make his way to her sweet tits. Ember is breathing heavy and the tension is running high before Eric moves down to her sweet pussy rubbing and kissing it before she pulls down his pants and sucks his cock.
They canТt hold on any longer and Ember jumps on top of EricТs long hard throbbing cock and rides him like her life depended on it. After she came three times, the funny thing is, her life did depend on fuckingЧjust NOT fucking. Suddenly Ember feels a shocking pain in her pussy, Уoh you felt that?Ф Eric asks.
Ember reaches for her gun but Eric explains how he just released a poison in her pussy and when it mingles with him cum her pussy will explode. Eric shoots her in the boob for fun and as Ember lays back on the bed, blood dripping from her mouth and chest, a BOOM occurs and her pussy explodes splattering blood everywhere.
Eric gets up and heads out leaving the body on the bed.
†Fetish Elements:†Explicit Sexual Content, Nudity, Stripping, Pleading, Blow Job, Pussy Licking, Sex, Shooting, Pussy Explosion, Terror, Torture, Torment, Struggling, Blood, Body Views.