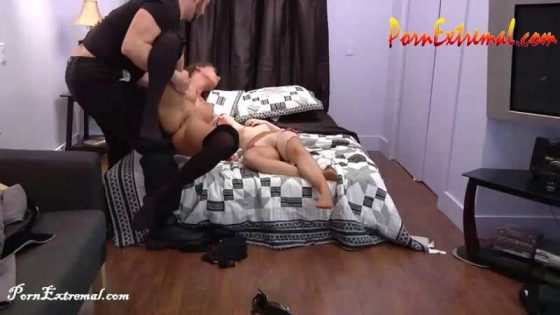 Peachy Keen Films – Mistaken Identity
Categories: Strangle, Death Fetish, Snuff Play, Shooting, Abuse, Rape, Bagging
Description: Two collage girls are getting ready to go to a function. They are all dressed up and about to head out. Then, a knock on the door reveals a man pointing a silenced gun at them.
They are in terror, on the couch, as the man grills them, asking questions they don't know the answers to. Desperate, the man forces one of the girls to stand, points the gun at her, and starts to countdown. But the other girl has no idea what to say, so he shoot her roommate dead.
In horror, she witnesses her roommate collapse to the floor, wide eye death stare. The man then forced her to go over to her roommates body. He has her roll her, then start to strip her. He make her touch her breasts and pussy.
Then, he has her drag the body closer to him, so he can get a good view as he forces the girl to lick her dead friends pussy.
He gets a call from his bosses and realizes the girls did know anything because he was shadowing the wrong girls. He gives the bad news to the other girl, by shooting her in the chest. She collapses over her roommate–dead.
To mitigate this waste of time, he picks up the dead girl and tears open her pantyhose and panties and starts playing with her. He fucks her mouth, then fucks her.
He then goes over to the first girl. He bends her over oddly so that he can pile-drive her with his cock. After a bit, he takes her to the bed and merges her with the other girl. He switches back and forth, fucking them both, and moving them around. He finally cums on both girls.
He sticks their hands together with his cum–leaving them in a lovers embrace–though he knew, they were not lovers at all–or even sisters as he had first thought.. He didn't care. Time to find the right sisters.
Fetish Elements: Violence, Nudity, Explicit Sexual Content, Shooting, Necro Fondling,Necro Pussy Licking, Necro BJ, Necro Sex, Carrying, Body Manipulation, Posing, Stockings, Body Views.