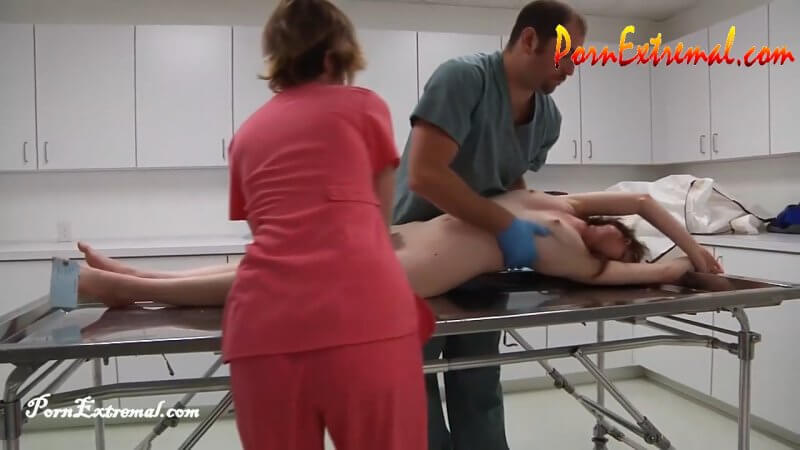 Peachy Keen Films – Pray For Him
Categories: Strangle, Death Fetish, Snuff Play, Shooting, Abuse, Rape, Bagging
Description: Emma is an innocent, pious girl spending a night in reading the Bible by herself. Suddenly, a masked man enters her home and stands before her. She drops the book in fear and gets to her knees. She begs for mercy but he is here for vengeance; her church has been trying to get his gang shut down. She only wants to make the world a better place and she begs him to let her pray for both of their souls before he silences her for good.
Grabbing a rope from his pocket, he tightens it around her throat, towering over her trembling body as he overpowers her. Spitting and fighting for air, she struggles against the massive man, pounding her tiny hands against his bulging arms. After a lengthy struggle, she dies and he leaves her body splayed out on the floor.
Soon after she is taken to the morgue for inspection. The coroners put on rubber gloves take a full examination of the body. First they undress the body, removing her dress, undergarments, boots, and socks. Then they take photos of the body, nail scrapings, vaginal temperature, swabs from the mouth and vagina, measurements, and then they flip the body to inspect her back.
When the body has been examined internally, they fill the body with embalming fluid and the male coroner is left alone with the body. He removes the cotton balls from the corpse's mouth and pussy and takes off his gloves, touching her lips sensually, thinking of all the things he could do to her. He takes his cock out and slides it into her mouth, holding the back of her head so he can fuck her face.
When he is finished and the body is dressed and placed in a casket for viewing. Then they close the lid.
Fetish Elements: Explicit Sexual Content, Strangle, Groat Strangle, Rope, Attack, Morgue, CSI, Body Inspection, Boot Removal, Sock Removal, Nail Scrapings, Mouth Swab, Vaginal Swab, Morgue Photos, Body Flipping, Casket Views, Casket Lid Closing, Embalming Fluid, Post Mortem Blowjobs, Necro Blowjob, Rubber Gloves.