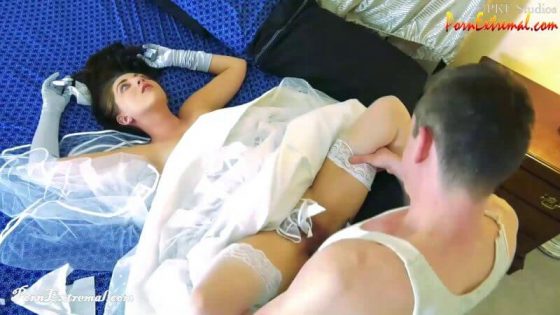 Peachy Keen Films – Runaway Bride
Categories: Strangle, Death Fetish, Snuff Play, Shooting, Abuse, Rape, Bagging
Description: Nickey has just fled her own wedding. What was supposed to be the happiest day of her life has become anger and sorrow. She thought she could ignore her fiancйТs many indiscretions, but now that the day has come, she realized that she just couldnТt go through with it. The husband-to-be enters the room, determined to salvage the day and whatever is left of their relationship. Nickey shouts at him, telling him that she knows about the other women, his petty vices and his fatherТs business overseas.
The last comment makes him grow cold. The business is something that she should not know about. His clenched hands go to her throat, encircling it and squeezing, ensuring her silence, permanently. Her eyes and mouth open wide, desperate for even a single breath of air. Her hands pound against him, legs kicking, her wedding dress a flurry of satin and frill, rustling on the bed. The man holds her by the neck, the muscles of his arms corded tight, until Nickey is lifeless and still.
Part of his murderous rage stemmed from NickeyТs insistence that they wait until their wedding night for their first time together. A night that will never come. Reaching under the many layers of white fabric of her wedding dress, he pulls her panties off and spreads her legs, exposing her juicy cunt. Burying his head between her long legs, the would-be groom licks and nibbles at her love canal. Freeing his hard cock, he shoves it into NickeyТs tight opening and uses her as his rightful possession.
Her dead eyes stare blindly, while the man probes the depths of her cunt, her body jiggling under the weight of his thrusts. Standing up, he pulls NickeyТs body into a sitting position and, using her hair as a handle, pushes his dick between her full lips and fucks her face. Her dead mouth is too much for him and it isnТt long before he blows a load, spurting hot cum down her throat and spilling down her chin and cheek. There he leaves her corpse, still in the wedding gown, cunt exposed and sperm thick on her face, a day of celebration turned to tragedy.
Fetish Elements:†Explicit Sexual Content, Wedding Dress, Stockings, High Heels, Hand Strangling, Necro Pussy Licking, Necro Sex, Necro Face Fuck, Cumshot, Rolling, Lifting, Body Play, Body Views, Foot Views.