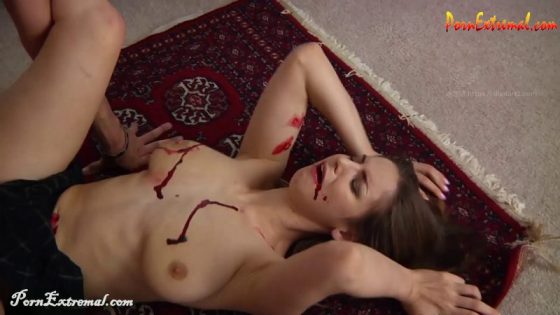 Peachy Keen Films – Schoolgirl Stabber
Categories: Strangle, Death Fetish, Snuff Play, Shooting, Abuse, Rape, Bagging
Description: Starring Stella Cox
Directed by JohnM
An innocent, young schoolgirl talks on the phone with her friend, unaware that it is the last conversation she will ever have. Her boarding school outfit, white blouse, plaid, pleated skirt and knee-high socks, seem out of place with the curvy, young woman that sheТs developed into. Out of nowhere, a man comes up behind her, his strong arm wrapping around her neck and squeezing. Before she can react, he chokes her out and she falls, unconscious, to the ground. When she awakens, she is alone, bound with rope, wrists and ankles wrapped tight with rough cord. The man comes back and lifts her small body with ease, setting her on his lap. His hands grope her, kneading handfuls of plump boobs through her clothing. She pleads with the man, terrified, as he begins to unbutton her shirt and remove her bra to expose her full, young tits. Her eyes go wide as he pulls a knife out and starts to drag it over her soft, tender flesh. Placing the sharp point of the blade just below her navel, he pushes it in, piercing her belly and sinking the length of it into her gut. She cries out in pain, before mercifully passing out.
Laying her on the floor, the man lifts up her skirt and slides her white panties off, to reveal her hairless pussy. Burying his face between her legs, he licks the smooth skin around her cunt. The stimulation brings her back around and she moans weakly, before begging him to leave her alone. SheТs a virgin, she confesses, and no man has ever touched her there. As if in response, the man gets on his knees and spreads her legs wide, pressing the head of his cock against the velvety flesh of her untouched snatch. He slips inside her, pressing down with weight of his body, her tightness yielding against his persistent thrusts. She groans in pain, both from the huge cock opening her virgin hole wider and the belly wound oozing blood. Gripping the knife once more, he begins to stab her, over and over again, cold steel penetrating her chest, her massive boobs, as his shaft probes deeper into her most intimate regions. The man feels his impending climax approaching, so he plunges the knife deep into her heart, ensuring the last thing she ever feels is his cock pumping her full of his cum. She dies there on the floor, her blood pouring from the many stab wounds, her innocence violated and her corpse left like a discarded piece of trash.
а
Fetish Elements:а Explicit Sexual Content, Partial Nudity, Schoolgirl Outfit, Violence, Terror, Begging, Forced Sex, Knife Play, Stabbing, Blood, Crying, Multi-Stabbing, Belly Stab, Drooling, Body Play, Body Views, Foot Views.