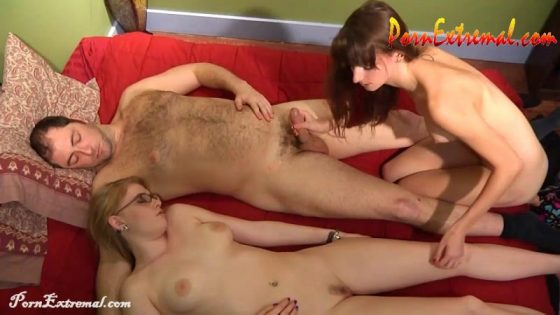 Peachy Keen Films – Sexy Killers 2
Categories: Strangle, Death Fetish, Snuff Play, Shooting, Abuse, Rape, Bagging
Description: Starring Allie James and Willow
Directed By John Marshall
Two girls plot to kill their cheating ex-lover.
But first, they decide to have some fun with him.
He is passed out and Allie goes to town, sucking his cock. Soon Willow joins in. But after a while, Willow leaves and pulls chloroform and a rag out of her purse. She has other plans—this revenge calls for TWO victims.
Willow puts Allie out, then spends some time with her, fondling and sucking her big natural tits.
Then, she suck her ex some more, then straddles him for a while. Then, back to Allie. She goes over her body with her tongue, ending between her legs and eating her out.
When she had given Allie an orgasm, she leaves the room.
The boyfriend has been faking it the whole time. He wakes up as Allie is coming too and puts her back out. Then he feigns unconsciousness again as Willow comes back in the room.
Willow plans to shoot both of them, but decides she wants one more go around with her ex-boyfriend while he is so willing.
She straddles him again, but unbeknownst to her, he has found the chloroform and attacks her with it, putting her out. Now he has both girls unconscious on his bed. He carries them out of the room.
He now has them in his jacuzzi, and after a brief comment, pushes them under–holding them while they struggle and splash. After a while they slow and finally, he lets go. The girls just float, staring–dead.
Now he has them on the jacuzzi cover and has his way with both girls until he is satisfied.
Contains: Violence, Nudity, Explicit Sexual Content, Chloroform, Unconscious, Drowning, Nexro BJ, Becro Sex, Body Views, Foot Views.