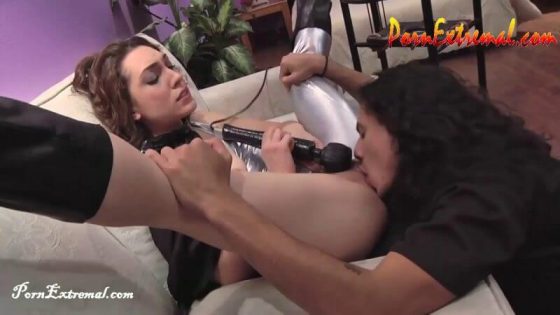 Peachy Keen Films – Silver Snatch to the Rescue
Categories: Strangle, Death Fetish, Snuff Play, Shooting, Abuse, Rape, Bagging
Description: Starring Valentina Nappi, Lily LaBeau, and Javier
Valentina has been captured and bound to a chair by bad guy Javier. He peels off her panties and begins to punish her, using a massive powerful vibrator. She moans and begs for him to stop, but he presses the vibrator to her pussy. She continues to moan, struggling against her bonds but she can't escape.
Suddenly, Silver Snatch shows up! Valentina begs her for salvation, but Javier smacks her across the face with the vibrator and she falls back, her legs splayed open, displaying her pussy. She tries again to stop him, but again he smacks her across the face with the dildo. He agrees to let her go if she sucks his cock. He beats her down to her knees in front of him and she opens her mouth.
He fucks her face and slaps it with his dick. She's exhausted, now it's Valentina's turn. He goes over and shoves his cock down her throat, she takes it because she has no choice. This starts to turn Silver Snatch on, and she starts to touch herself while she watches them.
Javier notices that Silver Snatch is turned on and confronts her about it. He starts to eat her pussy, she begs him to stop, but grabs his head, forcing his face into her cunt as she moans and gyrates her hips.
Valentina is frustrated. She just wants someone to help her, and this superheroine is busy getting her pussy eaten by the bad guy. Guess she'll have to take matters into her own hands. While the other two are busy, Valentina finds the keys and is able to remove her handcuffs to free herself.
As Valentina is escaping, Silver Snatch orders Javier to give her his evil cock. She sucks his dick until he cums all over her face. It is at this point hat they realize their prisoner is gone. Turns out she's right behind them. She smacks Javier over the head with the vibrator. She's pissed that she had to save herself, so she strangles this sad excuse for a superheroine.
The Silver Snatch struggles and kicks but Valentina is driven by frustration and the Snatch is tired from sexual exertion. She gives up on her futile attempt to stay alive. She kicks Javier and leaves.
Fetish Elements: Explicit Sexual Content, Superheroine, Bondage, Rape, Forced Orgasms, Vibrator, Pussy Eating, Blowjobs, Cumshot, Facial, Strangle, Hand Strangle, Body Views.