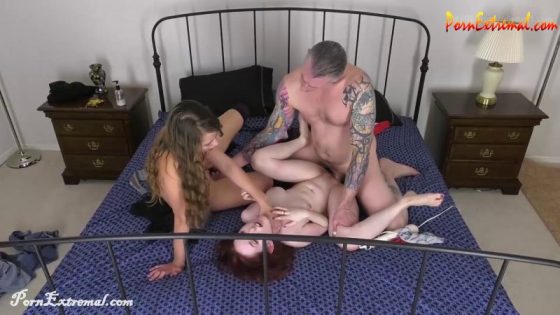 Peachy Keen Films – Threesome Choke Out
Categories: Strangle, Death Fetish, Snuff Play, Shooting, Abuse, Rape, Bagging
Description: Two sexy sisters, Penny and Zoey, are wondering how their dad gets so many women. Too shy to come right out and ask, they catch him in his bedroom and ask him how he met their mom. He admits that he has a secret and that they are old enough that he can show them. Pointing to the bedside night stand, he tells his little darlings to look inside. Seeing a large and powerful vibrator, Penny picks it up, amazed by its size. Encouraging his girls to try it out, he spreads ZoeyТs legs, causing her short skirt to ride up, exposing her red panties and giving Penny access to her naughty bits.
The bulbous, pulsing head does its job and, soon, both of the young sluts are moaning, pussies wet and needy, their lustful eyes turning to the nearest cock. Daddy is not one to let his little girls down and he fills their tight, innocent cunts with his thick shaft. Knowing that Penny is a kinky girl, her sister, Zoey, chokes her, as she is being fucked silly by the man of the house, but is so caught up in a haze of lust that she goes too far. Before they realize it, Penny is dead, strangled by her sibling, while her daddyТs dick was deep inside her. Zoey and her dad are upset by this unfortunate accident, but are so consumed with desire, they continue humping like bunnies. Pulling his dick out of his daughterТs dead cunt, he gets between ZoeyТs legs and shoves it into her young twat.
Not wanting his little girl to have to live with the pain of what she did, dad latches onto ZoeyТs slender neck with both hands and strangles her, his fat cock continuing to probe deeper into her pummeled pussy. Soon, both lie limp and lifeless, just instruments for their pappyТs pleasure. He fucks them both for a while, until PennyТs dead snatch squeezes the sperm right from his balls. What good little girls. ItТs a good thing he has more.
Fetish Elements:аExplicit Sexual Content, Taboo, Daddy/Daughter, Threesome, Knee-High Socks, Hitachi, Fondling, Pussy Licking, Lesbian, Sex, Stripping, Nudity, Limp Fetish, Hand Strangling, Necro Sex, Body Play, Body Views, Foot Views.