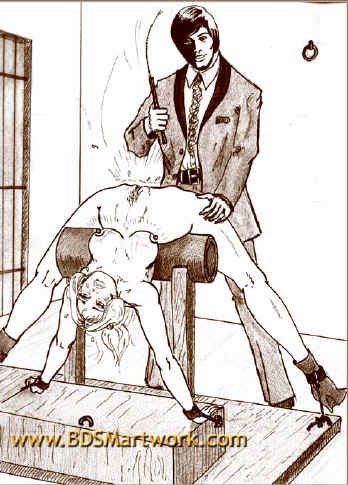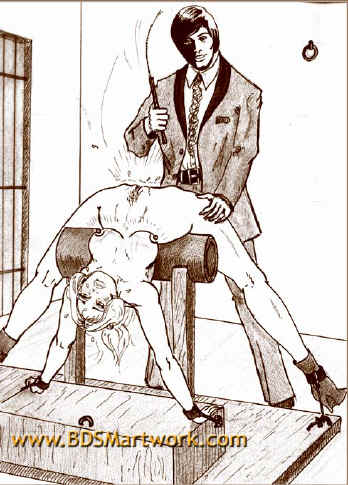 ANITA THE COUNTRY GIRL
AND THE HOUSE OF CORRECTION
by Stig
The crop in the fields was badly damaged by early storms, and Jan Fohlstrom worked long hours in the fields to save whatever remained undamaged before the next storm would finish off the rest of the harvest. Jan Fohlstrom was a poor but proud farmer. Ever since they moved out to these domains in 1898 he had somehow succeeded to provide for his family. He looked at his wife and firstborn daughter, Anita, who was already in her upper teens, helping him on the field.
"Anita, could you please fetch us some water I think we should finish this part of the fields today and it will be late before we can have any supper," he said to his daughter who was working right beside him.
"Yes of course, father." Anita walked the half mile to the spring water well feeling quite thirsty herself too. As she had left her parents at the far end of the fields, Jan Fohlstrom had looked at his daughter when she walked away, seeing how gracefully she moved across the rough land, the soft, round contours of her hips moving gently back and forth under the gray cotton skirt.
"Yes she had sure grown up to be a real beauty,Ф he thought with warmth in his heart as he turned to continue his work.
Anita had really become quite beautiful and grown-up during the past two years. The farmers daughter had become a young woman, a woman the hard work at the farm had moulded into a strong and well fit, healthy girl. Her blonde, long hair was tied with a ribbon at her neck and she held her head high, breathing in the cool, fresh evening breeze. She had worked hard that afternoon, and feeling quite warm she opened the three top buttons of her blouse to allow the breeze cool down her warm skin.
She was lowering the bucket into the well when she suddenly heard someone approaching on horseback.
"Hello, Anita the storm did quite a damage to your crop too I heard hey, let me help you with that ! The handsome young man jumped off his horse and hoisted up the heavy water filled bucket.
"Here you are…!
"Thank you, Peter " Anita said looking at the most handsome boy smiling at her. This was in fact the first time she had been so close to Peter Crawford, the son of the richest man in the territory.
Although being neighbors, they knew each other by name only, not socially. In those days the wide social gap between the families prevented this – the landlords and the peasants did not have much in common. Anita suddenly realized that the top buttons of her blouse was open, showing slightly the forms of her deliciously rounded bosom.
It was Peters eyes that made her suddenly realize the disorder in her outfit, and feeling suddenly most embarrassed she covered herself with her left arm.
The young, handsome man mounted his horse and waving his hand he rode off just as quickly as he had appeared. Anita watched him disappear and realized that she was blushing and that her heart was beating faster than normally. All the way back across the fields she could think of nothing else but Peter Crawford, her sparkling blue eyes shining bright in the evening sun. Anita Fohlstrom had fallen secretly in love.
The days and weeks passed and Anita had turned 18, when her father announced that during the day he had worked for the Crawford estate, the Baron had promised Anita a position as a maid -if she accepted. The pay would be modest, but in spite of that, this was something her parents had been hoping for. It is easy to bring up children when they are small, but what to do when they become of age? Poor people does not have many options.
Anita wanted to jump into the air, filled with joy over the news. Neither her father nor her mother knew anything about her short meeting with Peter Crawford at the well a few months ago. She had not been near him since, but the afternoons were countless when she had leaned against the fence nearby the Crawfords house – well hidden behind some bushes – hoping to catch a glimpse of Peter. When he sometimes finally showed up, AnitaТs heartbeat became faster and an unexplainable urge of heat in her young body caused her nipples to grow until they were real hard, standing out like ripe, pink berries beneath the rough cotton blouse, whilst the sensational moist feeling between her legs made her cross her thighs and a pulsating restlessness crawl up inside her.
But Anita Fohlstrom knew how to deal with this. Leaning against the sturdy wooden stake of the fence she opened up the top button of her skirt, just enough for her hand to slip underneath her garments and down over the warm skin of her belly, and when her finger finally reached the wetness of her sex she started to shake and sob uncontrollably. Afterwards she felt relieved but at the same time somehow guilty…like caught eating from the forbidden tree like Eve.
But now she was suddenly given the chance to be close to Peter. She was to report at the estate next Monday morning at eight o'clock sharp, that was the arrangement.
"As she is still under age, under 21 that is, you must as her legal guardian sign this contract, Mr Fohlstrom, which places her completely in our charge for the year the contract is valid. If she proves to be a good maid, the contract can be prolonged for one year at the time until she reaches the age of 21 and can thereafter naturally sign for herself if the contract is to be prolonged after that period. Is this clear and all right with you, Mr. Fohlstrom?"
"Yes, of course, thank you Sir where do I sign, here?"
"Yes… thank you Mr. Fohlstrom", said the Baron, and placed the signed contract in a drawer in his desk. Anita stood behind her father, dressed in her very best clothes, feeling slightly nervous in the expensively furnished, luxurious study of old Baron Crawford.
The total amount of money for the first year of service was given to Jan Fohlstrom, because, as the Baron said, she would not be needing any money there. Everything she personally would be needing could be provided at the estate. And she could always visit her home at her spare time if she wanted to.
"Are you sure you don't want a part of this for yourself?" Her father asked her, ready to give her a part of the money.
"No, father, as the Baron said, I will have everything I need here, you keep it all, please", Anita said. Anita had never had any money of her own and would very much have wanted some, just to have some real money of her own, but she did not want to give the Baron the picture of a greedy and selfish girl, at least not now during their very first meeting.
"You do your very best now, girl…" Jan Fohlstrom said before he left, leaving Anita standing there with her heart beating.
The Baron sat silent behind his desk for a moment and then looked up at her.
"You know, my girl…you can consider yourself a gift a gift to my son Peter because it was he who insisted to have you employed as a maid… even if we don't really need any more maids at the estate this time of the year…" he said.
"Oh!" This was the only thing Anita could say, feeling very confused and quite humiliated by the Barons words. She had never thought about herself as a…gift! The more she thought about the Barons words, the more humiliated she felt. She was not someoneТs property she was a human being, a fine, young woman! She could feel the heat burning her ears and her face turned slowly scarlet.
"Sir what do you mean by me being a gift to your son?"
"Just what I said, girl…but I also wanted to help your father, who is a good craftsman and a good neighbor, but don't think this is charity from my side, we Crawfords have not become rich by giving our money away to everyone in need, you really have to earn the money, girl! Now go and report to the housekeeper, she is expecting you!"
The happiness and joy Anita Fohlstrom had felt when she arrived to the Crawford Mansion in the morning with her father did slowly turn into a feeling of unrestfulness. In her girlish dreams she had expected to be welcomed by the Crawfords and specially by Peter in a polite and neighborly manner, but she had found out that young master Crawford had gone to the city early in the morning and was not expected back for some days. She had also learned in a crude way the difference between the rich and the poor, the masters and the servants – the facts of life a 18-year old girl like Anita had known nothing about living the sheltered life at the farm and under the loving care of her parents.
The housekeeper, Mrs Brunell, who was a rather fat woman in her late forties, had provided her with a maids uniform, into which Anita had to change in front of her in the small linen room behind the kitchen.
"Don't tell me you are shy!" Anita had an exceptionally well proportioned feminine body she could be proud of, but to undress herself in front of a strange woman made her embarrassed and she was trying to cover herself as well as she could between the shelves in the linen room.
"Well, at least you have a strong, mature body for a 18-year old, …I am sure young master Crawford will enjoy that! Be sure you fuck him good, because I don't want to break in new girls every second fortnight!"
The absurdity of her words made Anita stop dressing and she stared at the fat, greasy looking woman with disbelief in her wide open blue and with her ears burning hot.
"Madame what do you mean by…that ?"
"You heard me the first time! Don't give me that innocent look and tell me you didn't know! Everyone knows that Peter likes his girls young and fresh and if I am correctly informed, it was he who asked his father to have you here to enjoy. The Baron approves fully because it is much cheaper this way than if Peter would spend their family fortune on the harlots of the town! If you play your cards right you have the possibility to benefit from the situationЕ at least you have the figure for it…"
The words made Anita feel that her value as a human being was even cheaper than a whore's, and found it hard to suppress the growing anger and the extreme humiliation that was building up inside her.
УI am not…here toЕ I was hired to work as a maid! …Nothing else!" Anita whispered in a hoarse voice, her face turning slowly from pink to red. All this time she had been daydreaming of a romance with the handsome Peter Crawford, where she would surely and willingly submit herself to him when and if he asked her to marry him… but never like this! Not just to be shamefully used! Not the way the housekeeper indicated!
Suddenly she got the feeling that Mrs Brunell was just testing her, testing her morals.
She somehow thought that it was the housekeeperТs duty – being in charge of all the maids and everything – to ensure herself that all servants of the Mansion were both morally and otherwise fit to serve a highly respected household like the Crawfords.
"Mrs Brunell, let me assure you that I am a decent, modest person, and I will serve as a maid to my best ability, and I hope you will be pleased with my work " Anita said, looking the housekeeper straight in the eyes.
"Of course you must carry out the maids duties too, and it is my job to see that you do so I am just telling you that your body is better than many of the previous girls we have had here and that young master Crawford will be very pleased to see that lustful body of yours and hopefully also pleased with your services as a maid. I am just telling you what the future holds in store for you, young lady, and I am also telling you that it is no use to resist the young master, because then you'll just be taken upstairs and punished! And I know that young master Crawford enjoys to tame girlies like you -he even has a room at the attic for this purpose."
Anita swallowed. Mrs Brunell was not testing her. She was simply telling her what she had to prepare herself for! However, the mere thought that if she refused Peter to take liberties with her she would end up in a room in the attic and punished!
Anita found the whole situation so absurd and humiliating that she did not know what to say, and a suppressed laugh filled with shame beyond belief escaped her lips.
"He can't punish me. I am a free woman, it is not right!"
"Your father signed the contract, didn't he? That means that the Crawfords can do anything to you so there is no use to pout your lower lip, girl and take my advise handle your cards right and benefit from it! Now get dressed!"
AnitaТs first days at the Crawford estate were filled with learning a number of work routines and different tasks she had to master if she desired to be a good maid. Beside her work duties she also learned to know the other servants of the Mansion, 14 in all.
She learned quickly – bright in her head as she was -but she did miss a few details here and there mainly because her mind was puzzled with questions and thoughts.
The housekeeper had certainly succeeded in causing her mind a restlessness which was hard to define, and the thoughts about her forthcoming destiny caused her many sleepless hours. She really wanted to ask some of the other maids if these matters told about Peter were true, but she was too ashamed to raise the questions.
The day Peter Crawford was expected home Anita felt restless.
"Why are your hands trembling?" one of the other maids had asked her during the breakfast. Anita did not answer her, because at that moment Peter entered the servants quarters while they were still having their meal. Everyone stood up when he came in. That was the way the servants showed courtesy to the masters of the house. That had always been the way at the Crawford Mansion. As Anita looked at Peter at this close distance he looked even more handsome in his well fitting grey suit than she had remembered. A thousand memories rushed through her head – her secret moments behind the bushes of the fence, her young, hot blood pulsating in her veins -the warnings Mrs Brunell had given her- everything she sensed confused her and she had to take in a deep breath to stay calm.
The fact that every servant, young and old, had stood up as he came in did naturally add something to his authority, and Anita knew that he would not take a "no" for an answer if he gave an order to some of the servants.
"Mrs Brunell, I would like to have a very early breakfast tomorrow, around 6.30…"
"Of course, Master Peter, 6.30 it shall be and do you perhaps like the new maid to bring it up to you?" she added, knowing Peter all too well. She knew for certain that he had not came to the servants quarters just to ask for an early breakfast, he had come to see his new toy, Anita.
Peter gave Mrs Brunell a look, smiling, because he too knew that she had seen him through, knowing all his manners, both good and bad. She always had, ever since he had been a small boy. Despite her fatty and greasy outer appearance he somehow liked the woman, because she did not disapprove with his sometimes questionable habits with the girls at the estate, nor did she ever let him down in tight situations. Peter assumed that Mrs Brunells loyalty was partly based on her calculation that the Baron would soon be gone and he would then be the head of the Crawford family, making all the decisions -also regarding the personnel, but there was also something else…
"Ah, yes the new maid!" Peter said looking at Anita, approaching her. Anita did not know what to do, where to look, she just realized to her embarrassment that she was starting to blush.
"You are Anita -Jan Fohlstroms daughter, right?" he said, as if he did not know.
УYes." Her answer escaped her like a whisper.
"You address him as Master Peter or Sir", said Mrs Brunell.
Anita cleared her throat.
"Yes, Master Peter," she said while her fingers fumbled at the gray cotton material of the side seams of her skirt.
"Ah I remember we have met before and I must really get to know you better. Could you come to the library in 30 minutes so we could have a talk, eh?"
"Yes, Master Peter ", Anita said. She did not dare to look straight at him and her eyes wandered all over the room and the floor.
"Very good ", Peter said and left
AnitaТs hands trembled nervously as she precisely 30 minutes later knocked on the door to the library. During this passed half hour she had stayed in her room, because she was too tense and also too excited to handle any tasks. She had brushed her hair at least three times, wanting to look her very best when she met Peter, on the other hand she walked forward and back in her small room like a captured animal, biting her finger nails. The suspense was almost unbearable…she was soon to be alone with Peter Crawford…
"Come in!" As expected, Peter was alone in the library.
"Ah Anita Fohlstrom come over here let me look at you," he said and pointed at a spot in the floor right in front of him.
Anita did as she was told and walked up in front of him. She did not dare to look him in the eyes. They both stood there in silence for a few seconds before Peter went to the library door and locked it.
"We don't want to be disturbed, do we?" He said with a salacious grin, placing the key into the pocket of his west.
"You are quite a good looking girl, Anita it is all right if I just call you Anita, isn't it?" He said and seated himself in a huge armchair right in front of her.
"Yes it is all right…Sir…" Anita said and swallowed.
She had never felt as nervous as she did now, all her senses tingling alert while Peter eyed her all over as she stood there right in front of him.
"Do you have any boyfriends a fiancй' or something?" He asked suddenly.
"No Sir."
"Then I suppose you have never been naked in front of a young man, have you, Anita?"
"Oh Sir!" Anita wanted to sink down trough the floor or disappear into thin air. She could feel her heart start to beat faster and she could not prevent her face turning scarlet. She finally realized that everything she had been told about Peter could be true, and even if she felt trapped, she could feel sensational shivers running down her spine, feelings that she could not explain…
"As I told you, you are a good looking girl and I want to see you not like this, but in the nude! That's why I locked the door so we can have the privacy. So Anita, please take off your clothes, now!" Peter said slowly, feasting his eyes on the lustful forms of the beautiful girl in front of him.
Anita swallowed and felt a desperate need to escape.
"No…Sir…I cannot bare myself here not in front of you! ItЕ it is not decentЕ it is not right!" AnitaТs voice was trembling.
"If your Master tells you to strip your clothes off, you strip your clothes off, Anita! I hope I have made myself clear!" Peter said with a dark voice
Anita did not move. She just stood there like frozen to the spot, her cheeks turning more and more crimson.
"…I will not strip in front of you " she whispered with a panic-stricken voice.
Peter raised himself up from the chair and approached her.
"You either do as I say or you leave this house now! Tell your father to return the payment he received by tomorrow at nine o'clock in the morning!" There was a moment of silence.
"Please Sir I I can't…" Anita whispered.
"Can't make up your mind, eh?" Peter said and opened the door to the library.
"Get out!"
Anita had flung herself face down on her bed in her room, her eyes filled with tears.
In her troubled mind she knew that her situation was impossible. She knew that her father could not return the money because they had agreed before she left home that he would immediately use her salary advance to pay off the due debts at the local merchant, who had given them extended credit for quite some time.
And Jan Fohlstrom had paid the debts already the same day Anita entered her position at the Crawford Mansion. If she went home now…she knew that her parents would fully accept her decision as soon they learned the reason, but at the same time she would put her father in a terrible situation with the Baron he could even be put in jail! Who would then provide for the whole family? And all only because she refused to remove some garments in her girlish embarrassing modesty !?
Mrs Brunell had just gone to bed when she heard the knock on her door. Irritated by this disturbance at the late hour she wrapped herself in a blanket and opened the door.
"Anita! You look terrible! Have you been crying?"
"Madame please…can I come in?" When Anita had told her story, Mrs Brunell raised from her chair.
"Well in that case I think I must dress and go Peter and tell him about your decision.
That is the only way you may keep your position here, my girl. But he may not want you any more…the Crawfords are not usually changing their minds after a decision has been made" Mrs Brunell told Anita to wait just where she was and went to see Peter Crawford, hoping he still was awake.
AnitaТs face was crimson as she stood stark naked near the corner in the punishment room upstairs. She tried in her desperate embarrassment to cover her breasts and the hairy triangle shaped bush with her hands as well as she could.
After she was ordered to strip herself completely nude in front of Peter and Mrs Brunell she had not been allowed to keep a single thread to cover up her nudity except her knee high stockings and the ankle high laced shoes. From knees up Anita Fohlstrom was bare, showing her young, tall and deliciously rounded body to Peter. The young man eyed her, amused about her visible shyness and modest gestures to cover her trembling white flesh from his lustful gaze.
"So you accept the punishment for disobedience?"
"Yes Sir " Anita whispered, holding her head lowered in submission and her ears burning of shame.
"For a young girl like you it will be the birch rod…just one single rod."
"Yes…Sir "
"Madame please lower the restraint bar," Peter said, and Mrs Brunell released a rope which was attached to a metal pipe hoisted up under the ceiling. The bar came down, hanging from a sturdy metal hinge fastened to the ceiling. The lower end of the pipe was hanging freely at the level of their faces. This lower end had a collar strap and a short crossbar attached to it, like a big T-letter turned upside down.
Mrs Brunell took a ladder and made some additional ceiling fastenings to the hanging pipe, making it stabile.
"Fasten her," Peter said when the ladder was removed.
Anita had with a glimpse of panic in her eyes watched the preparations with the pipe and the leather collar. They were going to tie her up…restrain her so she could not escape the punishment!
"Come on, girl or do you want to change your mind once again eh?" Mrs Brunell said, taking a firm grip at AnitaТs upper arm and dragging the desperate, naked girl to the pipe.
Standing naked in the middle of the room Anita's head was pushed against the sturdy, vertical pipe and the leather collar placed around her neck. It was a wide collar made of thick leather with three small buckles. During the time it took for Mrs Brunell to fasten the collar properly, Anita continued her desperate efforts to cover her embarrassing nudity with her hands because Peter stood right in front of her.
"Do you think Master Peter have not seen a naked girl before?" Mrs Brunell smirked at her when she went to a cupboard and took out a screwdriver.
"Now you do exactly as I tell you, Anita, or you'll be sorry! At the back of the pipe, right behind your head, there are two small holes, two metal thumb cuffs…lift your arms and place your thumbs into the holes do you understand? Put your hands behind your head! Now!"
AnitaТs red-hot face grew even more crimson.
"Madame…please…" she whimpered, pressing her hands tightly against her bare breasts and the pubis hairs. From the corner of her eye she could see Peter smiling.
"I said NOW!" Mrs Brunell said, now more loudly and with quite some authority in her voice.
Anita closed her eyes and lifted her trembling hands towards her face, then backwards until she felt the metal pipe, hiding her burning, hot cheeks between her upper arms.
"Wrong! You know there is a crossbar at the back of your head, don't you? You raise your arms first sideways so that your elbows goes b e h i n d the bar, then you move your hands behind the pipe! Do you understand now?"
Anita did as she was told. With her neck fastened in the heavy collar, she had to arch her back and push her chest forward stretching her arms way back behind the crossbar. In this position her young, firm breasts were jutted out into full exposure. Anita had big, pink nipples, now standing vigorously out in full erection, partly because of the cold air in the room but mostly because she was every second that passed fully aware that Peter stood right in front of her, looking and her nude body. She could see his eager eyes wandering downwards below her waist, but since she did not dare to lower her hand for protection, she crossed one thigh over the other in a modest but futile attempt to hide her maiden pubis hairs. Crossing her thighs close together she realized that her inner thighs were slippery from the increasing moisture in her crotch. Anita's red-hot blushing spread way down to her upper chest.
"Ooh…no " she moaned and tried to turn her face aside, but the heavy collar prevented her from this relief too.
With a slightly forceful assistance of Mrs Brunell Anita's thumbs were fully inserted into the two small metal holes with a screw mechanism.
"Now hold your hands still!" she said, taking the screwdriver, and the metal rings closed tightly and slowly around AnitaТs upper thumbs until she had no chance to free herself.
"There…!"
"Thank you, Madame…by the way, did you bring the birch rod?" Peter asked.
"Yes, Sir…I put it in water right here behind the cupboard" Mrs Brunell said, bringing it to Peter. It was a long, freshly cut rod from a young birch tree, halfway thick as a finger and very sturdy, narrowing towards the flexible, tiny tip.
"Thank you…well, it is late, so you can leave us now, Madame, and have your well deserved rest. I can personally deal with the girl quite well."
"Very well, Master Peter good night!" Mrs Brunell said casting a last glance at the voluptuously rounded naked young girl standing helplessly restrained in the middle of the room, she left, closing the door behind her.
"She has quite a well sized ass like a grown up lady…he would have been most disappointed if she really would have left," Mrs Brunell thought as she walked down the stairs to her bedroom.
The darkness of the night covered the Crawford Mansion in its veil except for a tiny beam of light zipping through the curtains from one of the small windows in the attic. Peter had turned on every gaslight in the punishment room to have a better look at Anita.
"You said you would take any punishment from me -or whatever I decide to do to you if you will be allowed to stay, didn't you, Anita?" Peter walked slowly around the naked girl, enjoying the lush, feminine contours of her healthy, young body. The breasts stood firmly and lustfully out with the nipples erecting hard in full size, the white bare flesh of her belly moving with every breath. AnitaТs narrow waist widening downwards into the broadening hips and full sized buttocks certified that she had long ago transformed from a young girl into full womanhood.
"Well, didn't you?" asked Peter again, now standing close in front of her.
"Yesss…ssSirЕ" Anita hissed, her heart beating fast.
When Peter had switched on all the bright lights in the room after Mrs Brunell had gone, displaying her nakedness in full, the embarrassment had caused her goose skin all over her body. And worse, she felt the tingling heat building up between her legs increase when she almost felt Peters eyes focusing on that particular part of her body. She could feel her moisture smearing her inner thighs all the way down to her knees.
Even if Anita had closed her eyes she knew that Peter had moved behind her. The strap around her heck prevented her from twisting her head and look back, but her senses were alert when she suddenly felt Peter touching the bare skin of her waist. A nervous quiver followed by an immediate rising of goose skin soon covering her entire body, she sighed loudly with a hissing sound.
"Anita, ever since I saw you at the water well I have thought about you quite often," Peter confessed while he was moving his hands upwards to AnitaТs chest.
Her reaction was spontaneous, but her desperate effort to escape his obvious intension to touch her bared breasts was useless. Anita tried to free her hands, writhing her upper body like an eel, but she only hurt her thumbs. Realizing that she was not able to prevent him from touching her bared breasts, a series of cold shivers run down her spine and her nipples grew hard as raw, big berries.
"HHHHH…hhhЕ PleaseЕ no SirЕ nooЕ", Anita whispered as his hands cupped her firm breasts, exploring, caressing her gently.
When he started to roll her hard nipples between his forefingers and thumbs, Anita begun to squirm and her fast breathing hissed through her nostrils.
"HHHhhhhiiiiiЕ hhhhhiiЕ" she hissed. Anita had never been touched like that by any boy before, and the deep crimson color in her face showed that in normal circumstances she would never have allowed any boy to fondle her tits the way Peter did now. Anita considered her breasts as a very intimate and sensitive part of her body, but there was nothing she could do to prevent this. In spite of the humiliation and shame to be treated like this, she also realised that other feelings were about to take over. When she squirmed and rugged her thighs together, she could feel the lubrication of her slippery moisture running down her inner thighs, but there was nothing she could do about that either.
"HHHHHH hhhh ЕPlease… nooo " Anita had kept her eyes closed during her ordeal, but now her eyes suddenly opened wide up and her face got an expression of panic as she could feel PeterТs hand traveling gently downwards over her naked skin. She begun to twist and wriggle her body in all directions, crossing and clamping her thighs tightly together when Peter had moved his right hand down over her belly and was touching the harsh, curly pubis hairs. Her legs started to shake when he forced one finger deeper down and felt the pulsating moisture in her clit. In desperation Anita tried once more to free her hands from the restraints when Peter pinched her left nipple with his other hand but there was no escape.
"HhhhhhhoooЕ hhhhhЕ" She panted again when she could feel his finger move inside her slippery, wet clit and all muscles in her body, from her toes to her fingertips, strained into a trembling mass of white flesh. The sensational feeling -a mixture of the ultimate humiliation and the tingling heat between her legs- caused her involuntary memories of the times she had been masturbating behind the fence to the Crawford estate, and those flashbacks of memories just made her juices in her young pussy increase to the point from where there was no return. Peter continued to move his finger inside her, and she could not prevent her thighs from rubbing and pressing together in a most exiting manner.
"Hhhhhhhhhh…hhhhhhЕ", she uttered, feeling the broad leather collar forcing her to keep her head up. With her arms and hands immobilized, Anita's naked body was totally displayed for PeterТs exploring hands, and at the very slightest movement of his finger, long quivering spasms and shivers run constantly through her young flesh.
When Peter suddenly withdrew his finger, letting it glide along the hardened clitoris, AnitaТs whole body started to vibrate uncontrollably. The blood pulsated hot through her veins, and she knew that if Peter would continue to finger her dripping clit, she would have an orgasm within seconds. But he removed his finger.
Oooh, my God…don't stop n o w !, she wanted to cry out in her state of heat as the spasms of her young, hot urge made her flesh writhe within the bonds.
"Hhhhhhhhh…hhhhhhhhhh…" Anita panted, biting her lover lip.
"Wow…you are quite a hot and wet one, you slut! But I like it", Peter said smiling.
"But you are not here in this room for pleasure, you are here to be punished for disobedience!"
"Hhhhh hhhhЕ", Anita still gasped, left there in a turmoil state of mind on the border zone of a rising orgasm that never was to be culminated.
"I think I must tie you legs so you don't kick me,", Peter said picking up a strap with a buckle. Kneeling down, he passed it twice around AnitaТs ankles, around the high heeled boots she still was wearing. Then Peter rolled down her stockings all the way down to her ankles caressing her long, shapely legsЕ
"Real nice, strong legs you got, girl."
Anita breathed heavily when Peter took the long, flexible birch twig and took position behind her at her right. He stared with fascination at the well proportioned forms of her milk-white buttocks, swelling lustfully out from the small of her back. He noticed that her flesh quivered nervously, and that her buttocks did their best to contract from his gaze. As he had tied her ankles, he had forced her legs slightly backwards and fastened them to a ring in the floor, making her arch her back and present her feminine behind in a most efficient tip-toe position for the rod.
"So, now you will taste a little of the Crawford discipline, which you certainly will be remembering for some time", Peter smirked and raised the rod.
The muscles in AnitaТs calves and thighs tightened and her buttocks vibrated visibly when the rod came whizzing down across her white, unprotected flesh, making a cracking sound.
There was a short smothered gasp of agony as the stinging pain of the lash reached her brain, then her hips suddenly twisted and turned in a violent movement left and right while her buttocks started to quiver, clasping, and open up and closing again under the surprising hard, stinging agony.
"sssSSSS…hhhoooooo…ooh nooo…" she gasped, her eyes wide open, almost choking herself on the collar that held her firmly in position. Anita had never been whipped before.
And is was more terrifying than she ever could have imagined. Her parents had never chastised their children physically, so her white, soft bare skin was virginally tender. A red stripe with a slight swelling lined the white milky flesh of her trembling buttocks.
"No please nooЕ not again", Anita pleaded in a hoarse, whispering voice as she had to thrust her hips backwards again in the tip-toe position in order to avoid the choking effect of the tight collar around her neck. From the corner of her eye she could see Peter raise the rod again, and in despair she shifted her weight from one toe to the other, the white flesh of her violently quivering buttocks pouting out in a perfect position to receive the next swishing sting of the lash.
The whippy, thin rod whistled and landed across the quivering flesh, just below the first, red line.
"AAAAhhhhoooooo ooooooooo noooo!!!Ф
The terrible pain made Anita to once more wriggle and twist her body in all directions and her stinging buttocks bouncing wildly around, she tried in desperation to free her thumbs once more, her elbows drumming onto the cross pipe that held them back and her breasts jutting madly in the air. But soon she realised she was unable to breathe and that her thumbs hurt quite badly, she had to resume her degrading tiptoed position and present her trembling, bare buttocks for the cruel rod.
Peter smirked. Anita would certainly be brought to her knees and submit herself to all his wishes. When he raised the rod again he could see the flesh of her buttocks starting to vibrate in a most uncontrollable manner. He held back the rod to watch the trembling vibration increase and spread all over her body. As Anita suddenly realized that he did not bring down the rod, the shaking stopped and her buttock halves opened suddenly wide up from their hard, contracted condition. Then Peter lashed down the rod …and watching her reaction made the bulk in his trousers grow bigger.
It was half past two in the morning Anita was lying face down sobbing on her bed in her room. She had rubbed the lineament Peter had given her into her sore, swollen red buttocks.
Her thumbs were swollen too, but the physical discomfort was nothing compared with the degrading humiliation and mental stress she was going through. Her embarrassment and shame during the ordeal had been worse than she could have imagined, and another burst of tears wetted her pillow and her blushing cheeks. How she had wriggled and squirmed her naked body in front of Peter! And he had touched her right there! Anita could not resist to move her hand down to her still hot and juicy, pulsating sex and touch herself where Peter had touched her, and in a few seconds a violent orgasm took all remaining strength out of her body. Still sobbing, Anita fell asleep, lying face down with her hand beneath her and her finger still inside her
She woke up a little bit too late, and rushed down to the kitchen in a hurry. She knew that Mrs Brunell was very strict concerning the working hours for the staff. The other maids were already on duty, and Anita could immediately see their glances and hear their giggling when she entered. In seconds AnitaТs face turned scarlet. News seemed to travel fast in this household. She wanted to sink through the floor and disappear into thin air when Mrs Brunell told her to take her well whipped ass into the linen room and start her work.
The liniment she had got from Peter seemed to work amazingly fast, and in two days the last marks on AnitaТs buttocks disappeared.
"Don't bother yourself to listen to all gossip and giggling, all of the maids have gone through the same as you, and many of them more than once!" Mrs Brunell told her when she found Anita crying in the linen room. Her words did help, and soon she was able to look the staff in the eyes again.
Anita had just accepted her fate and tried to forget her humiliating ordeal, she was even able to serve dinner in front of the Crawfords without turning pining red in her face when she saw Peter. This evening the Crawfords had a guest at the dinner table, a young lady, Miss Hazel Devon.
Miss Devon was the daughter of a wealthy politician, and there had been some talks within the families about a possible marriage between Hazel and Peter. This idea of marriage was brought forward more from Hazels side of the family, and also by Hazel herself – but as Peter did not particularly like the rich, spoiled lady – no date for any marriage had been set.
During her stay at the Crawford estate, while questioning one of the maids about Peter, Hazels suspicion was raised that Peter fancied one of the servant girls, Anita Fohlstrom.
Filled with suppressed rage, she came to the conclusion that this particular little bitch was nothing but a fortune-hunter of easy virtue, a common whore who did not know her place in society! She also came to the conclusion that this peasant concubine was the reason for Peters lack of interest in her! And that she -Miss Hazel Devon – had a rival, and more so, a common service girl – made her furious. She decided to certainly do something about it!
It did take some planning, but Hazel succeeded in convincing the Baron -and Peter- to order Anita Fohlstrom to accompany her to the city, where she was to serve as a maid in the Devon household for some time, because they had just "lost" a maid, and "good maids are so hard to find now-a-days", at least until they found a replacement. Hazel Devon promised that Anita would be back at the Crawford estate in two or three weeks – and she offered a handsome amount of money to the Baron for this kind assistance. And the Crawfords were more than happy to help her, business-minded as they were.
Two days later Hazel Devon was having tea with one of her father's layers, a man whose reputation among the attorneys in the city was at least questionable because of his shrewdness and tendency for operating behind the scene of the law. A lawyer politicians sometimes need for their dirty work.
"So you need this maid to be trapped into some criminal act and sentenced to a correctional institution? Is that what you are saying?" the lawyer asked her.
"Yes. I want this bitch to suffer…in the very worst kind of penitentiary ! Don't ask me why, it is a personal matter", Hazel said. "And you will naturally be rewarded above the normal fee ".
УAll right as a favor to you, my dear ".
Anita had never been in the big city before, and she enjoyed the streets, the shops and all the people with all her senses alert as she walked down the narrowing street in her new, beautiful dress Hazel had bought her on their day of arrival. The blue satin dress with all the ribbons and frills made her really feel like a lady. The dress was somehow a little too short and revealing in her opinion, but she was told that it was the latest fashion and it made her look very beautiful, and that she certainly had the figure for it.
She looked once again for the address written on the envelope she was supposed to deliver, and found it Hotel Belinda
"There she is…now go!" the lawyer said to two detectives who had been waiting in a carriage on the other side of the street.
Hotel Belinda, well known as a local brothel, was raided now and then by the police, and all the girls arrested for their unlawful conducts. Anita did not really know what was happening, but a few minutes after she had entered the hotel, she found herself forcefully pushed into a barred police carriage together with a number of other women. Some minutes later they were all thrown into the cells of the police station. There, imprisoned together with a number of other young women Anita Fohlstrom finally learned that she had been arrested for prostitution!
"The Judge will just make you pay the fine, and off you go", the other girls enlightened her "pretty dress you got there …new around here, eh?"
The next morning when all the girls were lined up in the court room listening to the Judge scolding them for their conduct of behavior, Anita was given no chance to explain herself, and without any further examination, because prostitution was just a trivial offence, all the girls were sentenced to pay a fine. Some of the girls paid the fine almost cheerfully, smiling invitingly at the court clerk before they left the court room one by one. But Anita Fohlstrom had no money.
The Judge just smirked at her when she tried to convince him that she was absolutely no girl of "easy virtue" and that her arrest had been a mistake , an unfortunate coincident
The Judge sighed he had heard it all before
"Look, young lady …no decent young woman wears a dress like that unless her intensions are to lure gentlemen into it. I will have no more of that if you don't pay the fine in full here and now it will be the House of Correction, it is as simple as that, Miss Virtue!"
A lawyer among the crowd in the court room smiled. His task was done.
The woman in the cell was older than Anita, 28 in fact, and she stood there motionless with her forehead resting against the cold bars of the cell. She was a very beautiful lady, fairy tall and exquisitely made. She had the most beautiful, candid eyes of a deep azure blue that Anita had ever seen. They seemed to portray a great depth of character and also a sweet, refined and gentle disposition. Her nose was aquiline and her features delicately chillesed, an attribute which also applied to her ankles, feet, wrists and hands, which were thin, fragile and of aristocratic appearance. By way of contrast, it needed only a casual glance to discern the opulent voluptuous swellings of her exceptionally well-developed bosom and hips beneath the black satin gown that she was wearing.
Anita did not say anything, she just sat down on the wooden bench in the cell and glanced at the woman who seemed to stare into the emptiness of the square, adjoining room. After a moment of total quietness, the young woman seemed to lift her face upwards and closing her eyes she gripped the iron bars with such force that her knuckles whitened.
"They can't…they just can't!" Anita heard her whisper, when the door to the adjoining, main room opened and a tall, sturdy guard came in. The woman in the cell took a few steps back from the bars and glanced at Anita for the first time when he approached them.
"Ah not bad not bad…two of you tonight…and such pretty ones!"
He smirked as he eyed the women from top to toe.
The woman in the black dress lifted her hand and looked at the tall guard grinning behind the bars.
"Please…Sir listen to me I am Pamela Wright and must see the Judge or the Magistrate please…ask someone with authority to see me, and I will reward you please", she said, opening her hand and showing him a golden coin while looking at him with her sparkling, blue eyes, trying to produce a pleading smile.
"A bribe, eh look, Lady…I heard that the Magistrate refused your plea in court to pay any fines…but no money could help you then, eh? And not will it help you now! Someone really wants you birched on your bared ass maybe someone of the four gentlemen that will be attending and witnessing your punishment", the guard grinned and turned away.
Pamela Wrights cheeks turned slowly scarlet and with an absent expression in her face she sat down beside Anita on the rough wooden bench in the cell.
"ThisЕ this is obscene…!" she sighted with an ironic smile on her lips which more revealed her feelings of shame, embarrassment and degradation beyond belief than any joyfulness.
More or less nervous outburst of numerous women had many times taken place in the waiting cell of the adjoining punishment room, and just as often the women had seek ease and comfort to their troubled minds by sharing thoughts and supporting each other.
During the waiting hours in the cell Anita learned that Pamela Wright was born and brought up as a lady, being one of the most attractive and wanted young ladies of the society, until the misfortune of her fathers business and his sudden death. As the sole heir, Pamela found herself in great debt to one of the rich, young men that had fancied her for quite some time.
Unable to pay off her debts, this man, George Phillips, had the nerve to suggest that Pamela could pay him little by little by submitting herself to his most indecent, personal desires. Filled with outrage, Pamela had slapped his face as hard as she could…and now, two weeks later, she was arrested for assaulting a gentleman! A gentleman indeed!
But George Phillips had the best lawyers and all the bribe money needed to have Pamela Wright sentenced to the House of Correction for Women! There was no place on earth women dreaded more than this institution, and the rumors about the punishments inflicted upon the convicted females made many young ladies turn scarlet of shame.
Anita could see PamelaТs hands shaking and did almost forget her own situation as the time for their forthcoming ordeal approached. And they did not have to wait long, because the guard with the grin on his face stepped into the big square room, carrying a heavy leather clad punishment block. He placed it in the middle of the room where the floor had fitted in bolts for the base of the block.
"Oh no ", Pamela sighed, looking through the bars when the guard fastened the block to the floor.
The block consisted of a heavy round piece of timber, padded and covered with black leather and held upright by two square, wooden pillars from the middle of the wide, thick base board.
Both Anita and Pamela stared in dread at the preparations, and PamelaТs face turned crimson once more when the guard brought in four easy chairs, placing them in a half circle around the block at a very close distance. Then four buckets with freshly cut and bundled birches were brought in, well covered with water to keep the twigs supple and fresh. The both young women were standing behind the bars, quiet and in a turmoil state of mind.
"Well, my ladies, we are all set I will inform the bailiff so you don't have to wait any longer", the guard grinned at them and left the room.
The Bailiff, two guards and a clerk boy entered and the iron barred door to the adjoining cell was unlocked and opened. Both Pamela and Anita had moved backwards and stood now panic-stricken and pressing themselves against the back stone wall of their cell when the Bailiff looked over his papers.
"Miss Pamela Wright, step forward!" A hissing sound was heard when Pamela cached her breathe and tried to step forward, looking in panic around her. The Bailiff looked at the two guards, who immediately came forward and gripped the pretty woman roughly, pushing her forcefully before them into the punishment room. The young clerk, probably in the same age as Anita, closed and locked the door to the cell, glancing at Anita with such lustful, eager eyes that it made her want to give him a slap in his face.
In the punishment room Pamela was made to hold out her wrists in front of her while the guard buckled the leather restraints which held her wrists together. Two other leather cuffs were then brought forward, one to each ankle. Held upright by the other guard, Miss Pamela Wright found any physical resistance useless.
The Bailiff eyed the voluptuous forms of the strikingly beautiful woman in front of him and licked his lips.
"Place her in position!" he said to the guards, and Pamela was roughly brought forward to the punishment bock until her front thighs pressed against the round, horizontal piece of the block.
"Now bend over, Miss Wright!" the Bailiff said, and Pamela looked at him with despair and panic in her eyes, but she did obey.
The black satin material of her dress tightened visibly over her widening posterior as she bent over the padded piece of wood, and a suppressed gasp of humiliation left her lips when one of the guards grabbed her wrists forced her further down to secure her wrists to a ring in the base of the punishment block. With her hips held considerably higher than her head, the bent over position was most degrading for any lady, and certainly for a Lady of Quality. The Bailiff however did not take any notice that this young woman was a well educated and upper class Lady, and he added her humiliation by asking the guards to fasten her elbows to the base, which meant that PamelaТs head and shoulders were drawn even lower and her bottom thus forced higher up on the block in an even more shameful manner.
"You can ask the gentlemen waiting in my office to enter now", the Bailiff said to the clerk boy.
"Yes, Sir."
"Oh no Sir please have mercy…whip me if you must but spare me the shame of doing it in front ofЕ of those men", Pamela pleaded in a trembling, hoarse voice, lifting her beautiful face from her degrading position.
The Bailiff did not answer her. He just went to the door and opened it.
"Gentlemen, come in!" H e said a moment later. Pamela seemed to panic, tearing hysterically at the bonds that held her wrists and elbows secured to the base of the block. She hide her flushing, scarlet face between her stretched arms and a few suppressed, hysterical laughs left her lips. For a lady of her rank age and social class it was extremely humiliating to be presented with her posterior held high in the air over the block, ready to be whipped as a common harlot.
In the company of George Phillips three other young men entered the punishment room. Pamela knew all of them from numerous former occasions, and especially one of the men, Mark Fallon, made her knees tremble and her buttocks to cling together in a manner that was clearly visible beneath the tight satin dress.
No-one knew that the reason why Pamela had never married was Mark Fallon, the handsome gentleman she had fallen for in her late teens. The same young man that had occupied her daydreams as well as her fantasies late at nights but the one who had never asked her to marry him. Pamela could not prevent another series of some short, suppressed laughs brought forward in a nervous, hysterical outburst.
"Gentlemen, have a seat…we have arranged all the comfort of the house as you can see," the Bailiff said.
The half circle of chairs were set up behind the punishment block, providing an excellent view over the lustfully swelling bottom forced high up in the air and the long beautifully formed legs beneath the hem of the black dress. The dark silk stockings formed a beautiful harmony with the black dress, bringing forward the muscles in her calves in a most exiting manner.
"Good evening, Miss Wright " George Phillips said with a sarcastic tone in his voice and nodded to the Bailiff to proceed.
"Gentlemen, there is no more effective punishment for a naughty lady than a good sound whipping. Tonight, as you will witness, Miss Pamela Wright shall receive 30 strokes with the birch. The birch will be given – as always – across the bared buttocks of the culprit. Guards, prepare Miss Wright for the birch!"
"Hhhhhh…" Pamela hissed when she felt the hem of her dress lifted, baring her legs and the milk-white skin of her thighs above the stocking tops. The shameful ordeal of being stripped in this manner made the muscles in her legs tighten, especially when the guard had to force the tight satin material higher up over her widened bottom and hips, which took a considerable time to do. But the guard took the time needed, and shortly PamelaТs dress and chemise was neatly rolled down to her armpits and secured there with some needles.
PamelaТs swelling buttocks filled tightly the white batiste knickers which were quite small for a lady of her age. They were high fashion from Paris with rose colored ribbons and strings around the waist and the thighs. When the guard started to undo the strings, the flesh beneath the thin material seemed to come alive in a very curious way and PamelaТs scarlet face flung up, her desperate eyes looking for the Bailiff.
"Please, in the name of decency not…this oh Sir not with the men looking oh… noo!" Pamela was trembling from head to foot when her bottom was bared. The white flesh of her buttocks were quivering involuntarily, and the mere thought that she was now shamefully exposed in front of Mark Fallon and the other men sitting right behind her, made her well spread and swelling buttock cheeks clench violently. The guard removed her knickers completely.
"What a magnificent arse!" In her turmoil state of mind Pamela could hear the comments from the men, and some additional, violent clenching movements of her bared buttocks made the men laugh.
"Oohh Sir…please…do it quickly…I cannot bear this shame!" Pamela whined in her desperation.
Meanwhile the guards had fastened the ropes to her ankle straps, one to each ankle.
The base of the block had two iron rings in each corner, and Pamela was to be birched with her legs drawn wide apart so that the sting of the birch twigs could freely bite into the most sensitive areas of a womanТs anatomy. This was the way women were punished by the birch in the House of Corrections.
The fact that when the thighs were parted wide open, the woman had no chance to cover or protect herself against the eager eyes behind her as the most intimate parts were shamelessly exposed in a most indecent manner in front of everyone. Pamela Wright was a tall and strong woman who tried to avoid this ultimate humiliation by clinging and crossing her thighs together in an inhuman effort and state of panic, when she suddenly realized that they were going to spread her legs open.
Even if the guards were strong, they had to use considerable force to have PamelaТs legs parted and her ankles secured to the iron rings.
"HiiiiЕ hhhhiiiii…",Pamela breathed heavily as the muscles in her thighs and calves trembled and twisted in her futile attempts to break loose and hide herself from this ultimate indecency. Despite her almost inhuman efforts to prevent this Pamela's thigh were opened, exposing a very wet clit with the tiny hairs before the eyes of the flush faced spectators. As the ankle ropes were tightened also her tight pussy lips opened up and revealed a rosy and moist portion of a most female, intimate anatomy. In her turmoil state of mind Pamela Wrigth could almost feel Mark Fallon's eyes on her wide open pussy, a fact which made her clitoris to stand vigorously out like a hard pearl and some hysterical, short laughter escaped her lips.
The Bailiff took his time and let the men enjoy the scene, the jutting and quivering bared flesh of the beautiful, lustful woman with her buttocks held high over the punishment block and her long, beautifully shaped legs straddling wide open.
The men were all sitting there staring at the spectacle when the Bailiff gave one of the guards the order to fetch the birch.
In the bucket was several birches, seven or eight long, well selected switches tied together in bundles. The guard selected one of the bundle, an excellently prepared, long swishy birch.
Pamela had from her degrading, frustrating position seen the guard select the birch, and when he approached her, the trembling in her body increased. The trembling in turn affected the inner parts of her thighs, which were slightly fat and as tender as the skin of a baby, for they were quivering involuntarily, the flesh actually shaking like jellies.
Whether it was due to the acute feminine realization of how keenly she would soon feel the sting of the birch or the long period of awaiting in this humiliating position, or her attempts to minimize her position, the men sitting closely behind her could not tell.
However, as the guard swished the long birch-rods through the air, the lady made great effort to squeeze the cheeks of her large well rounded bottom together. She could not, however, succeed very well, held tight and bent over the block, and the great nervous expenditure involved caused her bottom to visible quiver and tremble in a most delicate manner.
"Miss Wright, you will now be birched…Guard, proceed!",
the Bailiff said and stepped aside to give room for the swing of the birch.
The guard raised his birch and brought it down with considerable force. There was a vicious hiss, and the men sitting behind her saw the twigs bite into the delicate white flesh which yielded like melted butter, and follow the voluptuous curves of PamelaТs bottom from hip to hip with a report like a hail-storm.
Stung to the very core of her being, Pamela leaped within her bonds with tremendous energy for such a delicately made woman. Her fingers clawed in the air and her high heeled shoes beat a sort of tattoo against the wooden base of the block. There was no cry of pain except a curious low whistling sound which escaped through her clenched teeth.
The guard adjusted his position somewhat, and gave her a master cut which curled around the base of her posterior. Pamela twisted her hips from side to side and uttered a short little scream then continued to utter three or four suppressed squeals for about fifteen seconds or so.
Her efforts to escape the position over the punishment bock caused her to vigorously raise her bottom up and down, while the deep plump hemispheres opened wide only to sharply knock against each other, which caused the whole of the supple flesh to waggle about in a most exiting manner.
"Perhaps this will teach you to be less arrogant against young gentlemen in the future, Miss Wright", the Bailiff said, and saw that the flush faced, highly exited men silently agreed. One of the chuckled nervously with a curious throat sound. To see Pamela wriggle and bounce her fleshy, bared and jutting buttocks in this most exiting manner had caused all of them strong erections.
"A good sound whipping on a woman's bare bottom is something they usually understand", the Bailiff said and nodded to continue.
Swishhh!…
Again the birch cut deeply into the soft flesh and made Pamela writhe.
"Ee–ee–ee ", she screamed shrilly. She lifted her body up on tip-toe only to throw herself heavily down over the hump again. Maddened with pain, she tried once again to brake loose from the bonds that held her, twisting her hips violently from side to side, rocking at the round leather clad piece like she was trying to tear it out from the base that held it upright.
She made supreme efforts to stiffen the whole of her muscles to counter the next stroke. Her feet knocked violently against the wooden base and caused the masses of the white flesh constituting her thighs quiver lecherously.
In vain she tried to harden her frail posterior muscles. It was quite a waste of time and effort, for the birch cut deeply into the woman's flesh a forth time. She regained her breath before shrieking with all the power of her melodious voice which made the men laugh.
All this time Anita had stood like frozen against the bars in the waiting cell looking at PamelaТs humiliating ordeal in the punishment room, her face changing colour from pink to crimson, but now, when she heard PamelaТs agonized scream, she turned white.
"Ehr-r-r-r-r-r-r-r- …Ehr-r-r-r-r-r-r-r-r-r-r-r-r-r-!", she heard her scream and saw Pamela writhing furiously her bared ass like a maniac on the block. Anita also saw the men and how their faces glowed lustfully watching the bizarre scene in front of them.
The stroke had landed with considerable force on the lower parts of her buttocks, and two or three twigs of the swishy thin birch had curved in between her well spread thighs, biting the most sensitive parts of her sex and the inside of her white, trembling soft thighs.
The guard examined the birch and went to the bucket to select a fresh one whilst Pamela wined and continued to clench her well spread, burning red-hot bottom.
"A birch gets a bit frayed at the end during a whipping, loosing the best part of the stinging effect, so we usually change into a fresh one after four or five lashes", the Bailiff informed the men, "and it is our intension to flog this woman soundly", he continued.
Pamela Wright twisted her neck, her beautiful deep blue eyes welling with tears, her sensual mouth wide open in which one could see her even white teeth.
"Stop No more I can't stand any more " she howled loudly.
"Mercy Have Mercy!"…
"Ah Miss you are starting to learn the efficiency of the birch that's good…but I can see that you are pleading for mercy just to get off easy. But that does not work here, lady, there is still a good way to go before we are through with you, my lady!" In desperation Pamela twisted her neck in the other direction, just in time to see the terrible, fresh birch rising.
Sssswish!
The new swishy rods caught her at precisely the moment that her dancing buttocks rose in the air, smiting the flesh about an inch below the last stroke. The traces left by the rod were marked hither and thither in fan-like outspreading thin weals, interspersed with violet notches and tiny white spots where the birch rods had blistered the flesh, but so far not a trace of blood.
For fully five seconds the whipped woman remained mute, then she let forth a high pitched jarring howl that resembled nothing human.
The guard was quite calmly measuring his distance for the next stroke, calculating with precision the leaps of the violently dancing posteriors, so as to bring each stroke well on the target.
"Can't hold your big bottom still, can you, Miss Wright? But I am sure the gentlemen appreciates to see such a lively performance, eh?" the Bailiff said mockingly.
Ssswish!
"Eeee Eee !! Oh My God…Ah…rrrr I can't bear it
УPlease stop please…please…!"
Sssswish!
Her mouth wide open gasping for breath, her fingers clawing in the air and every muscle in her body strained, Pamela felt the unbearable pain across the back of her most sensitive upper thighs were the birch-rods had been applied.
"Ahr…rrrr rrrrrr rrrr !" The white flesh in her thighs vibrated violently and her feet beat the base in a furious tattoo-like manner, the big white buttocks clenching madly, one moment just to spread themselves up into their full size and exposure before the next trembling contraction.
"Oh…no My God…oh nooo !" Pamela howled.
Even if the pain tormented her body as well as her mind, she was well aware of the fact that her buttocks clenched and opened shamefully in a continuous, slow rhythm, but there was nothing she could do about it. During the whole ordeal she had not for a split second forgot that Mark Fallon was sitting there watching her shame, a fact that only added the involuntary trembling running through her body without any control whatsoever.
Sssswish!
"Y ar rr oooooooooo…hh Ahrr rrrr.rrr !" One again Pamela plunged within her bonds with the desperate strength of a maniac. It was indeed a wonder that the straps held firm on account of the heavy strain put upon them.
Anita laid face down weeping on the wooden bench in the cell. The Bailiff had informed her that she would taste the birch later this same night, and his words had caused cold shivers run down her spine.
After Pamela had been released from the punishment block, the guards had taken her to another part of the prison, and Anita was left all alone in the cell with her agonizing fear to the forthcoming punishment. Her brain could not turn off the images of PamelaТs ordeal…and at the end, when she was still restrained on the block, the men had been allowed to examine her striped flesh. Their fondling fingers had examined much more than just her buttocks…
When a man they called Mark had fingered her, Pamela had started to tremble and twist her hips against the block in such a shameful manner that Anita had turned her crimson face against the wall. She had heard Pamela breathing fast and sigh heavily just before some suppressed shrilly short screams mixed with some curious groans had left her throat, making the men laugh…
From time to time Anita looked in dread into the punishment room where they had left the terrifying birching block waiting. AnitaТs unfair destiny tortured her mind and was hard to bear, and her mood changed rapidly forth and back from furious anger to self-pity and repeated outbursts into tears.
The two guards and the clerk boy suddenly entered, and Anita jumped up from the bench with all her senses alert she stepped back against the wall. The door was unlocked and she was ordered out, where the pimple faced young clerk licked his thick lips while he was eyeing Anita with his lustful eyes and with an eager expression in his face, walking forward and back and around her, touching her occasionally in a most irritating way while the two guards remained in the background.
"Please…stop that!" Anita burst out. She was not used to having a young boy who was hardly her own age agitating her in such an indecent manner.
The boy smiled and turned towards the guards.
"Tell her " "Miss, the Bailiff will be occupied elsewhere tonight, so he gave Frankie here the permission to deal with you… he is a trainee here so to speak", the guards coldly told her while the smile on the boys face widened.
"I am going to whip you personally", the boy told her, still smiling…" in a manner that whores are whipped " AnitaТs face had turned scarlet by the mere thought that this boy was given the legal right to chastise her personally. It seemed so very wrong, so unfair and improper that she wanted to scream.
"I am…no whore!" she said as calmly as she could with an anger caused by an extreme feeling of humiliation building up inside her.
"I want to see you naked take your clothes off… everything…!" the boy said.
Anita looked with a kind of defiant stoicism right into his eyes, but seeing him just stand there with his lustful grin on his face she turned towards the guards in a silent call of a chivalrous rescue from their side. But there was none.
"Hold her!" the boy said.
As Anita was gripped firmly by her arms she tried to rip herself loose in rage, but was held steady and pushed forward in front of the grinning boy. He touched her blue dress, letting his hand move up over her breasts in a most humiliating manner.
AnitaТs efforts to free her hands and prevent the boy from touching her just resulted in a tighter grip and her arms were drawn further out.
"Nice tits…" the boy grinned as he started to unbutton her dress slowly, clearly enjoying himself. AnitaТs ears burned red hot and she turned her face away, breathing heavily through her nostrils when her dress was drawn aside in the front and her young, firm breasts with the erecting pink nipples was bared, quivering unprotected in the cold air of the punishment room.
The pimple faced boy licked his lips and his grin widened as he continued to unlace the garments of the young, beautiful girl held in front of him…
Miss Hazel Devon was quite satisfied and lifted her glass with a double portion of sherry with a diabolic look in her eyes.
"Now that little bitch will get what she deserves. I have heard that women prisoners in the House of Correction who are sentenced there on a prostitution charge are flogged in a manner that will keep them from the streets for weeks…it must certainly be a dreadful place!" "I am pleased to hear that you appreciate my services, Miss Devon", said the lawyer, "and as far as I know, Miss Fohlstrom will not be spared any punishments, because the charge w a s prostitution the plan worked perfectly".
Hazel Devon giggled, visibly effected by the wine and sherry she had been enjoying.
"Is it true that they whip whoresЕdirectly on…their…source of income, so to speak?" she asked, still giggling and sipping more sherry from her glass.
УYes."
"How awful and it must be very embarrassing heh heh heh glp rr.rrr!"
"Miss Devon, perhaps you'll better leave the wine now and go to bed…it is quite late", the lawyer said, anxious to stop the conversation. From his previous experiences Hazel could suddenly get the most crazy ideas when she was drunk, and he felt a strong need to stop whatever could happen before the situation ran out of hands.
"To bed?…All alone?" Hazel pouted her lip and tried to look charming, imitating and attractive. In her condition all men started to look interesting, presenting objects to be conquered.
"Yes, Miss Devon alone it really is for the best"…
"Eeeee oooo noo not there!…Mercy!…I am no whore!" Anita screamed as the unbearable sting of the small leather thong made her plunge within her bonds in her furious attempts to escape the next lash.
The flesh of her inner thighs trembling violently and her breasts bouncing madly in all directions while her uncontrolled screams echoed within the walls of the sparely furnished room. Her entire body was sweating and the white flesh writhed glowing in the bright gaslights of the punishment chamber as the small drops of sweat plunged out of the pores of her skin.
Zzzzipp!ЕЕЕ
"Eeeeeooooo oh noo…please not any more not like this …hoooo.ooo Mercy!" Anita Fohlstrom was whipped on her pussy by the pimple faced clerk boy, fastened to the punishment block in a manner that had made many harlots blush of shame. She was bent backwards over the padded round bock, her hips and naked cunt held shamelessly high above the floor. Her legs were drawn as far apart as the fastenings allowed, and her wrists were secured on the other side of the block. The wide spread of the thighs had opened her pussylips wide, displaying her young female genitals in a most crude manner. Her rosy pussylips were slightly swollen and the clitoris plunged out hard and shiny in the middle of the moist, pink flesh of her female sex organ.
Zzzzzipp!
The single leather thong had whined down again and stung Anita to the very core of her being, biting into the moist, tender flesh between her legs. She had seen the lash coming and the muscles in her widely spread thighs had immediately started to tremble vigorously, but the restraints were tight and there was no escape.
УArrrr rrrrr eeeoooooooo…rrr…noo more no more!!!!"
The shock of the biting whiplash along the crack of her pussy rushed through her body, making her tits jutting violently in a manner that exited the boy to that extent that he went around the punishment block and gave her several master cuts with the thong across her madly bouncing breasts and nipples.
"Whore !" he said, and went back to his position behind the block.
Anita started to cry soundly, like a baby. With tears running all over her face she knew that she could not take any more.
Many girls would have fainted after the first two or three lashes, but Anita was a strong and healthy country girl and able to take more pain than many others without loosing consciousness. But there is a limit even for a strong and and well fit girl – for Anita it had been 18 stinging lashes right along her opened pussyclit, given with a cruel, short one-thonged whip with a wooden handle. Her tear-filled eyes did not see the next lash, she could only feel the extreme biting pain when the tip of the round leather thong lashed into her clitoris and made everything suddenly disappear into darkness. She had been whipped like a whore…something many of the harlots on the street had experienced as freshies in the trade and something they swore never to experience again. Most of them did not ever practice their trade in the neighborhood of the House of Correction because the whole place caused them cold shivers.
Only a few former inmates with specific, masochistic sexual tendencies felt a certain glow inside them every time they walked by the stony walls of the institution.
УWell, how nice to see you, Baron Crawford, please come in!" said Hazel Devon to the unannounced guest.
"Good morning, Hazel, is your father, the Minister in?"
"Yes…I shall tell him you are here. He will certainly be pleased to see you would you care for a cup of tea or some sherry meanwhile?"
"A cup of tea, thank you…and you can ask Anita to bring it in, I am sure she will be surprised to see me here, she has been here almost a month by now", the Baron said cheerfully.
"Well, Baron, there is…a problem. Anita is not here…she…I heard she was arrested some time ago for…prostitution you know how these peasant girls can be ", said Hazel, trying to sound careless but well aware that she was in a serious danger zone.
"Prostitution?! Never! I know that girl, I know her father and her family decent people…I can't believe it I must speak to your father about this, immediately! My God, why didnТt you inform us?!
Hazel was pale in her face when she tried to listen through the living room door. Her father, the Minister, had insisted she told where this information about Anita came from, and she had no choice but to give him the name of the lawyer. Now these three men were all gathered in in the living room and Hazel could hear that there was some angry shouting going on. When the door suddenly opened, her father gave her an icy look and all three men walked right out to the Ministers carriage.
"I had to tell them", the lawyer said before they left and left Hazel standing in the hallway with her face turning pale.
Minister Devon and Baron Crawford had the Magistrate office standing on their toes in no time, and the clearly upset Magistrate Chief rushed to their assistance. They found Anita Fohlstrom in less than an hour in one of the dungeon cells beneath the main building of the Correctional Institution. The girl was laying face down on the narrow bench with her skirts folded up over her back and her bottom bared and marked all over hundreds tiny red swellings.
Anita had turned her head towards the door when it opened but did not make a move to cover herself, neither did she close her eyes or react in any way.
"Oh my God !" said the Baron.
"The prisoner was birched on the flogging bench this morning ", the guard said.
The Baron went over to the bench and covered Anita's nakedness with a soft blanket, and striking gently her hair he felt a strong compassion and warmth for the poor girl.
"Anita…this is Baron Crawford I have come to take you home " he said kneeling down beside her and touched her cheeks in a gentle, fatherly way.
Anita looked at him. At first, it seemed that she looked into an endless emptiness but suddenly there was a reaction. Her eyes started to wet when the first teardrops filled the corners of her eyes.
"BaronЕ" she whispered
The whole plot was slowly unfolding.
"My God, Baron, you cannot have my daughter arrested! The family name, and my whole life work will be ruined and the Cabinet will truly feast on this matter!" the Minister said in despair.
"We have been friends for a very, very long time…can't we find a solution to have justice done without having it done in public?"
"Like what?"
"What Hazel did to that young woman cannot be ignored, and I admit that she is a spoiled young lady, but…there must be another way to have her pay for what she has done…" And a way was found.
"No! No! Never! I will never you hear me, father, I will n e v e r accept that! I know I have done wrong and I am sorry, but what you are suggesting is totally out of question!" Hazel raged, standing flush faced in front of him.
"Either that or the even worse alternative, the House of Correction , and believe me, you are getting easy off even if you also have spoiled your chances for a good marriage!" the Minister said.
"I kill myself first you'll see ", Hazel said and left the room.
One hour later she sneaked out of the house, planning to run away, but soon enough she realized that her father had closed down all her accounts and personal assets, and without any money, she was totally stranded.
However, headstrong as she was, Hazel spent two days and two nights in the streets, hungry, thirsty and cold. The third day she came home.
"Father you cannot do this to me ", she pleaded.
The recovery from the physical ordeals Anita Fohlstrom had suffered during the month in the House of Correction took weeks, and the Crawfords had allowed her to stay home with her parents at the farm house for the first two weeks. The mental damage however was so deeply impressed to her mind that her girlish, joyful personality had changed into a somewhat reserved and reticent behavior, polite and normal on the surface but she was definitively not the same Anita that they had seen before. Her parents also noticed that she had nightmares, and clearly worried about her state of mind they tried to question her about the recent past, but Anita did not tell them anything. She had also asked the Baron and Peter not to reveal anything to her parents or anyone else about her experiences in the city.
As she regained her position as a maid at the Crawfords after the short leave, Mrs Brunell as well as the staff could also sense the change in her.
"They think she is better than us now when she has been working in the city", one of the maids said jealously when the Baron had upgraded Anita to his personal maid, a honor usually given only to the girl with the longest service.
"If you were as beautiful and…well equipped as she you would perhaps be married by now", another girl smirked at the jealous spinster.
The lights had gone out for the night when Peter Crawford heard the soft knock on his bedroom door.
"Anita, what? Come inЕ" he said, when he found her behind his door in her small nightie. She looked ravishingly beautiful, smelling fresh and soft.
"I…cannot sleep…Sir ", she whispered, and her moist, blue eyes told Peter she really needed someone.
He took Anita in his arms, feeling the warmth of her soft, warm skin through the thin nightgown. Anita responded to his kiss in a way Peter had never experienced before, clinging herself onto him in a manner that gave him an immediate erection.
When he lowered her onto his bed, he did not know if it was he or she who took the initiative. One thing was clear though, Anita needed a fuck and she needed it badly. And, after all, she was not a virgin any more. No young women who was released from the House of Correction was a virgin any more. For the unwilling and especially for some young suffragettes with an "attitude" they had that humiliating fucking trestle with the adjustable restraintsЕ With her nightgown removed from her voluptuous beautiful body she reached out for Peter in a state of hunger and a pulsating urge for love and relief. Her trembling fingers clawed into his neck drawing him closer. However, she still felt that something was missing.
"I need to be tied " she whispered, biting her lower lip, surprising Peter totally in a way he had not expected. He had been ready to enter her right there and then, but when his dizzy brain finally comprehended her words his first reaction was the disappointment for the interruption but immediately after that his dominant tendencies in his sex life caused his erecting member to swell out into maximum size.
"I don't have any ropes in here " he groaned in despair.
"I left some in the drawer of your night table when I cleaned the room today ", Anita whispered in a state of heat, turning her reddening face away.
This was the first time she could feel her emotions alive in weeks, a good sign of recovery in itself, but the strong need to be restrained in order to have her sexual urges satisfied was something new, something she could not comprehend herself. To be held in a place like the House of Correction can do things to a girl… open up those secret gates into the hidden dark passages of the mind…
Peter had tied her wrists together to the head side of the bed and her ankles to the two bedposts. Doing this, Anita had to spread her legs wide open, exposing her dripping wet slit into full display. Even if she knew she wanted this, she felt suddenly so terribly ashamed that her pink face turned scarlet.
The flesh of her inner thighs quivered as Peter mounted her. He did hold back for some while and kissed her hard, erecting nipples, sucking slowly but hard. AnitaТs soft, trembling thighs clasped against his hips with small smacking sounds of flesh to flesh as much as the loose ropes allowed.
"Hhhhhhhhhhh …" she moaned.
Then he entered her. They were both more than ready.
Anita was fucked by Peter Crawford in a way she had never experienced. His long fully erecting cock rubbed against her hardened clitoris with every withdrawal and made her pant in a state of ecstasy, twisting and arching her body within the bonds that held her. Without the ropes her nails would have clawed into Peter like a tigress, now she could only thrust her hips violently upwards hoping to receive his wonderful manhood fully and completely in her burning female, young ecstasy.
"Yes…yes…yesss aaaaaa ssssss!Ф
Anita had no control over her body, and the wild orgasm spread with a long tingling sensation through every nerve within her, made her squirm and bounce in the bed like a maniac, hitting her thighs against Peters with smacking sounds.
"Aaaahh aaaaaaahhhh…hhhh…hhh oh Peter…hhh!" she panted, tugging at the ropes that held her pinned down.
Peter was still inside her. He was not finished yet, but he granted Anita the time she needed to calm down.
"I love you", she heard herself saying. Something from her sub consciousness, something from long, long ago made her say those words, and flashbacks from her past, her wet girlish secrets rushed through her mind. In fact, it had not been so long ago…
Her body reacted with a quiver when Peter withdraw his still erecting penis, rubbing it against her clitoris – just to thrust it in again in its full length.
"HhhhhhhhЕ hhhЕ", Anita panted, clamping her quivering thighs against him again, her body shining and slippery of sweat.
She had needed a fuck and she was getting more than bargained for…In the midst of her new, rising orgasm. Peter whispered into her ear.
"Anita, will you marry me?" She was unable to answer him, because her immediate orgasm was so violent, so breathtaking, so wonderful that the only thing she was capable of was to let it out in full…the endless long shivers that never seemed to stop…
"I am waiting for an answer", Peter whispered in her ear when she somehow had regained control over herself.
"YES Peter YES!!!!!" was the only thing she could say, the only thing she wanted to say.
"Well… in that case we can discuss it later", said Peter, still inside her.
"Oh noo!" Anita panted when she felt Peter's member enter her deeper again.
"Oh, yes…", Peter hissed as his hips started to move in a fast, violent manner, feeling his orgasm rising. However, before he came, Anita had her third orgasm, but this time Peter did not stop.
In a life filled with miseries, it can sometimes be so wonderful to be young
Peter did not release her from the ropes afterwards. Anita's position at the bed was quite similar to the fucking trestle at the House of Correction except the adjustable knee straps and the leather pillow under the ass. Peter wanted to enjoy AnitaТs voluptuous, naked feminine forms while he was gently wiping off the sweat off her body with a wetted towel. Working downwards from her neck, over her breasts the wet towel made AnitaТs nipples all erect again, and when he moved downwards over her belly she was biting her lip and turned her face away. At the first touch on her still pulsating clit the muscles in her inner thighs suddenly started to vibrate and she came for the forth time. She simply could not help it but she did not care. She was his, fully and completely.
"My best congratulations to both of you!" the Baron said and meant it. Normally a marriage among people from differing social backgrounds was considered as a violation against the unwritten rules of the community, but in this case it was widely accepted. It was high time for Peter to settle down and it also gave the Baron a kind of satisfaction to see Anita compensated for all the suffering she had gone through. And Anita was very beautiful, a real asset to the family also from that point of view. The glow in her face made her even more beautiful, and he could tell that she was in love and very much so, the way her eyes sparkled as she looked at Peter. In fact, Peter had no other suitable bride in sight at the moment after the incident with Hazel Devon.
Hazel Devon had lost her chance, her freedom and, at the moment, her clothes.
Humiliated deep down to her very soul she stood stark naked in Peters punishment room on the attic of the Crawford house, alone, scared and shamed beyond belief.
Mrs Brunell had had the nerve to use the help of two stable hands, two young lads, to have Miss Hazel Devon stripped stark naked and fastened to a whipping post. Hazel was 23, and certainly a quite beautiful woman, and the young boys had truly feasted their eyes upon her white, female flesh as they bared her bit by bit and her garments came off. She had put on quite a fight, screaming and raging like a maniac, but she had not been a match for the strong, flush faced youths.
Totally nude she was handcuffed with her arse out to a vertical, metal post standing up from a wooden knee high base.
The wood in the base was carved to fit and restrain the legs of the culprit with an additional strap at the back of the knees to hold the legs firmly in place. Hazel could not even cross her thighs to hide her big bush of pubis hairs when the grinning youths focused their eyes on her crotch.
She started to laugh hysterically at the post when a second strap went around her waist, pulling the small of her back against the post and forcing her to thrust her big bottom backwards. When the waist strap was tightened, Hazels fleshy and milk-white buttock globes was separated and swelled out into their enormous size.
Hazel knew all to well that she had broad hips and that her posterior had been oversized since her early puberty years. During the last years of matureness her buttocks had still largened into a quivering mass of flesh which she had tried to conceal by using very tight corsets and garments fitting her well. Everything she had tried to conceal was now displayed in a most crude, shameful manner and her hysterical laughter continued while her crimson blushing spread slowly down to her breasts.
"The celebrations are still going on downstairs, but later tonight Peter and Anita will attend to you, Miss Devon, you just wait where you are a sound whipping across your big bottom is what you need, My Lady", Mrs Brunell told her before they left her there.
More than two hours had passed and Hazel had to stand there waiting, waiting.
Whenever a small sound was heard, her heart leaped and she strained herself against the whipping post with big buttocks clenching violently as she tried to close the shamefully opened crack between her trembling buttock cheeks. But it was always false alarm and Miss Hazel Devon was really getting agitated.
Another hour passed. Her restlessness was not caused only by the fact that Peter would see her in her shame, she feared Anita much more.
"She will do to you what they did to her in the House of Correction", her father had told her "and she has all the right to do so!".
Hazel trembled as she thought of the things those bastards at the institution was doing to all those young women there. She knew that they had whipped Anita between her legs…
Peter and Anita had forgot all about Hazel because they were having a violent private orgy in Peters bedroom. Anita had been so beautiful in her expensive, new evening dress the Baron had bought for her, her glittering diamond earrings framing her sensual face and her golden hair made up in a manner that Peter simply could not resist to suggest a moment alone with her as soon as the guests had left the party.
Well inside his bedroom Anita gave Peter a smile and went straight to his night table.
With a tempting, leading on expression in her face she took out three ropes. Sitting down on the bed she tied the ropes to her ankles, one rope to each, looking at Peter from time to time with that same, tempting smile on her face.
Anita had white, high heeled laced boots and gray silk stockings of the latest fashion.
She had really dressed up for the celebration.
Standing up and turning away from him with a gesture of modesty, she unlaced her knickers from under her evening gown and let them fall.
Peter just stood there, randy and ready, watching Anita gather all the pillows in the room into a high pile in the middle of the bed. Then she approached him with the third rope. Giving it to him she turned and crossed her wrists behind her. She did not have to say anything, and a moment later her hands were corded tightly together.
Anita lowered herself face down with her hips resting on the high pile of pillows with her hands tied behind her back, bending herself crosswise over the bed which left much space at her right as well as at her left. Her hips and bottom raising high in the air she spread her legs as far apart as she could. This made the hem of her pretty dress glide upwards, baring her white, tapering thighs.
"Peter I need to be tied ", Anita whispered, but he was already fastening the ankle ropes to the far bed posts, forcing her straddling legs even further apart until her knees lost the touch and support of the bed.
Peter folded her dress neatly up over her beautifully rounded bare buttocks and could not stop to admire AnitaТs well proportioned, exiting body. Her muscular thighs and calves straining in the widely spread position making her white buttocks move from side to side as he undid her garters and rolled her stockings down. When his hand cupped her sex from behind, he could hear her taking in breathe and the fingers of her tied hands straighten out in a trembling emotional strain. He could see her bite her lip when his hand felt her wide open clit and the hardness of her bared clitoris.
"Hhhhhhh…Peter…the hh drawer…" Anita panted. "The drawer in your night tableЕthere is aЕ" Peter had already looked into the drawer, seeing a small single twig of a young, fresh birch, a tiny rod with a swishy sting.
"So you have been doing my room again, have you?" AnitaТs buttocks started to clench, open up and contract.
The clenching increased and the flesh in her thighs quivered when Peter went behind her, testing the efficient sting of the rod against his palm.
"You have not done my room properly when I find things like this laying around, have you?" Peter asked with a smile on his face and the bulk in his trousers screaming to be released.
Anita buried her face into the linen of the bed, not knowing when and where the rod would make her perform the ass dance of her life in front of her husband to be. "Play your cards right, girl " Mrs Brunells voice echoed in her brain followed by a terrible sting diagonally across her right buttock cheek, making the bedposts squeak as she tried to close her legs but only resulting in that her quivering buttocks bouncing high up in the air when the muscles in her widely straddling legs tightened like strained bows.
The position was perfect for the next stinging lash of the tiny rod.
Her hips leaped upwards again with an indescribable energy by arching her back, and Peter could see her wide open dripping wet clit dancing in front of his eyes.
Anita had not seen Peter remove his trousers and that he had moved closely up behind her with his erecting cock almost touching her moist rosy clit bouncing up and down over the stack of pillows. He gave her a biting sting of the rod across her shapely bottom cheeks at the same time he moved closer to her. AnitaТs wide open clit squirmed suddenly right against his hardened penis and twisting her head back by the surprise she realized what it was.
"Yes PeterЕ. YessssЕ. " she moaned in heat.
But Peter was not willing to give it to her yet even if she tried to thrust her hips backwards in hope for him to enter her. Instead, he gave her another flick with the tiny rod which made her bottom twist in a wild dance and her dripping hot pussy rub against Peter with increased intensity. Teasingly he kept the distance, giving Anita only the tickling sensation of the touch but nothing more.
How she wanted him! How she needed him! being so close so very close, Peter made her wild of desire, burning in heat.
And Anita did perform that ass dance of her life that night. Her shrilly scream of pure sexual desire and joy when Peter finally entered her from behind echoed in the room and caused Mrs Brunell to raise an eyebrow as she happened to pass the bedroom door.
Two hours later they laid on Peters bed, both naked, satisfied and happy. AnitaТs head resting on Peters chest, her beautiful corn colored hair all spread out, her hand caressing the skin of his belly, moving her fingers slowly further down to his softened cock. Rolling his member between her fingers Peters manhood regained some signs of resurrection, just enough for her to move her head towards it.
Anita closed her red, hot lips around his penis, taking it wholly into the wetness of her mouth. She could feel it growing slowly, filling her. Letting it our, her nails caressed the sensitive nerves of his organ until it erected almost into full size. Changing her position and pushing gently Peters thighs far apart, she lowered her face and took the swelling cock into her mouth…
Peter had just given her three wonderful orgasm, and she wanted to give him at least a second one. And she did. She did not let him go even when his hot sperm shot into her mouth, she swallowed it all and continued to suck him until the very last drop. That was the way Anita had learned to do it in the House of Correction…the pimple faced clerk boy being her first teacher…
УHazel !", Anita said one and a half hour later, just waking suddenly up. It was half past three in the morning.
"Mmmm…what?" Peter asked, half asleep.
"We forgot about Hazel she is still up there, is she?"
"That's right…Anita, just tell Mrs Brunell to take her down, we deal with her tomorrow, I'm too tired now
Hazel Devons buttocks quivered uncontrollably when the door was opened. She was crying. She had had a lot of time to think about what they would do to her. She had also pissed, trying at first not to embarrass herself in this way too, but after three hours of agonizing trying it just happened. The evidence was visible on the floor. Not a very suitable thing to happen to a Lady of Quality.
"What a mess I'll take you down now…they didn't have time to deal with you tonight, but tomorrow night they will whip the arrogance out of you, believe me", Mrs Brunell said.
Hazels sobbing cries shifted suddenly to a hysterical laughter when she dressed herself.
"Before we go you clean up that mess of yours! Mrs.Brunell said while she was opening the heavy door to the adjoining prison chamber where Hazel would spend the next two months…
The next evening the two stable hands had stripped her again and attached her nude to the whipping post. This time both Peter and Anita came to see their flush faced prisoner. Anita had a swishy whip in her hand. Hazel clinged herself against the post in utter humiliation.
This was the very first time Peter had seen her naked.
"Peter, could you call for the stable boysЕ I want Miss Devon on the table on her back with her thighs spread wide open as wide as possible so that her pussylips opens. I want to give her a taste of what is it like to be a prisoner in the House of Correction." Anita said and put the switch away. From a drawer in the cupboard she took out a short, single thonged whip that she had prepared for the occasion and a smile of revenge covered her face.
Half an hour later a very crimson Miss Hazel Devon was firmly restrained on her back to the table her thighs were drawn straight outwards and buckled with heavy straps to the table edges. A pillow had been placed under her ass to force her milky white inner thighs and widely open pussy upwards into full exposure.
Anita smiled when Hazel's loud hissings turned into hysterical small laughter. She could see the violent trembling along her inner thighs when Peter tickled her hardened clitoris with a feather. Anita wanted her to be in a state of heat before she applied the stinging thong along the rosy wetness of her most intimate and sensitive anatomy. That was another thing Anita had learned in the Prison. She had seen her former cellmate Pamela Wright's violent reactions when she was straddled on the fucking table and Mark Fallon tickled her pussy and clitoris with a feather prior to her pussy-whippingЕNow she could see those same, hysterical reactions in Hazel Devon.
"Now Peter, I think she is ready. If you don't mind I would like to punish her in private", Anita said.
Peter smiled and nodded.
"Of course she is your prisoner " When the door closed Anita grabbed the thong whip and approached the young panic-stricken woman who laid her so perfectly opened for a pussy-whipping, her pulsating clitoris sticking out like a white pearlЕ. It was payback timeЕ zzzZZZZZZIIIPPP!!!
end
Incoming search terms:
| nude whipped women punishment stories (1) |