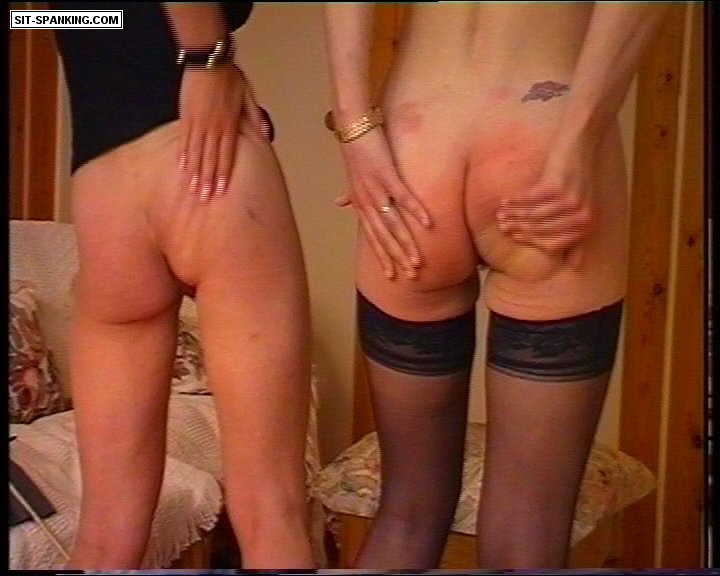 Sit-Spanking – A Good Dressing Down
Categories: Punishment, Spanking, Discipline, Beating, Cane, Whipping, Old Clip
Description: Jayne prepares for a posh night out, looking forward to the chance to wear her very special and very expensive designer label dress. She frantically searches her wardrobes, desperately seeking the white dress, which has mysteriously disappeared!
It's not long before it dawns on her that the culprit must be her brat lodger. After all, she has already been guilty of 'borrowing' make-up and shoes without permission. Jayne is totally fed-up with Maria's carefree attitude towards her property and belongings and summons the lodger to her bedroom to explain herself. Maria completely denies the accusation at first, but then admits that she has worn the dress and that red wine has been spilt all over it. Jayne is furious and demands that the lodger find alternative accommodation, as she can no longer tolerate Maria's presence in the house. The roommate is distraught and begs her to reconsider, suggesting that there must be some suitable alternative. Jayne delivers an ultimatum to Maria – either she accepts Corporal Punishment, or she must leave. Maria is left with little choice and has to submit to Jayne's punishment.
The lodger soon finds herself across her landlady's knee for a sound spanking. With skirt raised and knickers pulled well down, her delightful bottom is soon a rosy glow. Maria has never been spanked before and finds it a painful and unpleasant experience. However, Jayne has much more in store for the hapless lodger! Paddle and tawse are also introduced in a variety of painful and humiliating positions! Not until she has been thoroughly caned, is Jayne convinced she has learned her lesson.
Imagine Jayne's horror when the lodger suddenly reminds her that she has borrowed Maria's diamond ring and has not yet returned it. Imagine also her shame, when she admits that the ring has been lost! Maria cannot contain her anger and insists that Jayne must undergo the same punishment in return. However, as the ring was valued at twice the amount of the dress, then the punishment must be twice as hard! The once timid lodger soon turns the tables, as she takes sweet revenge on her helpless landlady, turning her bottom cheeks a dark shade of red with paddles, straps and of course the cane!
Gorgeous girls and great girl on girl CP action – a real gem of a film!